Sanders Says South Carolina Landslide 'Bad as It's Going to Get'
by
Senator predicts victory in several Super Tuesday states

Top Democratic official stands down to back Sanders campaign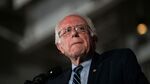 Senator Bernie Sanders said his shellacking in the South Carolina Democratic primary is "about as bad as it's going to get" for his campaign, and forecast wins in at least five of the 11 states where Democrats will vote on Tuesday.
Speaking Sunday on ABC's "This Week," Sanders said his campaign "got killed" Saturday in the Palmetto State. Still, in appearances on ABC and CBS, he predicted victory in his home state of Vermont as well as Minnesota, Colorado, Oklahoma, and Massachusetts in the Super Tuesday contests for the presidential nomination.
QuickTake How the U.S. Elects Its Presidents
Beyond this week, "we've got a number of states coming up that we're going to do extremely well and possibly win," including California, Michigan, and New York, Sanders said on "Face the Nation" on CBS. "I think we do have a path to victory."
Sanders lost to Hillary Clinton by almost 48 points in South Carolina, 73.5 percent to 26 percent, a margin much wider than indicated by pre-vote polls that showed the former secretary of state up by closer to 20 points. Clinton won 79 percent of women voters, 68 percent of men and 86 percent of black voters in the first southern Democratic primary of the 2016 race to succeed Barack Obama in the White House.
"We got decimated. The only positive thing for us is we won the -- the 29 years of age and younger vote," Sanders said. "And that was good. But we got killed."
Democrats will vote in 11 states on Tuesday, the biggest prize of the 2016 campaign to date.
Gabbard Endorsement
Sanders picked up a high-profile endorsement on Sunday, when Hawaii Representative Tulsi Gabbard said on "Meet the Press" that she "cannot remain neutral any longer" and would resign as vice chair of the Democratic National Committee to support Sanders.
Gabbard, who was deployed to the Middle East twice while serving in the Hawaii Army National Guard, pointed to Sanders's position on military intervention.
It was important, Gabbard said, to have a commander-in-chief who "looks at the consequences of the actions that they are looking to take, before they take those actions, so that we don't continue to find ourselves in these failures that have resulted in chaos in the Middle East and so much loss of life."
Before it's here, it's on the Bloomberg Terminal.
LEARN MORE