Surrogates
Alabama's Jeff Sessions Endorses Trump for President
The Alabama senator joined the billionaire Republican front-runner at a rally in Huntsville on Sunday.
by and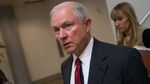 Alabama Senator Jeff Sessions endorsed Donald Trump for president Sunday, saying that the Republican presidential candidate was the best choice to address illegal immigration into the U.S.
For Sessions, it's the first time he's endorsed a presidential candidate. The staunch conservative said that "for 30 years, politicians have promised to fix illegal immigration."
"Have they done it?" Sessions asked the crowd of more than 7,000 people that packed into a football stadium in Madison, Alabama, on Sunday. "No," the crowd roared back. "Donald Trump will do it," Sessions said. 
"At this time in my opinion and my best judgment in American history, we need to make America great again," Sessions said, echoing Trump's campaign slogan. "I am pleased to endorse Donald Trump for president of the United States."
The first U.S. senator to formally back the billionaire real estate developer, Sessions said Trump's candidacy "isn't a campaign, this is a movement. The American people aren't happy with their government."
Alabama is one of more than ten states holding Republican nominating contests on March 1, known as Super Tuesday. 
Sessions, a four-term senator, has been the most outspoken immigration restrictionist in Congress for decades, having waged battles against efforts to liberalize immigration laws. As a result, he's heralded as a hero in the conservative anti-immigration community.
Though he failed to stop Senate passage of a comprehensive immigration reform bill in 2013, which was co-written by Florida's Marco Rubio, another 2016 Republican presidential hopeful, Sessions' systematic efforts to undermine the legislation among conservatives paid off—the Republican-led House refused to even consider it.
A former top aide to Sessions, Stephen Miller, has kept a list of reporters to whom he routinely e-mails news clippings and data to press the causing of slashing immigration to the U.S. Miller jumped to the Trump campaign as an adviser last month.
Over the summer, Trump rolled out a comprehensive policy blueprint attacking immigration from all angles—by promising to deport an estimated 11 million people in the U.S. illegally, beefing up border security by building a wall on the border with Mexico, and imposing new restrictions on legal immigration and work visas. It was literally a page from the Sessions playbook: Trump wrote the plan with the input of the Alabama senator.
The Sessions endorsement is a major blow to Ted Cruz, who regularly praises Sessions in campaign speeches and reminds his supporters that the two of them stood together against the 2013 immigration bill. The Alabaman's popularity at home is so high that he ran unopposed for reelection in both the primary and general election in 2014.
Much like Trump during the 2016 primary, Sessions' views on immigration define his political persona. He chairs a Senate subcommittee focused on immigration, and was out front in the battle to stop new Syrian refugees from entering the U.S. following the Paris terrorist attacks.
After Sessions delivered his endorsement, Trump, wearing a signature "Make America Great" hat, addressed the crowd. He slammed his rivals, most notably Rubio, who he said supported policies backed by Disney that killed jobs in the Florida. "You know who was in charge of that and the biggest proponent of that? Little Marco Rubio," Trump said.
Trump vowed to "shame" Democratic presidential front-runner Hillary Clinton and her allies over the use of her private e-mailer server while she served in the Obama administration as secretary of state. "I haven't even started on her yet," Trump said. And he also slammed Republican strategist Karl Rove, whom he dubbed a "total moron." "He is the worst," Trump said as Sessions, who is no stranger to the bombast of the billionaire's campaign rallies, looked on amused. 
(
Corrects location of rally in third paragraph.
)
Before it's here, it's on the Bloomberg Terminal.
LEARN MORE