Sanders Renews Pressure on Clinton Over Wall Street Speeches
After Saturday's primary, both candidates turn attention to Super Tuesday contests
by , , and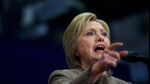 Poised to lose the Saturday's South Carolina primary to Hillary Clinton, Bernie Sanders looked ahead to Tuesday's nominating contests by pressuring the former secretary of state on her paid speeches to Goldman Sachs and other financial firms.
Speaking at a rally in Dallas as South Carolina Democrats were voting, Sanders said Clinton should be willing to make public transcripts of the speeches that she was paid more than $675,000 to give behind closed doors. 
"It must be a great speech, and you'd want to share it with the American people,'' Sanders said.
While Clinton has said she will release the speeches if Republicans and other candidates do the same -- and that accepting fees doesn't make her beholden to Wall Street -- Sanders is telling voters they should ask themselves why ``big-money interests'' are giving large sums to Clinton and other politicians. It's part of his strategy to draw attention to Wall Street and what he calls a rigged economy to stop Clinton's momentum heading into the 11 states that have nominating contests on what's known as Super Tuesday, the biggest prize in the 2016 presidential election.
Clinton led the Vermont senator by 20 percentage points or more in polls leading up to the vote in South Carolina, and the final margin will set expectations for Tuesday, when Democrats in states with more than 1,000 delegates will be voting.
Preliminary exit poll results indicate that blacks account for six in 10 South Carolina Democratic voters Saturday, possibly on pace to break the state's record of 55 percent in 2008, ABC News reported.
Seventy percent of voters in the exit poll want to continue Obama's policies, ABC added.
While Sanders hoped to close the gap in South Carolina to show his campaign message is resonating, Clinton is seeking to solidify her status as the inevitable Democratic nominee with a decisive win.
"She's got the advantage of the folks who probably will vote," said Richard Harpootlian, a Sanders supporter and former South Carolina Democratic Party chairman. "It depends on whether Bernie Sanders can generate new participation by younger voters."
Polls in South Carolina opened at 7 a.m. and will close at 7 p.m. Election officials are reporting generally light turnout, which should favor Clinton. In 2008, when she lost the South Carolina Democratic primary to then-Senator Barack Obama, about 23 percent of registered voters turned out, according to election commission figures.
South Carolina has 59 delegates to the national convention, according to state Democratic Party. Thirty-five delegates are awarded proportionally based on the results in each of the state's seven congressional districts, and 18 other delegates are decided proportionally by the statewide outcome. There also are six superdelegates, with four already endorsing Clinton, according to the Associated Press. Party Chairman Jaime Harrison will go with the primary winner, the party said.
Of the 2,383 delegates needed to win the nomination, Clinton has just over 500, including more than 450 superdelegates. Sanders has 71 delegates, including 20 superdelegates, according to a tally compiled by the Associated Press.
Saturday's Democratic contest in South Carolina follows Clinton's triumph a week earlier in Nevada, the first early nominating-contest state with significant minority participation. Sanders had hoped to show the breadth of his appeal in a state where the population more closely reflects the U.S. than Iowa, where he essentially tied Clinton, and New Hampshire, which he won by more than 22 percentage points.
A majority of the Democratic vote in South Carolina likely will be cast by African-Americans, who also comprise a large segment of the party's electorate in Georgia, Alabama and other southern Super Tuesday states.
The Bloomberg Politics poll of likely Palmetto State Democratic voters released Feb. 18, which had Clinton ahead of Sanders by 22 percentage points, showed that she had a 3-to-1 advantage among black voters.
Many black voters who may have been inclined to support Clinton in 2008 but opted for Obama are behind her this year, said Amanda Loveday, a Democratic strategist in Columbia and former executive director of the state Democratic Party.
Kenneth Riley, the longtime president of the 1,200-member International Longshoremen's Association Local 1422 in Charleston, which endorsed Clinton, counts himself in that category. While he calls himself a liberal and likes Sanders' positions, he thinks Clinton has the best chance to win and get results, he said.
"If we can't accomplish what we say we're going to do, my people don't get anything," Riley said in an interview during Clinton's stop at the union hall on Wednesday. "We know Hillary."
In campaign appearances, she emphasized her connections to Obama and to the record of her husband when he was in office. 
"You take the hard work, you take the persistence, you take the results from Bill Clinton and Barack Obama, that's a pretty good platform to run for president on, don't you think?" Clinton said during a rally on Wednesday in Sumter.
Clinton's team was confident of winning South Carolina and spent the week trying to run up the vote margin, with Bill Clinton traversing the western part of the state ahead of primary day and their daughter, Chelsea, visiting colleges.
"It would be a super send off to do well here," Clinton said Friday night at the Orangeburg County Fairground minutes before Sanders arrived at the same event. "I would be mighty grateful to have your vote."
Not wanting to distract her staff and volunteers from turning out Palmetto State voters on Saturday, Clinton campaigned in Birmingham, Alabama, during the day. She was set to return to spend primary night at a party on the campus of the University of South Carolina in Columbia.
After spending most of the last three days in other states, Sanders held three events in the South Carolina on Friday. He's been emphasizing his platform on criminal justice reform and leaned on black surrogates, including actor Danny Glover, former NAACP Chairman Ben Jealous, and South Carolina State Representative Justin Bamberg. 
By Saturday afternoon, Sanders was in Austin, Texas, where he told a crowd of about 10,000 people about the campaign's competitive showings in Iowa, New Hampshire and Nevada.
"And now we come to Super Tuesday," he said, skipping over Saturday's primary. "On Super Tuesday the state that is going to be voting for the most delegates is the great state of Texas. And if all of you come out to vote, and you bring your friends and your neighbors and your coworkers, we are gonna win here in Texas."
Clinton has outspent Sanders, seemingly trying to secure an overwhelming victory over Sanders heading into Super Tuesday.
Clinton outpaced Sanders on broadcast TV and national cable commercials from Feb. 16-22, spending an estimated $3.4 million while he spent $2.8 million, according to Kantar Media's CMAG, which tracks political ads.
Of that spending, Clinton put about $540,000 into the seven TV markets that cover South Carolina, while he spent $411,000. Since the nominating contest began, the two in total had spent about the same amount to put up ads in South Carolina. Sanders also has 11 offices in the state and at least 200 paid staff.
—With assistance from Margaret Talev and Tim Higgins.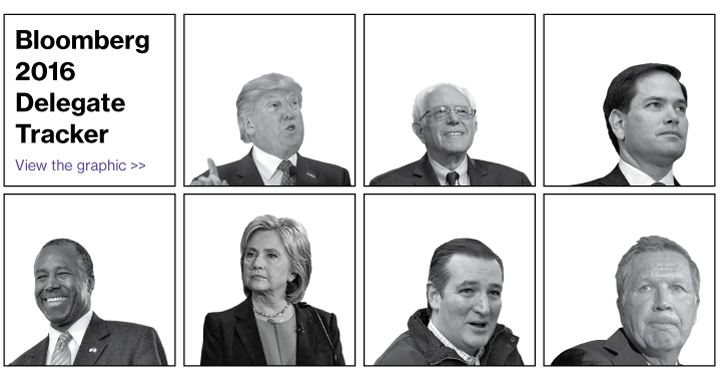 Before it's here, it's on the Bloomberg Terminal.
LEARN MORE