Republicans Upend Tough-on-Crime Politics in Primary States
by
Presidental hopefuls follow Deep South's lead on prison reform

In Georgia, prisoner count shrinks and the budget stabilizes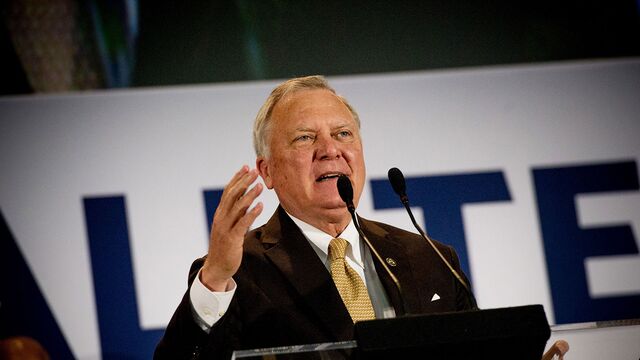 Democrats Hillary Clinton and Bernie Sanders are calling for an end to the mass incarceration of black people as they roll into primaries in Deep South states. Republicans there are way ahead of them.
In Georgia, Republican Governor Nathan Deal enacted a sweeping overhaul of the criminal-justice system, shrinking the overall prison population 6 percent and lowering the number of newly incarcerated African-Americans to a level not seen since the 1980s. Other Republican-led states in the South are doing the same, making it safer for candidates of both parties to endorse changes once unthinkable.
Prison reform has been a third rail in American politics since President George H.W. Bush ruined the campaign of Massachusetts Governor Michael Dukakis in 1988 with the story of Willie Horton, a murderer out on a weekend furlough when he raped and killed again. A succession of tough-on-crime laws bloated prison populations across the U.S., with black men jailed at a disproportionate rate. Spending on corrections became unsustainable.
"The main thing that we have proved down here in Georgia is that this subject is not going to get you beat," said Thomas Worthy, government-affairs director of the Georgia Bar Association and co-chairman of the state Council on Criminal Justice Reform.
To a degree not seen in decades, presidential candidates have openly debated prison reform and drug-sentencing policies. They were a recurring topic in New Hampshire's first-in-the-nation primary this month as residents grilled candidates about the state's heroin epidemic.
"No one is running ads the next day saying 'Did you hear what that guy just said?'" said Michael Thompson, the director of the Lexington, Kentucky-based Council of State Governments Justice Center.
Super Tuesday
Heading into the March 1 primaries in seven Southern states rich in black voters, Democrats are expounding some of the same arguments honed by Republican leaders there.
"If you don't care about the families and you don't care about the over-incarceration, then think of us saving $28 billion, because we no longer incarcerate people who shouldn't be there in the first place," Clinton said in a speech late last year, as she kicked off her national African-American support effort at Clark Atlanta University, a historically-black college in Atlanta.
Thirty-one states have revamped their criminal justice laws since 2007, according to a tally by the Pew Charitable Trusts justice project in Washington. The overhauls include all but one state in the Deep South -- Louisiana, which imprisons the highest percentage of its population in the U.S., and where the newly seated Democratic governor, John Bel Edwards, campaigned on reducing the incarceration rate.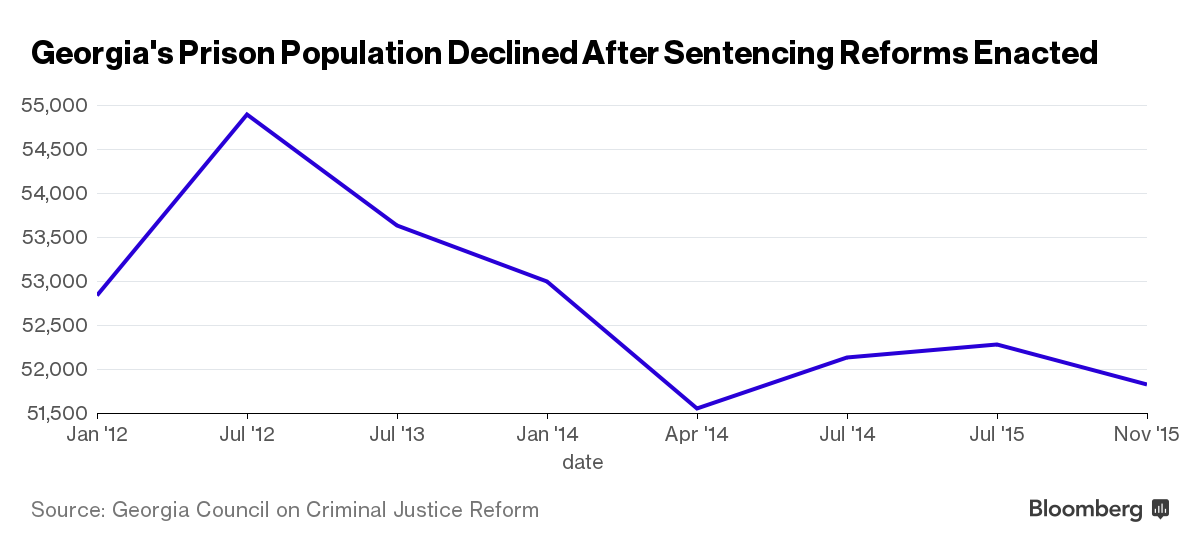 The effort to lower prison populations has been pushed by an unlikely alliance that not only includes Republican governors, but also the American Civil Liberties Union, anti-tax gadfly Grover Norquist, convicted Watergate criminal Chuck Colson's Prison Ministries and the billionaire Koch brothers.
Georgia Leads
Cost sold reform to legislatures. In Georgia, corrections had become the fastest-growing part of the budget after Medicaid, according to the reform commission. One in 70 adults was behind bars, the fourth-highest incarceration rate in the U.S. Corrections spending had doubled in 20 years to $1 billion. The prison population had increased twofold to 55,000, and was projected to grow 8 percent more over the next five years and require $264 million in additional spending.
Non-violent offenders accounted for 42 percent of inmates, many locked up under harsh drug and repeat-offender laws from the 1980s and 1990s.
They included a Darion Barker, a 51-year-old veteran serving a life sentence with no chance of parole after being caught with a small bag of crack cocaine in 1995. It was his fourth low-level offense.
Behind bars, Barker became a paralegal, studied barbering and religion, jogged 12 miles a week and watched frustrated as inmates convicted of violent crimes served their time and left.
"I saw people going home that had bodies on their records," he said.
Stabilized Spending
Since 2012, Georgia has reduced sentences for nonviolent crimes, adopted treatment regimes for drug offenders, funded prison alternatives and made probation and parole easier to negotiate. The state also released early a limited number of low-level drug prisoners, including Barker.
Spending on corrections has stabilized and the prison population has dropped to 51,822, according to a Feb. 1 report from the reform commission. The number of nonviolent offenders in prison, meanwhile, fell to 33 percent from 42 percent.
Although the percentage of black inmates remained high, at 62 percent last year, it's down from 66 percent before the sentencing changes. Admissions to prison last year were 16.3 percent lower than before the state's overhaul, with black admissions down the most, or 25.3 percent.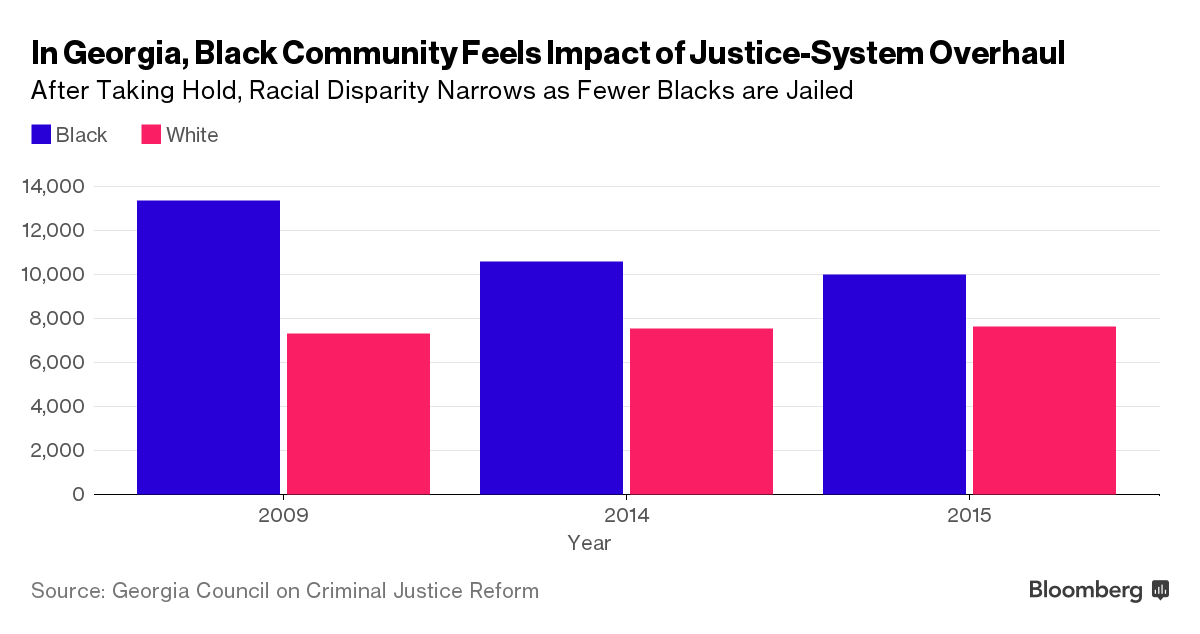 "We've been pleasantly astonished," said Nick White, the public defender in rural Houston County, who predicted four years ago that Deal's proposals would make little difference.
Changed World
The benefits to blacks should surprise no one, although that's not how Deal sold the changes, said Adam Gelb, director of Pew's justice project, which helped with Georgia's overhaul.
Minorities are disproportionately locked up for minor crimes, so "when you reduce the number of people going to prison for minor offenses, that's what you end up seeing," he said. "It was never talked about that way."
Governors like Deal "have made the politics of criminal-justice reform almost totally unrecognizable from where they were just eight years ago," Gelb said, making it "politically safe to champion reform."
They paved the way for President Barack Obama's visit to a federal prison last year and to discussions of sentencing revisions in Congress, as well as in the presidential campaign.
Democratic candidates are the ones taking the most advantage of the changed politics, with Republicans falling silent in the face of real-estate developer, reality TV star and front-runner Donald Trump's tough-on-everything campaign.
Meanwhile, Barker said he's glad the state took a second look at his sentence, which never made sense to him. He's living with family in Macon, going to school to get his barber's license and "trying to reconnect with the world and how much it's changed."
"I'm trying not to take it too fast," he said.
Before it's here, it's on the Bloomberg Terminal.
LEARN MORE