Can Ted Cruz's Super-PAC Alliance Save Him on Super Tuesday?
The alliance supporting the Texas senator, separate but collaborating, may be the future of super-PACs—but this year, that may not make a difference.
by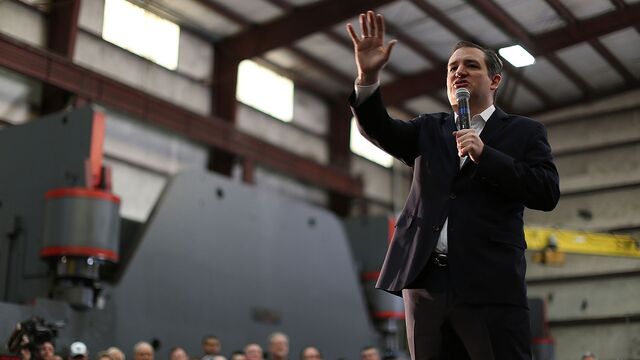 "You know the saying: A lie makes it halfway around the world before the truth puts its pants on," says Kellyanne Conway, head of one of the five closely allied Keep the Promise super-PACs behind Ted Cruz's presidential bid.
That's the tactical challenge she sees facing Cruz on Super Tuesday as his campaign struggles to address charges it's used unethical tactics on the campaign trail and that its candidate is a "liar." Less than a month after Cruz's impressive Iowa Republican caucus victory, the Texas senator has lost his momentum, placing a disappointing third in South Carolina and now Nevada, where he got 21 percent of the vote on Tuesday.
The unique advantage the five Keep the Promise groups backing Cruz have is something new in super-PACing -- they're separate yet they act as a single unit. They've allied themselves, with each having a slightly different focus and strategy but they coordinate via a daily conference.
While it remains unknown whether their ultimate response will find traction with voters Tuesday, Keep the Promise offers a potential model for like-minded donors willing to share not just a name, but also data, strategy and resources without losing control. It is a response to donors feeling they have little to show for giving to outside groups such as  Karl Rove's American Crossroads in 2012 or Right to Rise, the now defunct SuperPAC that supported Jeb Bush's candidacy this year.
"You've got many of these operations that have come out of how blistered, burnt and betrayed donors felt after the 2012 cycle, where many felt lied to and deceived," said Conway.
"Major donors of candidates who don't win are going to want to have more say about strategy," predicted Al Cardenas, a longtime Bush ally. He added that there is no indication that paid media or ground-game spending by super-PACs has moved the needle for any of the candidates this year. The proliferation of self-funded outside groups, he said, has increasingly become a "popular option for those who may be critical but don't feel like they have a better place to go."
Keep the Promise 1 has one major donor: Robert Mercer, the New York hedge fund executive who has poured $11 million into the super-PAC operation so far. Keep the Promise 2 is funded with a single $10 million contribution from Toby Neugebauer, co-founder of a Houston private equity firm. Keep the Promise 3 is backed by Farris and Daniel Wilks, Texas brothers who made their money in the fracking industry and, with their wives, put up a combined $15 million. There's also the Keep the Promise PAC, which has raised more than $3.6 million from various donors, and the newest addition, Keep the Promise to Veterans, a super-PAC started by former Texas Governor Rick Perry.
As Cruz began seeking the nomination, Keep the Promise donors agreed, as an act of solidarity, to name their groups under the same umbrella, encouraging onlookers to tally up their pledged finances while keeping the money separated. If Cruz failed to catch on, there would be no risk of losing a full refund of any unspent cash. The coordination came naturally, primarily out of a desire to husband cash and to avoid overlap, says David Barton, who heads Keep the Promise PAC.
"You look at the field and you have the linemen and you have the receivers you have the backfield and everybody does something different," says Barton, comparing the relationship between the super-PACs groups to a football team.
The greater Keep the Promise family participates in a conference call at 9:30 each morning. There is a rough division of labor. Keep the Promise 1 handles most of the TV and radio ads -- spending $6 million on the air in Iowa and South Carolina -- as well as a polling and focus groups. Keep the Promise 3 is focused almost entirely on social media outreach and digital analytics, recruiting volunteers and tracking which messages are resonating online.
Keep the Promise PAC has focused on ground game support. In South Carolina, its team, run by former Scott Walker state director Dan Tripp, had more than 180 paid canvassers knocking on more than 100,000 doors. They're also the ones that threw those big rallies in Iowa, South Carolina and Nevada featuring conservative radio host Glenn Beck and Duck Dynasty reality TV star Phil Robertson.
Turning to Super Tuesday, as Cruz campaign risks an aggressive Trump takedown, Conway says her super-PAC will fill in any gaps, making sure Rubio doesn't sneak up the middle. One expected line of attack, coming soon to a Super Tuesday state near you, will hit the young Florida senator for missing hearings of a special Florida House committee tasked with looking into security issues after the 9/11 attacks, while he was a state legislator. Those spots will be on digital and radio in most, if not all, of the March 1 states, Conway says. There will also be broadcast and cable buys, shaped by voter data harvested from doorknockers and phone-bankers that Keep the Promise PAC has deployed on the ground in states like Alabama, Arkansas, Virginia, and Massachusetts.
Last week, for instance, Trump and Marco Rubio rolled out an onslaught of attacks trying to brand Cruz as untrustworthy -- accusations that started earlier this month after the Cruz campaign inaccurately suggested to Iowa voters that Ben Carson was out of the race. The trouble reached a climax on Monday, just a day before the Nevada caucuses, when Cruz's national spokesman, Rick Tyler, was forced to resign after posting a misleading video of Rubio online.
Behind the scenes, polling by Keep the Promise 1 began to show a startling shift in voter impressions of Cruz. When asked for their hesitations about voting for the Texas senator, voters began to repeat verbatim the lines of attack being used by Cruz's opponents. "We saw a steady build-up of negatives," says Conway, who says the super-PAC was focusing at that time on an anti-Rubio message. "It became very clear to us through the data that we had to shift course and rebuild the positives and the trust for Senator Cruz."
That information was passed to Keep the Promise PAC, which found an old clip of former South Carolina Senator Jim DeMint praising Cruz's character. Keep the Promise 1 tested that message just days before the South Carolina primary and found that DeMint's statements boosted Cruz's numbers 7 percent among undecided voters. Within 24 hours, a 60-second spot featuring DeMint was made and placed in rotation on the radio.
Keep the Promise's multi-front approach has clear advantages for donors who worry about how their money will be spent. But as yet, there's not evidence that it will work any better than any other super-PAC strategies, particularly in a year where there is no amount of ads or outreach that can make up for a candidate's (read: Trump's) ability to earn free media. "Money hasn't been dispositive for a couple of cycles," says Republican strategist Mary Matalin, who praised Cruz's PACs for being "sophisticated and effective" on their long-term spending so far.
Not everyone is on the bandwagon. Keep the Promise 2 has spent only $700,000 in this race, according to Federal Election  Commission filings, and does not collaborate with the other groups in Barton's football squad. "They're not playing in the sandbox," Barton says. "They do their own thing."
The same is true for other pro-Cruz groups like Courageous Conservatives PAC, which has been critical of Keep the Promise for not being tough enough in hitting Cruz's opponents early on. "We're like guerrillas throwing grenades wherever we can," says Rick Shaftan , head of that group, which blasted 180,000 South Carolina homes with robocalls of things Trump has said about the Confederate flag and the expansion of LGBT rights. Shaftan says he will decide in the coming days whether to turn those robocalls into radio ads that will run in March 1 states.
"They're dealing with a certain respectability and a line that we're not worried about crossing," he said about other Keep the Promise groups. "That's why we're here. We were worried people weren't going to hit hard and we're hitting hard."
As if obeying some campaign finance version of Ronald Reagan's 11th commandment, Conway and Barton refuse to speak ill of fellow pro-Cruz super-PACs, whether they share their strategy or not.
They reserve their harshest criticism for Right to Rise, which raised more than $100 million and spent nearly all of it as Bush's numbers continued to plummet. Bush apologized to his financial benefactors this week, but Conway expects to see more jaded donors setting up their own super-PACs next cycle.
"I don't want to come off as sanctimonious at all, but I have not used the word 'grifter' so much in my life as I have this year watching what some of these other campaigns and super-PACs have done to their candidates," she says. "Their candidates deserve better."
Then she added perhaps the most naked truth of this presidential cycle: "You can't buy voters' love and trust," she says. "You can't buy a quality candidate."
Before it's here, it's on the Bloomberg Terminal.
LEARN MORE