Fight Night
Rubio Supporters Grow Restive as Debate Looms
The Florida senator needs a win at the ballot box, and his backers say a breakout performance on the debate stage could help deliver it.
by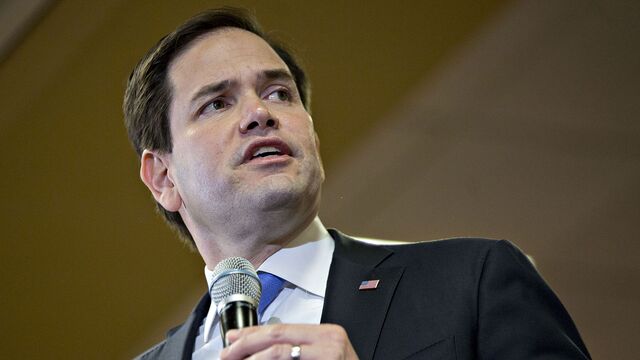 With no wins to show after the first four contests in the Republican presidential primary, Marco Rubio's supporters are growing nervous that their candidate's chances of becoming the party's nominee may already be slipping way. 
"He's got to do something, he's got to stir up the mix a bit," said Steve Hosheinz, a 55-year-old accountant from Houston who was among 2,000 people who waited to hear Rubio speak to a rally here on Wednesday. "He's a true conservative but he also as a very positive message. He's someone who can appeal to the middle. He's got to show that." 
Rubio, the junior senator from Florida, placed a distant second in Tuesday's Nevada caucuses, second in South Carolina, fifth in New Hampshire, and third in Iowa. With 11 Republican contests to be held on March 1, the momentum in the race is decidedly not with Rubio or Texas Senator Ted Cruz, but with the man who has won three of the first four states, Donald Trump. For many Republicans still deciding whether to back Rubio, that means that he needs to come out swinging during Thursday night's Republican debate. 
Stanley S. Hubbard, chairman of Hubbard Broadcasting in Minnesota, who has considered supporting several of the Republican candidates, is one of those watching to see how Rubio holds up in the debate and the rest of the race. "People vote with their heart, not their head," Hubbard said. "In the case of Mr. Trump, he's hit a chord obviously. But he's still got a minority of Republicans."
The debate stage has, however, proven an unreliable platform for Rubio from which to woo voters. After turning in solid outings in early primary debates only to find himself overshadowed by Trump, Rubio saw his prospects in New Hampshire hit a wall at the Feb. 6 debate amid blistering attacks from New Jersey Governor Chris Christie. In the most recent candidate forum in Greenville, South Carolina, Rubio regained his footing, joined Trump in labeling Cruz a "liar," a coordinated attack that helped slow the Texan's momentum in the Palmetto State.
But if he hopes to cut into Trump's daunting lead, Rubio knows he will have to perform well at Thursday's debate in Houston, the last opportunity to face-off against the front-runner before Super Tuesday. 
"The pressure is definitely on, all eyes will be on this," said Elizabeth Simas, who teaches American politics at the University of Houston and has studied electoral behavior. "The challenge for Rubio is that he's got to flip the switch and he's got to get people to focus on electability. The million dollar question is how do you do that?"  
During a Wednesday night Republican presidential forum on Fox News, host Megyn Kelly wasted no time in pointing out that he "has not won a single race," asking what he planned to "change to get a different result" against Trump. 
"I'll admit that he's the front-runner and that I'm certainly an underdog, but I've been an underdog my entire life," Rubio responded, before tentatively going after the billionaire. "We are not going to let the conservative movement be defined by a nominee who isn't a conservative. And we certainly need to elect someone who is prepared to be president in a thoughtful and serious and important way given the threats this country faces. So that's why a majority of Republican voters are not supporting Donald Trump."
Of late, Rubio has undertaken an aggressive schedule that has seen him appear at as many as four events per day and hitting three time zones in one day. Still, on the trail, Rubio has seemed reluctant to aggressively go after Trump. Instead, he has spent much of his stump speech invoking President Ronald Reagan and arguing that the road to the nomination doesn't lie in any particular state, but in the ability to outlast his opponents until a thinning herd leaves the remaining candidate with enough votes to overcome Trump.
"The Republican nomination is decided by delegates," he said during an interview Wednesday on CBS. "It's not based on how many states you win."
Like many Rubio supporters, Sophia Navarro, a beauty salon owner from Houston, Texas, is distressed by Trump's march toward the nomination.
"I'm hoping more and more people are going to become aware that Trump has so many negatives," said Navarro, who thinks that the unelectable billionaire is capitalizing on establishment protest votes. "No one seems to care about that and it's such a big thing. If you're going to vote for someone, why throw your vote away." 
Before it's here, it's on the Bloomberg Terminal.
LEARN MORE