Now or Never
Rubio Puts Trump on Defensive Over Immigration, Obamacare in Super Tuesday Debate
The Florida senator unleashed a rapid-fire string of near-mocking attacks on everything from Trump's record of hiring immigrants to his inherited wealth.
by and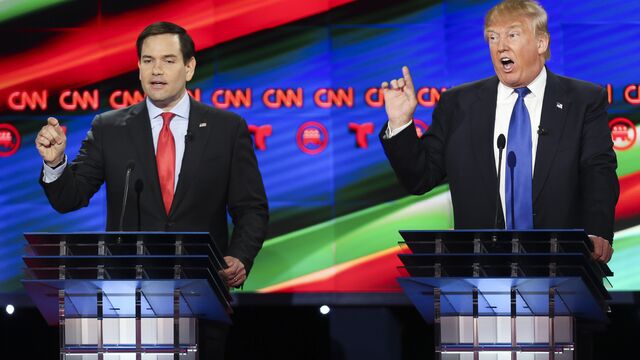 Florida Senator Marco Rubio, for the first time in any Republican presidential debate, seemed to rattle billionaire Donald Trump with a rapid-fire string of near-mocking attacks on everything from his record of hiring immigrants to his inherited wealth and even to his propensity to repeat a series of crowd-pleasing but carefully rehearsed lines.
In one exchange, Rubio pressed Trump for details on how he would repeal and replace Obamacare. "This is not a game. What is your plan? What is your plan on health care?" Rubio said.
Trump kept stressing that his plan involves allowing increased competition across state lines, repeating the need to get rid of "those lines." Rubio, with a smile, said, "Now he's repeating himself."
"I watched him melt down a few weeks ago against Chris Christie," Trump replied. "I watched him repeat himself five times four weeks ago."
Rubio shot back, "I watched him repeat himself five times five seconds ago."
For Rubio, it was a moment of political turnabout, since it was Rubio who got flustered during a New Hampshire debate when then-candidate Chris Christie, the New Jersey governor, accused him of repeating himself. Rubio, in turn, repeated the same line three times.
QuickTake How the U.S. Elects Its Presidents
This time, it was Rubio on the attack, and Trump seemed at one point at a loss for a quick retort, while Rubio seemed to be almost enjoying the sparring.
All of the candidates promised to release tax returns after facing criticism from Mitt Romney, the party's 2012 nominee. Cruz and Rubio both vowed to release their returns in the coming days, while Trump said he was awaiting completion of audit.
"I will absolutely give my returns but I'm being audited for two or three years until the audit is finished, obviously, and I think people would understand that," Trump said.
Cruz tried to use the audit as a cudgel against Trump, demanding to know what years he was being audited and saying he should release his other returns. And So did Romney, on his Twitter feed.
"No legit reason @realDonaldTrump can't release returns while being audited," he said, "but if scared, release earlier returns no longer under audit."
Earlier in the debate, Rubio and Texas Senator Ted Cruz tried to poke holes in Trump's signature issue: illegal immigration. Both men know they must stop a surging Trump on in the March 1 Super Tuesday contests to keep their campaigns alive.
Rubio opened the debate by referring to a New York Times report saying that Trump hired many foreign workers at a resort in Florida, despite his tough talk on bringing jobs to America and keeping illegal immigrants out with a wall at the Mexican border. 
"He hired a significant number of people from different countries, and instead of hiring an American like her, you've brought in a thousand people from all over the world instead," Rubio said, referring to his mother, an American citizen. "You are also the only person on this stage whose ever been fined for hiring people to work on projects that were illegal."
Trump shot back to Rubio, "You've never hired anybody."
"In Palm Beach and other locations, you could not get help," Trump said, explaining why he hired immigrants. "People didn't want part-time jobs."
Rubio also criticized Trump for making his Trump fashion line of ties and shirts outside the United States. "Make them in America," Rubio said.
When Trump said Rubio doesn't know anything about business, Rubio shot back, "I don't know anything about bankrupting four properties" and then said Trump was only able to be a good businessman because he inherited $200 million from his father. "If Donald Trump hadn't inherited $200 million, do you know where he'd be right now? Selling watches in Manhattan," Rubio said.
Trump said, "I took $1 million and turned it into $10 billion."
Cruz also joined in, saying at one point that Trump was missing in action during the immigration debate in Congress. "Where was Donald? He was firing Dennis Rodman on 'Celebrity Apprentice,'" Cruz said.
About half of the delegates needed to secure the nomination are up for grabs Tuesday. While Trump won't win all the delegates that day -- some delegates can be awarded to the second and third place finishers -- he's positioned himself to be the breakout winner on that day, increasing the pressure on Senators Ted Cruz of Texas and Rubio to exceed expectations with their debate performances in Houston.
Until tonight, Rubio has mostly shied away from attacking Trump, opting to avoid the avalanche of insults that usually follow from the New York businessman. But the Florida senator signaled some targets he may strike when he called Trump out by name and attacked him on Obamacare and Israel during a rally in the city on Wednesday.
"The front-runner in this race, Donald Trump, has said he's not going to take sides on Israel versus the Palestinians because he wants to be an honest broker," Rubio said during the rally. Rubio said the Palestinian Authority "has strong links to terror" and "they teach little kids, 5-year-olds, that it's a glorious thing to kill Jews."
If Rubio does go after Trump, one almost certain response from the former reality TV host will be a new poll today from Quinnipiac University that shows Trump nearly lapping Rubio in Florida. Rubio's chief strategist, Todd Harris, posted on Twitter that the poll is "way wrong" and then did his best Joe Namath impression. "We are going to win Florida," Harris wrote. "Period. Take it to the bank."
Rubio has finished second -- albeit a distant second -- to Trump in the past two nominating contests in Nevada and South Carolina, raising the possibility that Florida's junior senator may not have to wait to be engaged on stage. In previous debates, Trump has been eager to mix it up with whomever he perceives as his closest competitor.
That role had been occupied by Cruz, who is struggling to put his own campaign back on track after winning Iowa, the first nominating contest, on Feb. 1. Cruz finished third in South Carolina and Nevada, and polls suggest that his home state, Texas, could be in play when it holds its primary contest on Tuesday.
The debate in Houston is in Cruz's own backyard. The Texas senator has set up his campaign headquarters in the city, and he could use the same boost that John Kasich got from the first debate in Cleveland in August, when a hometown crowd helped inspire what may have been the Ohio governor's best performance to date. Kasich remains in the race, but has opted to run an unusual campaign aimed at midwestern and northeastern states. Retired neurosurgeon Ben Carson is also participating in the debate tonight, and has said that he needs a breakout performance on Super Tuesday to continue his campaign.
Most of the delegates up for grabs on Tuesday are in the South. 
Trump holds a substantial lead in this region. A new Bloomberg Poll Thursday shows Trump has remarkable strength for a twice-divorced New Yorker in Bible Belt states home to some of the nation's most conservative voters.
An online Bloomberg Politics poll shows the billionaire is backed by 37 percent of likely Republican presidential primary voters in the seven states surveyed, while Rubio and Cruz are tied at 20 percent.
The debate in Houston will be the 10th time Republicans have met on stage, and the 9th for Trump. The New Yorker sat out the Fox News forum on Jan. 28, a move that was widely seen as leading to his second-place finish in the Iowa caucuses four days later.
Before it's here, it's on the Bloomberg Terminal.
LEARN MORE