To the Right
Mitch McConnell Confronts a Changing Republican Party
With several senators facing challenges from right-wing conservatives, the majority leader has been forced to adopt a new strategy for keeping control of the U.S. Senate.
by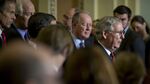 Alabama Republican Senator Richard Shelby, who boasts a score of 99 percent from leading conservative group Heritage Action for America, is a pillar of today's GOP establishment. First elected to the House of Representatives in 1978 as a Democrat, Shelby moved to the Senate in 1987 and flipped parties after the Republican revolution of 1994. He's now the chairman of the Senate Banking Committee and one of his party's top fundraisers.
This year, that profile may work against him. Shelby, 81, is facing a challenge from the right in his primary, which takes place on March 1, alongside the state's presidential nominating contest. Senate Majority Leader Mitch McConnell finds himself in a quandary as he tries to hold on to the GOP's four-seat Senate advantage: On the one hand, he can't afford to alienate moderate, independent voters in swing states like Florida and New Hampshire, where Senate races are likely to be close; on the other, he's bound to protect incumbent senators from being challenged from the right, a concern that underpins his decision to block confirmation hearings for any Supreme Court nominee until after the general election in November. "Especially in this atmosphere where there's a lot of anti-establishment feeling out there, anything can catch fire," says consultant Ron Bonjean, who worked with the National Republican Senatorial Committee for the 2014 midterms. "For many of these Republicans, the election isn't Election Day. The election is primary day."
Shelby's chief antagonist is a 33-year-old marine named Jonathan McConnell (no relation to the Senate majority leader). A first-time candidate who runs a maritime security firm he started while in law school at the University of Alabama, McConnell is the son of a former state GOP chairman. According to the most recent federal filings, he's raised more than $766,000 for his bid and has about $92,000 on hand, far less than the $12.2 million Shelby has in the bank. McConnell says he's faced uphill battles before; as an undergraduate at Auburn University, he succeeded in becoming president of the student body even though he wasn't part of the school's powerful fraternity system. McConnell outmaneuvered the Greek machine by convincing other constituencies that they were getting shortchanged. "The student government association benefited the Greeks, so what we did is infuriate the band and everyone else on campus," McConnell says. "It's very similar to what we have now—we have a club, these career politicians. It's an elite society that take care of themselves."
On Feb. 18, McConnell and three other Republican candidates gathered at a gun store in Hoover, a Birmingham suburb, for a debate. (Shelby was invited but declined to attend.) As the candidates sat at the front of the room, the store's owner, Gene Smith, walked in and told local TV news crews to turn off their cameras. Then Smith, a Shelby supporter, told the crowd he'd never given permission for the Rainy Day Patriots, a Tea Party group that regularly holds meetings at the store, to host a Senate debate. He said he was willing to let the event proceed, subject to one compromise: "Because he's not here to defend himself, no negative statements will be made about Senator Shelby." The crowd laughed at him.
McConnell's campaign manager, Rick Renshaw, stood up at the back of the room and announced he and his candidate were leaving. "Two of these gentlemen put their lives in uniform in defense of their country, and they didn't do it to have the First Amendment stepped all over," Renshaw said. "We're out of here." McConnell stopped to deliver a comment to reporters: "This is the Nazi Gestapo that Richard Shelby represents." He repeated the same line to voters who came over to congratulate him. Smith, in a statement sent to a local political site, said, "I expected there would be hating going on afterwards and online. However, if you were there, you know who around you acted out."
Shelby's taking McConnell's challenge seriously. He contrasts himself with Mississippi Senator Thad Cochran, who won after being forced into a runoff in 2014, and with former Indiana Senator Richard Lugar, who lost his primary in 2012 to Richard Mourdock, a Tea Party-backed conservative. (Mourdock ultimately lost the seat to a Democrat, Joe Donnelly.) "They may have been surprised by the unrest and turmoil," Shelby says. "I plan not to be a target."
He's already spent about $9.2 million this cycle, more than in his last three campaigns combined. Much of the money paid for ads, including one reminding voters that he'd been able to get a constituent's son approved for burial at Arlington National Cemetery in less than 15 minutes. "Shelby is such an institution here," says Richard Fording, who chairs the University of Alabama's political science department. "He's known for bringing a lot of projects to the state, a lot of federal money."
Shelby has also gone negative. His campaign has created conmanjon.com, a website targeting McConnell. "Jonathan McConnell would say and do anything to get to Washington," the website says on its home page. Shelby says he shares the frustration of primary voters who wanted the Republican-controlled Congress to undo more of Obama's agenda: "I've tried to be an advocate of their frustration." One ad says Shelby "stands up to Obama every single day." The senator says he won't support a Supreme Court nominee getting a Senate hearing before a new president is elected. "I would oppose any nominee that the president put up, because it would tilt the court," Shelby says. "It would change America."
McConnell's campaign happily takes credit for forcing Shelby to the right. "You're not going to come out here and say, 'Obama's the president, he deserves to get his nominee through,' " Renshaw says. "He knows he'd be tossed out just for that." McConnell won backing from the conservative advocacy group Citizens United in January. "What Jonathan McConnell is doing is a service for America," says David Bossie, its president. "Incumbent politicians who have credible primary challengers will have to take that into consideration as they move forward on the Supreme Court—or don't."
McConnell says he thinks voters' enthusiasm for presidential outsiders like Ted Cruz and Donald Trump will trickle down the ballot: "I doubt they're going to cancel out their vote by voting for Richard Shelby, the quintessential politician, quintessential establishment candidate."
—With assistance from Greg Giroux.
Before it's here, it's on the Bloomberg Terminal.
LEARN MORE