Roberts Calls Late Justice Scalia 'Our Man For All Seasons'
by
U.S. Supreme Court sits for first time since Scalia's death

Black drapes adorn Scalia's chair as eight justices take bench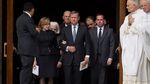 An empty seat commanded the courtroom as the U.S. Supreme Court took the bench for the first time since Justice Antonin Scalia's Feb. 13 death.
With black drapes adorning Scalia's chair and a section of the bench, the eight remaining justices sat down before a packed courtroom Monday to hear arguments in two cases and, briefly, remember their late colleague.
"We remember his incisive intellect, his agile wit and his captivating prose," Chief Justice John Roberts said as the session began. "But we cannot forget his irrepressible spirit. He was our man for all seasons, and we shall miss him beyond measure."
The mention of a "man for all seasons" was an apparent reference to Scalia's hero, Thomas More, the English statesman and thinker who became a Catholic martyr when he was beheaded in 1535 for refusing to acknowledge King Henry VIII as the head of the Church of England.
The court is operating at less than full speed this week, hearing arguments in five cases but not issuing the orders and opinions the justices normally would produce in their first public sitting in four weeks.
The black wool crepe that also adorns the courtroom entrance will remain in place for 30 days following Scalia's death. The draping is a court tradition that dates back at least as far as the 1873 death of Chief Justice Salmon Chase. The flag on the court's plaza will also be flown at half-staff for 30 days.
Starting with their March 21 session, most of the justices will shift seats to account for their new seniority. Justice Anthony Kennedy will move to Scalia's position to Roberts's right, and Justice Clarence Thomas will take Kennedy's spot on Roberts's left.
The space that since 2010 has been occupied by the newest justice, Elena Kagan, will sit empty until the Senate confirms Scalia's successor. With Senate Republicans vowing to block any nominee by President Barack Obama, the process could extend beyond the November election and into next year.
Scalia served almost 30 years on the court, writing 282 majority opinions. "He was also known on occasion to dissent," Roberts said, drawing gentle laughter from the courtroom.
The justices heard arguments Monday in cases over a government contracting dispute involving the Department of Veterans Affairs and over the use of evidence seized in a police stop later found to be illegal.
Before it's here, it's on the Bloomberg Terminal.
LEARN MORE