Trump Aide Expects High Turnout, Narrow Victory in South Carolina
Corey Lewandowski tells reporters: "I think it's going to be close."
by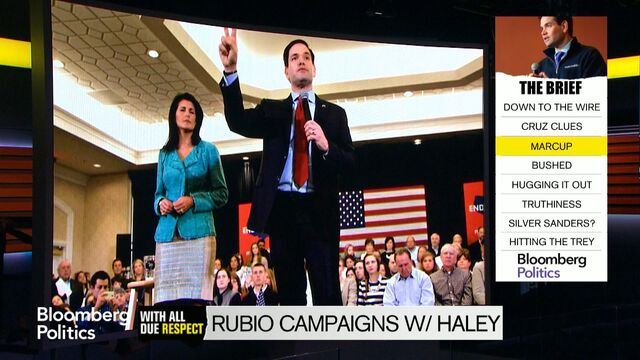 Unless the polls are very wrong, Donald Trump is poised for his second consecutive primary victory Saturday in South Carolina.
After a boisterous rally in Charleston the night before, where the Republican front-runner lamented U.S. jobs lost to China and Mexico and raved about the use of torture against terrorists, his top aide predicted victory—as long as turnout is high.
"I think Trump brings new people to the table. I think we're expecting record turnout. We saw record turnout in Iowa, we saw record turnout in New Hampshire. I hope that a record number of people turn out tomorrow because if they do, I think Mr. Trump's going to have a good day," campaign manager Corey Lewandowski told reporters. "I think it's going to be close."
Lewandowski contended that contrary to some recent polls that show him dipping below 30 percent, "I think our numbers went up" after the contentious debate last Saturday, he said.
A Fox News poll released Thursday showed him with 32 percent, ahead of U.S. Senator Ted Cruz's 19 percent and U.S. Senator Marco Rubio's 15 percent; the rest of the candidates were in single digits. An NBC/Wall Street Journal survey released around the same time found Trump leading the pack with 28 percent to Cruz's 23 percent and Rubio's 15 percent.
Part of Trump's appeal in South Carolina is that voters who have been hit hard by the decline in manufacturing jobs take solace in his promises to negotiate "great deals" with China and Mexico that help American workers. "I'm really good at the trade," Trump boasted Friday night. "I'm really good at the borders."
Terry Silliman, 46, from Goose Creek, South Carolina, said he's committed to voting for Trump. Asked why, he said, "Pretty much jobs leaving the country to go to China and stuff like that. Especially with Boeing here."
Silliman said he believed Trump could bring those jobs back.
"He's talking about lowering corporate taxes and stuff like that. That allows them to come back to the United States," he said.
Ana Bueno Prodani, an aerospace and auto manufacturer, is also planning to support Trump. After the rally, she said she asked him about "all our companies that have moved to Mexico in the last 20 years. And I said, 'Can you bring those companies back?' And he promised me that he would."
But how? "I believe that he can bring them back because I totally agree that we're not negotiating correctly with Mexico or with China. We let them step all over us," she said.
Cruz's closing argument relied heavily on the Supreme Court vacancy created by the unexpected death of Justice Antonin Scalia last week.
"I give you my solemn word that as president, every justice I put on the Supreme Court will be a principled constitutionalist who will be faithful and protect the Bill of Rights for our children and our children's children," Cruz said at a Friday rally at the College of Charleston. "If we elect a Democrat we will lose our constitutional rights for a generation. But here's the sad truth: Electing a Republican, if it's the wrong Republican, doesn't ensure we keep our rights."
He questioned Trump's commitment to picking a conservative justice, which Lewandowski scoffed at, noting that Trump has floated George W. Bush circuit court appointees Diane Sykes and William Pryor as potential nominees. "I don't think Ted has criticized either one of those two. They're two of the most conservative judges on the bench right now," Lewandowski said. "If Ted wants to question their conservative credentials he's welcome to do that."
The stakes are high for Rubio, who placed ahead of Cruz in second place in lesser-known polls by Emerson and Opinion Savvy. The Floridian's campaign has tried to keep expectations low, but he needs a strong finish to keep alive his hopes for the nomination after finishing third in Iowa and fifth in New Hampshire. In the Palmetto State, Rubio has enjoyed big-name endorsements from Governor Nikki Haley, Senator Tim Scott, and Representative Trey Gowdy, and has invested far more than his rivals on local political consultants.
Rubio held to his positive message Friday about restoring the American dream, flanked by Haley and Scott at a Charleston rally. If he's elected president, he promised, "America's future will be brighter than its history." He added, "I am a conservative who can unite our party, and we will grow it and we will win."
While Cruz attacks both Trump and Rubio, Rubio's campaign has focused its fire on Cruz and largely ignored the front-runner.
Lewandowski sought to temper expectations for the Feb. 23 Nevada caucuses, after polls showing Trump leading in Iowa were followed by a defeat to Cruz.
"If you believe the public polls it could be a good night," the chief Trump aide said. "But a caucus is a unique thing. ... It's about ground game. It's about making sure your people show up and vote."
Before it's here, it's on the Bloomberg Terminal.
LEARN MORE