Honesty Quotient
Rubio and Trump Call Cruz a Liar, But His Fans Aren't Moved
The dual attacks on the Texas senator's integrity have an intended target: his core base of conservative voters.
by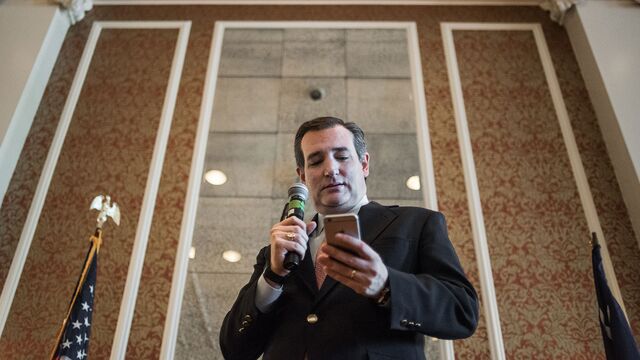 Marco Rubio tried attacking Ted Cruz as a hypocrite on immigration. He tried attacking his foreign policy as "simplistic." He tried accusing him of voting to gut the U.S. military and intelligence. None of those attacks worked.
Now, Rubio is going after his rival's character—with an assist from Donald Trump.
In the run-up to the South Carolina primary, the Florida senator has taken to regularly calling Cruz a "liar," a rarity for politicians who tend to steer clear of that loaded word when it comes to members of their own party.
"This is a disturbing pattern now, because for a number of weeks now, Ted Cruz has just been telling lies," Rubio said in the Feb. 13 Republican presidential debate. At a town hall hosted by CNN on Wednesday evening, Rubio re-upped the charge: "I said he's been lying because if you say something that isn't true and you say it over and over again and you know that it's not true, there's no other word for it."
At the debate, Trump told Cruz, "You are the single biggest liar." On MSNBC on Wednesday, he said that during the debate, Rubio "came out and he accused Ted of being a liar. I said, good, because now I can do that too."
The aim is to pierce through Cruz's most powerful piece of armor—the trust he has built up with the most conservative voters in a Republican Party. While all other segments of the GOP favor Trump, polls indicate that very conservative voters often rate Cruz as their first choice. Cruz's brand, as summed up by his clever logo "TrusTED," is that of a rare, principled truth-teller in a sea of two-faced politicians.
In Iowa, Cruz's victory was powered by conservative Republicans, a key vulnerability for Trump and Rubio. A Quinnipiac national Republican poll released Wednesday found Trump leading the race and dominating with all ideological groups except "very conservative" voters, who preferred Cruz by 9 points.
"The play here is to peel off evangelical voters in South Carolina that view Cruz as an upstanding, righteous conservative," said Republican strategist Ron Bonjean. "If they can punch holes in Cruz's brand, then they have a great opportunity to peel off Christian conservatives that thought he was one thing but now believe differently."

'Dirty Politics'
While the Texan has in the past been less hard-core on issues like legal immigration, he has, in his three years as a senator, hewed to hard-line conservative positions with more regularity than any of his rivals. And he has pushed for using scorched-earth tactics such as government shutdowns and debt default in pursuit of ordinarily unattainable conservative goals, drawing the ire of party elites. That makes him tough to beat in an ideological war.
Cruz's campaign spokeswoman said Rubio was "attacking Ted for calling out his record," and said the tactic wouldn't "sit well with voters."
"If you're Marco Rubio and you've paved the way for amnesty and you're one of the faces of Washington cronyism and making deals with Barack Obama, yeah, I wouldn't want to talk about the issues either," Cruz spokeswoman Alice Stewart told Bloomberg Politics after a Cruz campaign stop in Greenville, South Carolina, on Thursday. "It's just a sad campaign tactic and people are going to see through that. ... They're engaging in dirty politics and accusing us of this kind of politics—it's sad."
Rubio spokesman Alex Conant called Stewart's remark a "ridiculous attack" that's "just the latest example of Senator Cruz's willingness to do or say anything in this campaign." In an e-mail, Conant added, "Marco's campaign is focused on the issues—it's why we've never run a negative TV commercial, unlike Senator Cruz."
Cruz has sought to advance his strength by turning the primary contest into an ideological war. He attacks Rubio for abandoning his 2010 promise not to support "amnesty." He attacks him as soft on his support for "traditional marriage" and defunding Planned Parenthood. The attacks have agitated Rubio's campaign, which is competing with Cruz for conservative voters, along with moderate Republicans.
"Campaigning 101 is that you can't let the false attacks stand or you risk letting people believe they're true," said Doug Heye, a former spokesman for the Republican National Committee. "That it ties into what Trump has been saying only solidifies [the Rubio campaign's] pushback and helps the charge stick."
Fans Unbothered
Voters at Cruz rallies seemed unfazed by the accusations on Thursday.
"I respect Marco Rubio greatly but I think he's pulling at straws," said Hannah Allison, a 26-year-old accountant from Greenville. "I do not believe he's speaking the truth in this situation," she said, referring to Rubio's argument that Cruz backed legal status for undocumented immigrants in 2013.
"Makes me disgusted, frankly. He (Rubio) was my backup pick until he started with the 'lying' stuff," said Leslie Howard-Redweik, a Cruz supporter at his campaign stop at the Poinsett Club in Greenville.
On Thursday, Senator Mike Lee of Utah, a friend of both Cruz and Rubio who's campaigning with both senators this week, took Cruz's side in the Texan's immigration spat with Rubio. When the Senate was pushing "amnesty," Lee said, referring to a bill Rubio co-sponsored, Cruz was "one man" who "fought against the bill at every single step." (Cruz and Lee voted against the legislation; Rubio voted for it.)
Virginia Catalano, 69, threw up her hands when asked about the charges of dishonesty against Cruz. "It's strategy. That's the world we live in," she said. "It's grueling. We're South Carolinians but we're polite people. We fight fairly."
"They're calling him a liar because he's the biggest threat," said Dean Anderson, a retired part-time real estate salesman from Greenville who plans to vote for Cruz. "They're trying to defuse him."
'Unhinged and Unpresidential'
Cruz has laid into Trump, the front-runner in South Carolina polls, as a former pro-choice advocate. The attacks have aggravated Trump, too, whose lawyer issued a letter threatening to sue Cruz this week over a TV ad that revisits video clips of Trump calling himself "very pro-choice" in a 1999 interview with NBC's Tim Russert.
In response, Cruz held a press conference Wednesday mocking the threat and highlighting Trump's past donations to Democrats. Cruz's campaign wrote back that "we now plan to air the ad with greater frequency."
Rubio campaign strategist Todd Harris told reporters Wednesday that Cruz looked "both unhinged and unpresidential" in the news conference. A day later, Harris said the Cruz campaign was being "phony and deceitful" upon lambasting it for photoshopping an image of a smiling Rubio shaking hands with Obama alongside the text "The Rubio-Obama Trade Pact," CNN reported.
A Wednesday poll of South Carolina Republicans by Bloomberg Politics found Donald Trump leading with 36 percent. Cruz was in second with 17 percent, and Rubio came in third with 15 percent.
While he has dismissed the attacks on his integrity, it's clear they have irked Cruz.  
"In many ways, both Donald Trump and Marco Rubio are following this pattern that whenever anyone points to their actual record, to what they've said, to what they've voted on, to what they've done, they start screaming liar, liar, liar," he said at the CNN town hall. "I mean, it is the oddest thing. I can't think of any precedent in any previous Republican presidential election."
Before it's here, it's on the Bloomberg Terminal.
LEARN MORE