Church and Real Estate
Trump Battles Pope Over Border Wall
The leader of the Roman Catholic Church described those who think about building walls "not Christian."
by and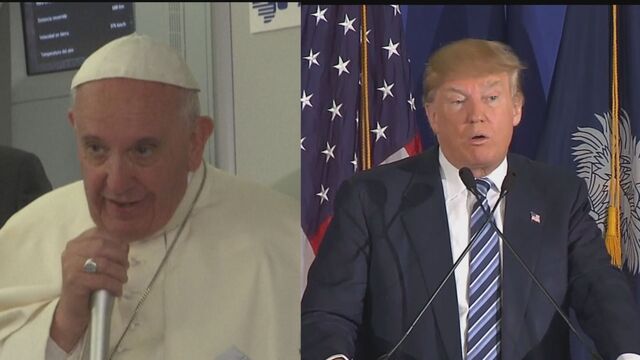 Donald Trump said it was "disgraceful" on Thursday for Pope Francis to suggest Trump "is not Christian" because of his strict stance on immigration.
The war of words between the Republican presidential front-runner and the Holy Father comes just two days before the primary in heavily Christian South Carolina.
The pope told reporters Thursday that someone like Trump "who thinks only about building walls, wherever it is, and not of building bridges, is not Christian," according to a transcript provided by the Vatican. The pope made the remarks en route back to Vatican City from Mexico, where he'd visited the border to pray for migrants. He said he'd "give the benefit of the doubt" since he hasn't heard Trump's plan himself, but reiterated that if Trump "says these things, this man is not a Christian." 
Trump has proposed bolstering American border security by building a wall along the U.S.-Mexico border and having Mexico pay for it in an effort to combat illegal immigration.
"For a religious leader to question a person's faith is disgraceful," Trump said in a statement. "I am proud to be a Christian and as President I will not allow Christianity to be consistently attacked and weakened, unlike what is happening now, with our current President." Trump said Mexico is using the pope like a "pawn."
"If and when the Vatican is attacked by ISIS, which as everyone knows is ISIS's ultimate trophy, I can promise you that the Pope would have only wished and prayed that Donald Trump would have been President because this would not have happened," Trump said.
The public sparring is an escalation of a spat that began earlier this month when Trump said on Fox Business Network that Francis didn't understand "the danger of the open border we have with Mexico."
"I think Mexico got him to [visit the border] because Mexico wants to keep the border just the way it is because they're making a fortune and we're losing," Trump added.
On Tuesday, Vatican spokesman Rev. Federico Lombardi responded to Trump's comments on FBN, saying in a statement that the pope "always talks about migration problems all around the world." Francis alluded to immigration when he addressed a joint Congress in September. "We, the people of this continent, are not fearful of foreigners, because most of us were once foreigners. I say this to you as the son of immigrants, knowing that so many of you are also descended from immigrants."
Matthew Bunson, a Roman Catholic theologian and historian, said that immigration has long been an important issue to Francis, who was born in Buenos Aires. "It's certainly rare for any pope to express any kind of an opinion about a political candidate because the pope—even this one—has stressed that they are non-political," said Bunson, adding that Francis was responding to a question about comments from Trump.
Francis' address to Congress in September was part of his becoming an increasingly political figure in America. His rhetoric at times seemingly transcended traditional U.S. political party divisions: progressives have praised his criticism of income inequality and his calls to combat climate change, while social conservatives have praised his stances against abortion and same-sex marriage.
Already, presidential candidates are being asked to weigh in on the pope's comments, even before they've had a chance to hear them for themselves. 
Speaking to reporters before an event in Anderson, South Carolina, Senator Marco Rubio said he hadn't seen Francis's full comments but that "we're also a sovereign nation and we have a right to control who comes" into the U.S. "and how they come in." 
Outside Mutts BBQ in Easley, South Carolina, Ted Cruz declined to weigh in on whether he agrees with the Pope.
"Listen, that's between Donald and the Pope. I'm not gonna get in the middle of that. I'll leave it to the two of them to work it out," Cruz told reporters.
In a statement released Thursday afternoon, retired neurosurgeon Ben Carson sought to distinguish between stiffer immigration policies and Christian principles. 
"I have spoken often about the need for faith and compassion in America. However, enforcing our immigration laws is not in contradiction with love and kindness," Carson said in his statement. "As Christians, we are called to love our neighbors. But as a nation, we must also defend our sovereignty and security."
A Bloomberg Politics poll conducted Feb. 13-16 found 41 percent of likely Republican primary voters in South Carolina say Trump has the right approach to illegal immigration; rival Senator Ted Cruz was a distant second at 16 percent.
That same poll had Trump trouncing his competitors in the overall horse race: Trump garnered 36 percent, followed by Cruz at 17 percent.
The poll also found 35 percent said Trump wasn't religious enough to be a good president. Cruz led with 24 percent on the question of which candidate shares the religious values of the people of South Carolina.
Trump, a Presbyterian, has recently courted the evangelical vote in South Carolina after doing so in Iowa, where he placed second behind Cruz in the Feb. 1 caucuses. He has received prominent endorsements within the evangelical community, including Jerry Falwell Jr., son of the late Reverend Jerry Falwell, a dominant force behind creating the conservative "Moral Majority" in the 1980s.
Catholics are seen as an important swing vote in U.S. presidential elections. A majority of voting Catholics supported President Barack Obama in 2008 and 2012. They backed former President George W. Bush for re-election by a narrow margin in 2004, but went for Democratic nominee Al Gore in 2000, according to Pew Research Center.
Seventeen states have Catholic populations of more than one million, according to Pew and U.S. Census data compiled by Bloomberg. General-election battleground states Florida, Pennsylvania, and Ohio each have more than two million.
Thirty-seven percent of U.S. Catholics said they were Republicans or leaned Republican, Pew said in 2014.
—With assistance from Sahil Kapur and Terrence Dopp in South Carolina, and from John Follain in Rome. 
Before it's here, it's on the Bloomberg Terminal.
LEARN MORE