Obama Says He Will Make Historic Trip to Cuba Next Month
by and
President says he will raise human rights issues 'directly'

Opponents of easing relations fault president over trip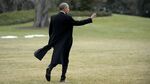 President Barack Obama said Thursday that he will travel to Cuba next month in a history-making reset 55 years after the U.S. broke diplomatic ties with the Communist island nation amid the angst of the Cold War.
The trip follows years of diplomatic maneuvering and months of final negotiations between Obama's administration and the regime of Cuban President Raul Castro. It was a top item on Obama's wish list before he leaves office, even as Cuba continues to draw condemnation for human-rights abuses and the U.S. Congress resists lifting the trade embargo against Cuba.
"We still have differences with the Cuban government that I will raise directly," Obama said on Twitter, where he announced he would travel to the country. "America will always stand for human rights around the world."

Obama will be only the second sitting U.S. president to visit Cuba. The first was Calvin Coolidge in 1928. Former President Jimmy Carter visited Cuba in 2011, the first such visit since Fidel Castro rose to power in the Cuban Revolution of 1959. First Lady Michelle Obama will accompany her husband on the trip.
Cuba will be a stop on a presidential trip to Latin America, that also will include Argentina for a meeting with the new president there, Mauricio Macri. His election in December was viewed at the White House as an opening to expand energy, business and government ties with a country that has had sometimes "problematic" relations with the U.S., Deputy National Security Adviser Ben Rhodes said.
Macri expressed interest in renewing U.S. ties and "we want to sit down with him early in his term" to also show Obama's broader commitment to the region, Rhodes said.
'Irreversible' Policy
The planned Cuba trip follows two decades of shifting public opinion. A Gallup Poll conducted Feb. 3-7 found for the first time that a majority of Americans, 54 percent, now see Cuba favorably. Americans are divided along partisan lines, with 73 percent of Democrats and 34 percent of Republicans holding a favorable view. When Gallup asked the favorability question in 1996, the year Congress passed a law tightening the embargo on Cuba, 81 percent of Americans held an unfavorable view.
The administration continues to urge Congress to lift the embargo. Rhodes said moving ahead with the opening to Cuba will provide U.S. businesses and traveler and opportunity to engage with the island's residents and that will spur more opportunities for the Cuban people.
Obama is traveling to Cuba early in his final year in office, instead of at the end, in order to hasten improvements in relations, Rhodes told reporters in a briefing.
"Our objective here is to do as much as we can with the time we have remaining to make this an irreversible policy," Rhodes said.
Going now also means the trip won't collide with the general election campaign to chose a successor to Obama.
Obama will meet with Cuban dissidents while in the country, Rhodes said. He also hopes for an opportunity to make a public speech to ordinary Cubans,. While the administration remains concerned about the Cuban government's treatment of dissidents and an increase in migration to the U.S., that won't prevent the president from traveling to the country.
"In our judgment, engagement is a far more effective means of engaging those issues than isolation," Rhodes said.
While "short-term detentions" of dissidents have increased recently, Rhodes said, "the number of kind of long-term political prisoners -- those kinds of detentions have gone down over the years and months."
The U.S. will raise the issue of detentions "directly" with the Cuban government, Rhodes said.
Opponents of easing relations with Cuba were quick to object to Obama's planned trip.
'Shameful' Visit
"It is absolutely shameful that Obama is rewarding the Castros with a visit to Cuba by a sitting American president since their reign of terror began," said Representative Ileana Ros-Lehtinen, a Cuban-American Republican from Florida, in a statement. "For more than 50 years Cubans have been fleeing the Castro regime yet the country which grants them refuge, the United States, has now decided to quite literally embrace their oppressors."
Senator Marco Rubio of Florida, a Republican presidential candidate and the son of Cuban immigrants, told CNN that if elected, he wouldn't travel to Cuba if the country isn't free. "The Cuban government remains as oppressive as ever," he said.
In December 2014, Obama announced that the U.S. would move toward normalizing relations with the former Soviet ally. The announcement followed more than a year of secret talks that involved Pope Francis and included securing the release by Cuba of a U.S. government contractor, Alan Gross, who had been held for five years in a Cuban prison. The U.S. has been pressing Cuba to make it easier for its own citizens to freely access information online and engage in business.
"We see everything that we're doing as being in the net positive for the lives and human rights of the Cuban people," Rhodes said.
Last May, the State Department took Cuba off the list of state sponsors of terror. In August, the U.S. reopened an embassy in Havana for the first time since the Eisenhower administration in 1961 cut diplomatic ties with Fidel Castro's new regime. And a new agreement will allow airlines this year to start scheduled service between Cuba and any city in the U.S. for the first time in more than a half-century. Until now, only charter flights between the two countries have been permitted.
Touchy Subject
Obama's overtures toward Cuba began in 2009, just months into his presidency, when he announced a lifting of restrictions on family visits and remittances to Cuba to increase humanitarian resources and exchange of information between separated family members.
The U.S. embargo has persisted, even as Obama has argued it is a relic of a time gone by and hasn't accomplished what it set out to do. Cuba is still a touchy subject with many Americans, including older Cuban emigres in South Florida, and the embargo has been a long-standing litmus test in Republican presidential politics.
In his final State of the Union speech in January, Obama said that "50 years of isolating Cuba had failed to promote democracy, and set us back in Latin America. That's why we restored diplomatic relations, opened the door to travel and commerce, positioned ourselves to improve the lives of the Cuban people. So if you want to consolidate our leadership and credibility in the hemisphere, recognize that the Cold War is over: Lift the embargo."
The president's Latin America trip coincides with the March 23 deadline for a peace deal between the government of Colombia and the Revolutionary Armed Forces of Colombia, or FARC, the country's largest rebel group. Those negotiations, which the Obama administration supports, are occurring in Cuba.
Before it's here, it's on the Bloomberg Terminal.
LEARN MORE