Preaching Politics
Trump and Cruz Battle for South Carolina's Divided Evangelical Vote
The billionaire is reaching out to new-school evangelicals with celebrity pastors, while the senator is going after more traditional church-goers.
by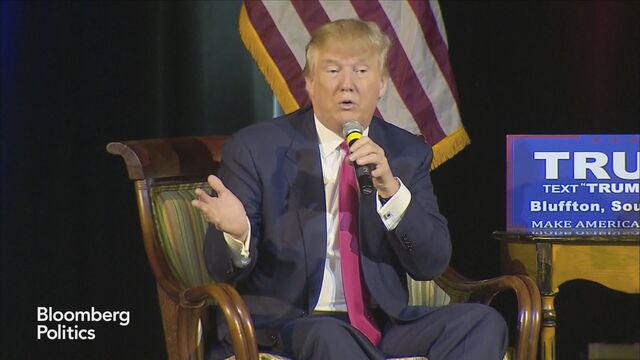 Donald Trump and Ted Cruz have entrenched themselves in a battle for South Carolina's evangelical voters, a constituency that, like the Republican Party itself, finds itself in the midst of an identity crisis. 
With the state's primary just four days away, Trump is reaching out to new-school evangelicals, whose pastors become celebrities and best-selling authors and whose church choirs can rise to become chart-topping Christian pop-rock bands.
In new-school churches, altars are often replaced by elaborate stages with light shows that rival backdrops from American Idol performances. Holy water fountains are converted into jacuzzi-sized baptism pools. For the purveyors of this flashier packaging of Christianity, it's all part of an effort to shepherd disenfranchised Christians back to Jesus, much in the same way that Trump is able to convert his own celebrityhood and financial success into a political following that attracts first-time voters. 
"There's a self-identifying factor these new-school evangelicals have with Donald Trump," said Dean Nelson, chairman of the Douglass Leadership Institute, a socially conservative Christian coalition network based in Washington that is not affiliated with any candidate.
Cruz, meanwhile, is going after more traditional evangelicals, many of whom frown upon the material trappings of the emerging new-school movement. Nelson said they focus more on the Bible's teachings and place less emphasis on personal wealth. It's a church culture, Nelson said, that's more akin to ultraconservatives like Bob Jones and they're more likely to be conservative hard-liners on social issues, just like Cruz.
Trump maintains a dominant lead in the latest CNN poll of likely Republican voters in South Carolina, trouncing Cruz by a 38 percent to 22 percent margin. Among white evangelical voters, Trump's lead is even larger: 42 percent back Trump, compared with 23 percent for Cruz, according to the poll, which was conducted from Feb. 10-15.
On Sunday, pastor Mark Burns, whose sermons air on an upstate South Carolina television network, devoted much of his 60-minute service in the town of Easley explaining why he's endorsed Trump for president.
"Millions of people have declared, 'What are you doing? Why in the world are you supporting someone that the whole world says is a racist? That the whole world may say is a bigot? That the whole world may say is wrong?'" Burns, an African-American pastor who previously voted for Barack Obama, shouted from the pulpit. 
"It is called listening to the voice of the Holy Spirit," said Burns, reaching for a towel to wipe sweat from his scalp. "Even those who declared, 'Hosanna, Jesus has come, the Messiah has come,' were the same people who said, 'Crucify him.'"

Burns and his wife, Tomarra, co-founded NOW Network, which describes itself as the station of "wisdom, worship, wealth and word." Its influential broadcasts are available online, through satellite television, and air on cable televisions in upstate South Carolina, northern Georgia, and western North Carolina—the heart of the Bible Belt, where advertisers have learned evangelicals crave local, spiritual content. 
Burns frequently appears at Trump's rallies to lead the candidate's faithful supporters in prayer. His own mentor, Texas-based televangelist Dr. Mike Murdock, endorsed Trump earlier this week and stumped for the billionaire in upstate South Carolina. Murdock is one of the most influential leaders of "prosperity theology," arguing that Christians who are aligned with God can also attain financial success.
For his part, Cruz picked up the endorsement Tuesday of Dr. Mark Harris, the prominent North Carolina pastor who vehemently fought against same-sex marriage. Harris said in a statement that the nation is suffering "economically and spiritually" and that he's endorsing Cruz because he believes people "hunger for a wise commander-in-chief, a leader who respects our Constitution and fears the Lord."
Cruz also enlisted conservative commentator Glenn Beck to campaign with him at MorningStar Fellowship Church in Fort Mill, South Carolina, in the upstate region. "Too many people are looking at a guy like Donald Trump and believing that he ever opened up a Bible," Beck said at the rally last week. "That is the biggest crock of bullcrap that I have ever heard."
Trump placed second to Cruz earlier this month in the Iowa caucuses, largely because Cruz made direct appeals to traditionalist evangelical voters by attacking his rival as being more moderate than them on issues like same-sex marriage and abortion. Iowa and South Carolina have a similar percentage of evangelical voters, and Cruz has stuck with those arguments as he campaigns in the Palmetto State. 
At the event with Beck, Cruz—whose father, Rafael, is a pastor—spoke like he was giving a sermon. The event had qualities of a religious revival, with members of the audience shouting "Amen!" as Cruz exhorted them to "commit to lift this country up in prayer."
According to the CNN poll, voters picked Trump as the best candidate to handle the economy, fix illegal immigration, defeat terrorists, and win against Democratic presidential front-runner Hillary Clinton in a general-election match-up. But 28 percent of them picked Cruz as the candidate most likely to share their views on abortion and same-sex marriage. Trump placed second in that category with 21 percent.
Since Iowa, Trump has attacked Cruz as unethical following reports that his surrogates told voters on caucus night that rival Ben Carson, a retired neurosurgeon, was dropping out of the race. "He goes around saying he's a Christian? I don't know, you're going to have to study that," Trump told reporters at a press conference on Monday.
Nelson said Carson, remaining in the race, could end up playing a spoiler candidate to Cruz, given that Carson's devout evangelical following would be likely to defect to Cruz. Nelson said South Carolina has more "stylistic diversity" within the evangelical community than in Iowa, where traditional church-goers pack the pews on Sundays. There are more than 30 churches in South Carolina that report a weekly mass attendance rate of more than 2,000 people versus just seven in Iowa, according to the Hartford Institute for Religious Research.
"We want people to step into church and not feel like they've stepped back in time 50 years," said Perry Noble, senior pastor at NewSpring megachurch in Anderson. Noble, who hasn't publicly endorsed a candidate, said that he would "have no problem" making an endorsement if he believed in the person strongly enough. Given that NewSpring has 17 South Carolina locations where an estimated 32,000 people worship on Sundays, a nod from Noble could prove decisive in a close race. 
"Ted is going after the more traditional evangelical vote and Donald Trump seems to be going after the more contemporary vote," said Noble. He paused before adding: "But Cruz could flip that on its head and argue that he's new to Washington and making noise while Trump has been around for decades."
—James Nash contributed to this report.
Before it's here, it's on the Bloomberg Terminal.
LEARN MORE