Bad Bets
The Failure of Money to Buy the Presidential Nomination, in One Chart
Some of the campaigns that are spending the most are also doing the worst.
by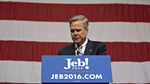 The current U.S. presidential race is on pace to be the most expensive ever. Outside groups known as super-PACs are playing an unprecedented role, dominating the first few months of fundraising by collecting checks of $1 million or more from wealthy individuals. These groups raised about $348 million in 2015, compared with about $438 million gathered by the campaigns themselves, according to data from the Center for Responsive Politics.
What's all that money bought? For Jeb Bush, not much. His super-PAC's massive expenditures on TV ads have failed to stop a decline in the polls for the Republican nomination. Meanwhile, Donald Trump rocketed to the top by spending relatively little. In part, this was because Trump proved adept at generating free publicity.
We decided to chart the relationship, or lack thereof, between spending and success in the polls. For spending, we compiled Federal Election Commission data on how much each presidential campaign and presidential super-PAC spent through Dec. 31. (New data for January will be disclosed Feb. 20.) Then we looked at the change in position in the polls, based on the average poll ranking for each candidate as compiled by Pollster.com. We compared each candidate's position at the end of December to their rank as of June 29. Here's the result for each candidate who was still in the race as of Dec. 31:

If you thought more spending leads to better poll results, you might expect most of the candidates to form a line stretching from the bottom-left to upper-right corner. The reality is messier, and if anything, the line seems to point the other way. That might give pause to anyone considering writing the next $1 million check.
Before it's here, it's on the Bloomberg Terminal.
LEARN MORE