Obama Says Constitution Demands Senate Consider Court Pick
by
Casts willingness to hold vote as a test of `fair play'

Says he will pick someone who `indisputably is qualified'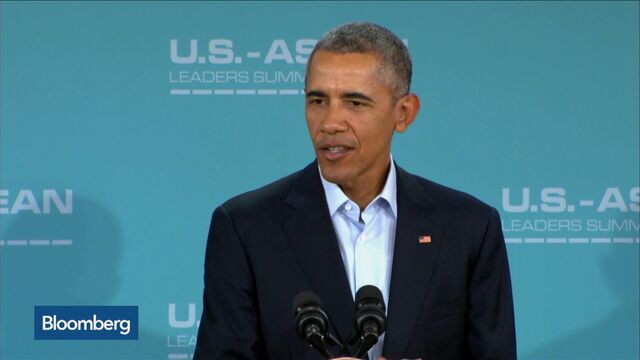 President Barack Obama said the Constitution requires the Senate to consider his nominee to replace Antonin Scalia on the U.S. Supreme Court and cast Republican leader's initial refusal to do so as a test of "fair play."
"The Constitution is pretty clear about what is supposed to happen now," Obama said at a news conference on Tuesday after meeting with Southeast Asian leaders at the Sunnylands retreat in Rancho Mirage, California. "Historically, this has not be viewed as a question. There's no unwritten law that says it can only be done in off-years; that's not in the Constitution."
Senate Republicans have refused to consider a successor to Scalia while Obama remains in office, opening a battle over the balance of power on the nation's highest court and the constitutional prerogatives of the president.
Lawmakers have split along partisan lines since Scalia's sudden death on Saturday in an election-year struggle that promises to dominate Washington for much if not all of the year and influence presidential and Senate campaigns. Obama says he will name a successor despite Senate Republican leader Mitch McConnell's declaration that his party would block any nominee.
'Indisputably' Qualified
Obama said he will pick someone who "indisputably is qualified" to replace Scalia, though he declined to say whether his choice will be a judicial "moderate."
He said the Senate's willingness to hold hearings and vote on his nominee will be "a test" of "whether or not norms, rules, basic fair play can function at all in Washington these days."
Obama sought to turn Republican leaders' often-repeated calls for adhering to the original intent of the Constitution's authors against the party's strategy of delaying a replacement for a year.
"I'm amused when I hear people who claim to be strict interpreters of the Constitution suddenly reading into it a whole series of provisions that are not there," Obama said.
He cited as precedent the Democratic-controlled Senate's confirmation of Supreme Court Justice Anthony Kennedy, a nominee of Republican President Ronald Reagan, during the 1988 election year.
Democrats "did the right thing, they confirmed him. And if they voted against him they didn't mount a filibuster" to prevent a vote, he said.
Enough Time
He all but ruled out making an appointment during a Senate recess, to bypass McConnell. There is "more than enough time" for the Senate to consider and vote on a nominee before his presidency ends, he said.
Both sides are trying to to sway politically vulnerable Republican senators, including Ron Johnson of Wisconsin, Rob Portman of Ohio, Patrick Toomey of Pennsylvania and Kelly Ayotte of New Hampshire, who all face re-election this fall in states Obama won twice. Those four have publicly aligned themselves with McConnell, of Kentucky.
Other Republicans are keeping their options open. Senator Mark Kirk, up for re-election in Obama's home state of Illinois, issued a statement calling debate so soon after Scalia's death "unseemly." Susan Collins of Maine, a Republican who isn't up for re-election this year, in a statement to Politico criticized both parties for "speculating so soon" on a successor and said any nominee would "warrant in-depth consideration."
Chuck Grassley, the Republican chairman of the Senate Judiciary Committee, told home-state Radio Iowa on Tuesday morning that he would wait until a nomination is made before deciding whether to hold a confirmation hearing.
McConnell argued that filling the vacancy should wait until the public will is tested in a new election. "The American people should have a voice in the selection of their next Supreme Court justice," McConnell said in a statement issued within hours of Scalia's death.
Democrats say McConnell's position is irresponsible and would leave the court unable to fulfill its responsibilities.
"For Senate Republicans to reject the idea that the president would have the audacity to do his job for the remainder of his term shows you just how bad things are in this Republican Congress," Senator Dick Durbin, an Illinois Democrat, said in a statement.
Before it's here, it's on the Bloomberg Terminal.
LEARN MORE