Clinton Defends Obama Legacy and Jabs Sanders in Harlem Speech
by and
Democratic candidate seeks to solidify black voter support

Clinton accuses Republicans of using veiled racial language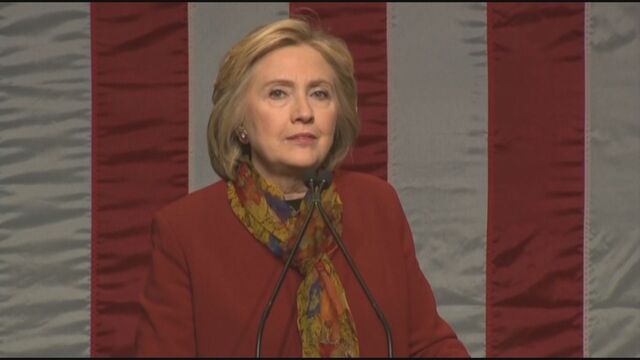 Hillary Clinton sought to solidify support among black voters with a speech Tuesday in which she suggested there's a racial element behind Republicans' plans to block President Barack Obama from nominating a U.S. Supreme Court justice and questioned the depth of her rival Bernie Sanders's commitment to minority causes.
Clinton, who spoke at the Schomburg Center for Research in Black Culture in New York, is looking to minority voters, particularly blacks and Hispanics, to form a political bulwark against a surge by Sanders for the Democratic nomination. At the same time, she's looking to energize her party for the general election with attacks on Republicans.
She said Obama, the nation's first black president, had done no less than save the country from another Great Depression, yet Republicans have repeatedly tried to thwart him in Congress. She said threats by Republican lawmakers to block any nomination he makes to replace the late Antonin Scalia on the court suggest that "somehow he's not the real president." That, she said, is a continuation of how some have always sought to marginalize him.
'Coded' Language
"Many Republicans talk in coded racial language" and "demonize" Obama and enable the "ugliest impulses of the paranoid fringe," Clinton said.
The decision to deliver the speech in New York meant taking a day off the campaign trail in Nevada, which holds caucuses on Feb. 20, and where Sanders has been campaigning aggressively for Latino and union votes. For Clinton, getting a decisive win on Feb. 27 in South Carolina, with its heavily black Democratic voting base, may be more crucial than winning Nevada. South Carolina has long been seen as Clinton's firewall against Sanders. But the momentum behind Sanders' campaign after his win in New Hampshire, and the possibility that his appeal to young voters will transcend racial barriers, is forcing Clinton to redouble her efforts.
Although she didn't mention Sanders by name, she suggested he's become a single-issue candidate by focusing so much on the role of big banks.
Flint Crisis
The crisis of lead-contaminated water in majority-black Flint, Michigan, is a reminder that there are many more difficulties facing the country than just Wall Street greed, she said. "It's not enough for your economic plan to be, 'break up the banks,'" Clinton said a reference to a centerpiece of her rival's campaign. 
She also suggested Sanders's commitment to minority issues was expedient. "We can't start building relationships a few weeks before a vote," she said. "What we say matters but what we do matters more."
That point has been repeated by established civil rights leader who are backing Clinton and hotly disputed by Sanders' supporters. She was introduced on Tuesday by Representative Charlie Rangel, a New York Democrat, who said Clinton and her husband, former President Bill Clinton, are well known in the civil rights community.
"They didn't have to look for the Clintons to find out whether they were progressives," Rangel said. "They were there."
Sanders told Bloomberg Television on Tuesday that he's addressing issues that are foremost in voters' minds.
Sanders' Emphasis
"People want jobs. They want health care. They want educational opportunities for their kids. They want to deal with climate change. They want the wealthiest people to pay their fair share of taxes," Sanders said when asked whether he is just telling voters what they want to hear. "Yeah, that's what I'm telling people. And on every one of those issues, that is exactly what the American people want."
While Clinton campaigned in Harlem, Sanders spent Tuesday in South Carolina, attending a prayer breakfast at a historically black college and addressing students at the University of South Carolina after an introduction by the daughter of Eric Garner, a black man who died in 2014 after his arrest by New York City police that included a chokehold.
In Harlem, Clinton spoke of her work for the Children's Defense Fund as formative in her commitment to civil rights and children. At one point, as she was overcome by a coughing fit and struggled to regain her speech, the crowd's chants of "Hill-a-ry, Hill-a-ry" washed over her and she thanked them, calling them a "great Amen chorus."
She also unveiled a $2 billion plan to help school systems with high rates of suspensions and in-school arrests to curb systemic racism and overly punitive disciplinary policies she said have fed a "school-to-prison pipeline."
Meeting earlier in the day with some of the nation's most recognizable civil rights leaders, Clinton said in public comments before the closed-door portion of their session that "my campaign is really about breaking every barrier" and that she looked forward to discussing each leader's agenda for improving civil rights and social justice. Clinton, who sat between Marc Morial, president and chief executive officer of the National Urban League, and activist Al Sharpton, said, "I'm not a single-issue candidate and we don't live in a single-issue country."
Before it's here, it's on the Bloomberg Terminal.
LEARN MORE