Notebook
Marco Rubio's Strange Stretch: Awkward Compliments and Dangerous Candy
Lately, nothing seems to be going right for the promising Republican candidate.
by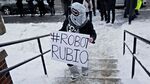 Ever since his unexpectedly strong third-place finish in the Feb. 1 Iowa caucuses, Marco Rubio could be forgiven for feeling trapped in a Ben Stiller movie: Nothing seems to be going right for the promising Republican presidential candidate.
It began on Feb. 4 when one of his new endorsers, former rival Rick Santorum, went on MSNBC's Morning Joe and, when repeatedly asked, couldn't come up with a single accomplishment by the first-term U.S. senator.
"I guess it's hard to say there are accomplishments," Santorum said, noting that "nothing gets done" in Congress.
Two days later during the Saturday debate, Rubio had the worst day of his campaign, walking straight into a trap set by New Jersey Governor Chris Christie by repeatedly reverting to scripted lines when assailed as a novice who is nothing more than scripted lines.
Savage mockery ensued as the video went viral, spawning countless memes on social media (including, more recently, one by Democrat Hillary Clinton) featuring the line Rubio repeated four times in some variation: "Let's dispel once and for all with this fiction that Barack Obama doesn't know what he's doing. He knows exactly what he's doing."
It got worse on Sunday when Rubio repeated a riff twice on the stump at his final rally before the New Hampshire primary, pausing as he appeared to catch himself. Democratic activists, eager to milk the opportunity to damage one of the Republicans they fear most, stalked him on the campaign trail dressed up as robots. 
Rubio finished a disappointing fifth in the primary, and confessed to supporters at his watch party in Manchester that "I did not do well on Saturday night." He added, "So listen to this: That will never happen again."
Since then, Rubio has loosened up, speaking more openly and often to reporters, explaining that he retreated to talking points in the debate because he simply wanted to avoid Republican-on-Republican fighting. He has vowed to pick himself back up ahead of South Carolina, as his campaign and super-PAC gear up for a street fight in the Palmetto State, notorious for its dirty politics.
But awkward moments have continued.
On Thursday morning, Rubio told reporters he cracked a tooth after biting into a Twix bar. After he specified that the candy treat was "potentially frozen," another small stir on social media ensued. But he vowed that it wouldn't slow him down. "We're not suspending our campaign over toothgate," the Floridian quipped.
The same day, his campaign bus appeared to break down, and Republican rival Ted Cruz's press secretary, Catherine Frazier, gleefully tweeted an image of the news coverage.
A day later, The Hill published an interview in which it pressed Senator Jim Inhofe, a Rubio surrogate, to name a specific Rubio accomplishment. Inhofe answered, "What has he done? He voted for, as I did, the NDAA, the National Defense Authorization Act." The problem? Rubio actually missed the final NDAA vote, and missing too many votes is one of the more common lines of attack on his candidacy.
In recent days, Rubio has redoubled his pitch that he's the only candidate who can unite a divided party. He'll have an opportunity to break the cycle of misfortune on Saturday evening at the next Republican debate in Greenville, one week before the Feb. 20 South Carolina primary.
Before it's here, it's on the Bloomberg Terminal.
LEARN MORE