Report Card: Clinton, Sanders Take the Night Off From Sustained Hostilities
The candidates turn in measured performances in Milwaukee at the sixth Democratic presidential debate.
by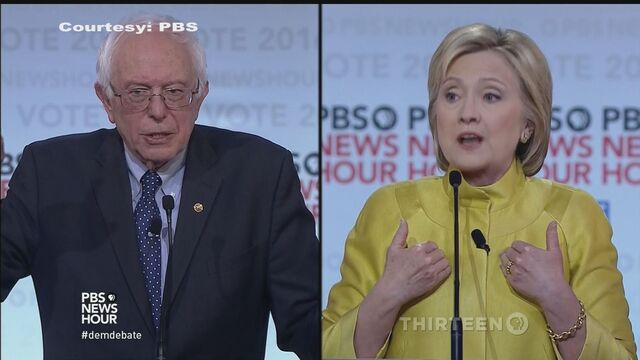 The two remaining Democratic presidential candidates ratcheted down the intensity that characterized their previous face-off, with fewer jabs, thrusts, and contentious dialogues—apart from a final heated clash over who supports President Barack Obama. The PBS-style event saw both candidates methodically discuss issues and attempt only the occasional offensive move. All in all, it proved to be a solid, low-energy substantive session that will be forgotten quickly.

Modulated her voice and the ferocity of her attacks on her rival, without giving up her imperative to offer contrasts with him on issues such as health care and national security. Once again played the Obama card with impunity. A performance that will reassure her nervous supporters, demonstrating that she both recognizes she is in a tough fight and can calmly (in public) deal with the challenge. But she remains more defined by tactics and one-off policy positions than by the kind of sweeping, passionate, unified worldview that animates Sanders' campaign. Didn't stop Bernie's momentum, but didn't make her current plight worse by any means, which for her this week is a victory of sorts.

Comfortable in the two-person configuration, although sometimes looked impatient while waiting for his turn to speak. Had plenty of chances to deliver his core economic message via chunks of his standard stump speech. Also dished Democratic red meat on topics outside that core, landing big applause lines on abortion, criminal justice reform, and racial justice. Hit Clinton for her ties to Democratic bete noir Henry Kissinger. Verged on condescension once or twice, but also showed that he plans to keep throwing the occasional elbow. More than ever, acted confident about his chances to win.

Note: Grades reflect many aspects of the candidates' performance, including style, substance, and crowd reaction, and whether a candidate seemed to improve or hurt his or her overall standing based on the debate.
Before it's here, it's on the Bloomberg Terminal.
LEARN MORE