Converts
Jeb Bush Goes After Donald Trump Supporters in South Carolina
The former Florida governor is hoping the Palmetto State can revive his presidential campaign.
by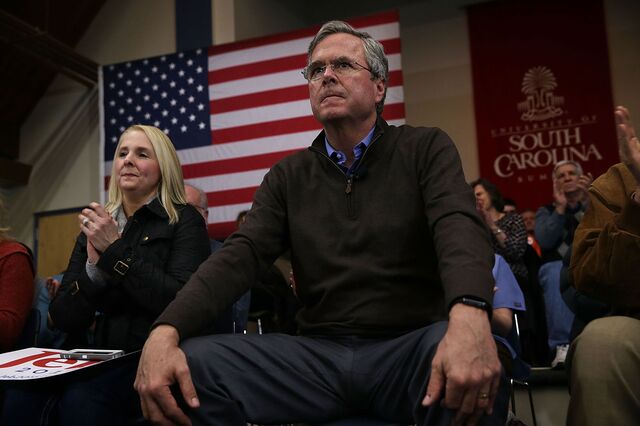 A fired-up Jeb Bush went on the attack in South Carolina on Thursday, calling out front-runner Donald Trump's bombast and portraying himself as the sane alternative.  
Bush, the former governor of Florida and son and brother of ex-presidents, is looking to the Palmetto State to help revive his flagging White House bid. At a rally in Florence, Bush acknowledged that Trump has connected with the electorate's populist anger, but criticized the billionaire for preying on fears.
"We're in a time of deep disaffection. People are really angry and they're scared more importantly," Bush told nearly 200 supporters packed into the Venus restaurant. "People are legitimately angry and we have a front-running candidate who disparages women, Hispanics, calls John McCain a loser because he got caught and was a POW. This is ridiculous."
Bush is coming off a fourth-place finish last week in New Hampshire, and has a busy week of meet-and-greets in restaurants as well as town halls across South Carolina. Bush's brother, former President George W. Bush, plans to campaign with him next week. In the 2000 Republican primary, George W. Bush bounced back from a second place finish in New Hampshire to win South Carolina and go on to claim the party's nomination. 
This year, the so-called establishment lane also includes second-place New Hampshire finisher John Kasich, the governor of Ohio, and Florida Senator Marco Rubio. The trio has turned on each other as they vie to become the sole alternative in the race to Trump.
In the Florence appearance, and later during a stop in Sumter, Bush pitched himself as a "disruptor" who's still able to provide a steady hand on the tiller and who's ready for any emergency that could arise. Despite repeatedly attacking Trump, however, he largely refrained from firing shots at Kasich and Rubio.
"If we nominate Donald Trump, we're going to be destroyed in the general election," Bush said. "But if he won, it would be a disaster as well."
In a state with a large percentage of evangelical voters, Bush made sure to note that Jesus is his savior and a guiding light for him in times of crisis. He cited his 1995 conversion to Catholicism, saying it had re-energized his faith.
Yet connecting with South Carolina voters might not be as easy as tailoring a stump speech. 
James Berry, the manager at the Venus restaurant, said he wasn't swayed by Bush's argument for why he should support him rather than Trump. 
"We know how the Bushes are; we love you guys," Berry said. "But everybody is tired of politicians. Nobody else is saying that China rips us off. I don't hear a lot of politicians saying that, and I'm so scared that we're going to get a politician in there and he's going to do the same old thing."
Before it's here, it's on the Bloomberg Terminal.
LEARN MORE