Ryan Scrambles to Unify Republicans on U.S. Budget Strategy
by
`Wheeling and dealing' behind closed doors to lure votes

Speaker recommits to spending levels negotiated by predecessor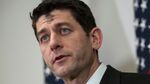 Rank-and-file House Republicans on Wednesday were offered a chance to vote against President Barack Obama's proposed 2017 fiscal budget, but with a catch -- they also would have to vote on a budget bill offered by Republican leaders.
Laughter and moans were heard from a closed-door meeting when Majority Leader Kevin McCarthy of California floated the idea. "People were amused by the kind of bait-and-switch," said Representative John Fleming of Louisiana.
The ploy -- and talk of other potential lures, such as using the process of budget reconciliation to circumvent the Senate's 60-vote threshold to pass legislation -- highlights a serious challenge for House Republican leaders.
The leaders want to pass spending bills this year under an overall budget framework negotiated by former Speaker John Boehner with Democrats, but many conservatives want to cut that agreed-upon spending by an additional $30 billion.
Negotiated Level
House Speaker Paul Ryan on Wednesday said in a news conference after the Republican meeting that he is "confident" Republicans will get their 2017 version of a federal budget plan "figured out," though he seemed committed to the higher, $1.070 trillion spending level in the deal forged by his predecessor.
"We believe that in order to have a good, working, viable appropriations process, we're going to appropriate to these numbers because we have an agreement on these numbers," said Ryan. He also said that under the previous deal, "we think that the Senate is in a much better place than they ever were, so that we can have a functioning appropriations process."
Ryan wouldn't discuss efforts within his conference to cut spending, or requests by other Republicans for higher defense spending, or what he said are "a lot of other concerns" being raised.
Wheeling, Dealing
Representative Matt Salmon of Arizona said that Ryan and other party leaders "are in wheeling and dealing mode" in trying to find enough votes. "We'll see if that works," he said. But so far, Salmon, who like Fleming is a member of the conservative Freedom Caucus, said he hasn't yet heard any compelling reason to vote for the higher spending level.
Budget Committee member Scott Garrett of New Jersey said conservatives like him are trying to craft a deal with Ryan that could involve House rules changes to address unauthorized appropriations. He predicted a budget will pass.
Being allowed to vote on Obama's budget is something most Republicans would relish, as a way in an election year to punctuate their opposition to the lame-duck president's programs. 
In 2014, the House rejected a GOP budget alternative based on President Obama's 2015 spending blueprint 413-2, with all but two Democrats voting against it. But Democrats have dismissed these Republican maneuvers as mere show votes.
Tempting Offer
During Wednesday's closed-door meeting, Fleming said McCarthy made an offer to members: "Would you like to vote on the Obama budget?" House Republicans, who blasted Obama's budget when he released it Tuesday, overwhelmingly responded yes.
"They would love that to be brought to the floor so they could vote against it," Fleming said in an interview.
McCarthy then said that could only happen if members agreed to also have a vote on the Republican budget. Fleming said that prompted the groans and even laughter of admiration over the maneuver.
Republican Representative Paul Gosar of Arizona, said he'd be happy to take up McCarthy's offer to vote on the latest Obama budget. But if the kicker is that he'd have to also vote in support of a Republican budget resolution, Gosar said it should have "our number," not Republican leaders' "pre-ordained number."
'Family Discussion'
Ryan played down any difficulties in reaching consensus inside his own party.
"We're simply having the same family discussion," he said, likening it to a discussion "we have every year."
But on the idea of using this year's budget process to tee up a reconciliation bill to let the next president bypass a Democratic filibuster on legislation, Ryan seemed to be open to entertaining the idea. "Yeah, you can do that," he said.
"Knowing the budget process, you can do a reconciliation two rounds if you wanted to. because it's the prevailing budget resolution that prevails until you replace it," he said. "And in a calendar year that can happen."
A Budget Committee vote is being planned for the last week in February, with the aim of bringing a bill to the House floor for a vote in early March. Ryan and other leaders say they are trying to push the pace of budget action to provide more time to work on the 12 spending bills in an election year.
Before it's here, it's on the Bloomberg Terminal.
LEARN MORE