Pennsylvania Senate Falls Short on Ousting Attorney General
by and
Senate needed two-thirds majority to remove Kane from office

Kathleen Kane's law license suspended amid criminal charges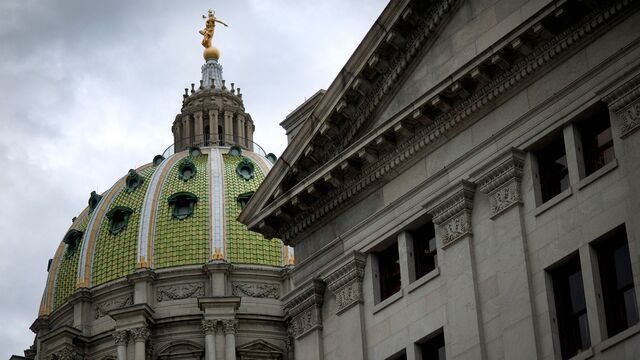 The Pennsylvania Senate fell four votes short of passing a measure that could have forced the state's embattled attorney general from office.
Kathleen Kane, the first woman and the first Democrat elected to the post in 2012, has been mired in controversy for much of her first term, including a probe of state prosecutors and a Pennsylvania Supreme Court justice over their use of government e-mail for pornographic material. She hasn't ruled out running for a second term even as she faces charges for leaking grand jury information related to that dispute.
The Senate, which is controlled by Republicans, voted 29-19 on a rarely used provision in the state constitution that allows a governor to remove an elected official after a two-thirds vote in the Senate. The provision needed 33 votes to pass.
"Today is a good day for all those who share my desire to restore confidence in our judges and prosecutors and integrity to our system of justice," Kane said in a statement after the vote Wednesday. "I'm happy to continue this effort, finish the mission I pledged to carry out and the job for which I was elected to serve."
After Kane was charged in August, the state Supreme Court temporarily suspended her license to practice law, a move that Senate Republicans used to push the measure to remove her from office. They argued she was unable to perform the duties of attorney general with a suspended license.
The Pennsylvania House on Wednesday started a process that could lead to Kane's impeachment by voting to create a committee to investigate her conduct.
Before it's here, it's on the Bloomberg Terminal.
LEARN MORE