Obama Returns to Roots to Deliver Veiled Shot at 2016 Race
by and
Visit to Springfield follows Sanders, Trump primary victories

President proposes an end to political gerrymandering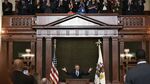 President Barack Obama returned to the starting point of his own presidential campaign to deliver an indirect but unmistakable rebuff to the two candidates who dominated this year's first primary: Republican Donald Trump and Democrat Bernie Sanders.
Hours after Trump and Sanders, campaigning as political outsiders, won their respective presidential primaries in New Hampshire, Obama said in Springfield, Illinois, that while many voters are anxious and angry, political leaders bear responsibility for upholding civil discourse and seeking compromise over ideological purity.
"It's been noted, often, by pundits, that the tone of our politics hasn't gotten better since I was inaugurated; in fact, it's gotten worse," Obama told the Illinois legislature. "There's still this yawning gap between the magnitude of our challenges and the smallness of our politics."
Obama began his presidential campaign with a speech from Springfield in 2007, and his remarks -- as well as four fundraising events scheduled for Thursday in California -- suggested that he has begun to turn the page on his own presidency and focus more intently on his successor. He has lamented that partisanship has grown worse in the nation since he promised a new breed of politics nine years ago, and aides say he is especially disturbed by the angry discourse that has so far characterized the campaign to succeed him.
Though Obama didn't name any 2016 candidate during the speech and spoke only obliquely of the campaign, his criticism of ideological rigidity echoed a line of attack former Secretary of State Hillary Clinton has used against Sanders. 
Obama remains officially neutral in the Democratic nomination contest, and his press secretary, Josh Earnest, used Twitter to brush off suggestions that the president's remarks were aimed, in part, at Sanders. But one former administration aide had a different interpretation.
"I think the president has signaled, while still remaining neutral, that he supports Secretary Clinton's candidacy" and would "prefer to see her as the nominee," Jay Carney, the former White House press secretary, said on CNN following Obama's speech.
'Common Hopes'
The New Hampshire primary rewarded candidates who have embraced an anti-establishment stance. Trump has proposed a ban on Muslim immigration and has promised to build a wall across the Mexican border to stop undocumented migrants. Sanders complained in his victory speech Tuesday night of a "corrupt campaign finance system" and a "rigged economy" in which "almost all new income and wealth goes to the top 1 percent."
Trump beat his closest competitor, Ohio Governor John Kasich, by nearly 20 percentage points, and Sanders beat Clinton by almost 22 points.
Nine years ago, the then-junior senator from Illinois stood on the steps of Springfield's old state capitol and pledged to "build a more hopeful America" based on "common hopes and common dreams."
Tuesday evening in New Hampshire, Trump said of Sanders that "he wants to give away our country, folks. We're going to beat China, Japan, beat Mexico at trade; we're going to beat all of these countries that are taking so much of our money away from us on a daily basis."
On Wednesday Obama told the legislature that politicians should avoid "union-bashing or corporate-bashing without acknowledging that both workers and businesses make our economy run."
Obama also warned that offensive discourse among political leaders will coarsen the rest of society, a criticism that has been leveled against Trump.
"Our children our watching us," Obama said. "If they see us insulting each other like school kids, then they think, well, then that's how people are supposed to behave"
Last week, he criticized Republican candidates for running a "doom-and-despair" campaign and "talking down" the U.S. economy. On Wednesday, as he did in 2007, Obama cited a famous Abraham Lincoln anti-slavery speech, also delivered in Springfield, warning that "a house divided against itself cannot stand."
"Nine years to the day after I first announced for this office I still believe in that politics of hope," he told the state legislature. "The capacity to reach our differences and choose that kind of politics -- not a cynical politics, not a politics of fear, but that kind of politics, sustained over the tranquil and steady dedication of a lifetime, that's something that remains entirely up to us."
Increasing Civility
Obama has proposed to increase civility in politics by ending gerrymandered congressional districts that favor the most partisan candidates, making it easier to vote and limiting the influence of money in politics.
"This year just 150 families -- 150 families -- have spent as much on the presidential race as the rest of America combined," Obama said. "I'm not saying the folks with a lot of money should have no voice. I'm saying they shouldn't be able to drown out everybody else."
Technology has meanwhile enabled the majority political parties in states to concentrate their opponents' supporters in fewer congressional districts, distorting representation in the House.
"Nobody's got clean hands on this thing," Obama said, observing that Republicans tend to support independent redistricting in states controlled by Democrats, and vice versa.
Illinois's Republican Governor Bruce Rauner, who is locked in a budget standoff with the Democratic legislature, has proposed term limits for state lawmakers and a nonpartisan process to draw political districts.
Obama has "talked about the importance of bipartisan compromise. We need that here," Rauner told reporters last week.
After addressing the legislature and meeting with longtime supporters, Obama will travel to California to host four fundraisers on behalf of the Democratic National Committee.
Before it's here, it's on the Bloomberg Terminal.
LEARN MORE