Christie's New Hampshire Letdown Is Bitter End to Meteoric Rise
by and
After pinning hopes on primary, he finishes in sixth place

New Jersey governor faces return to state that's soured on him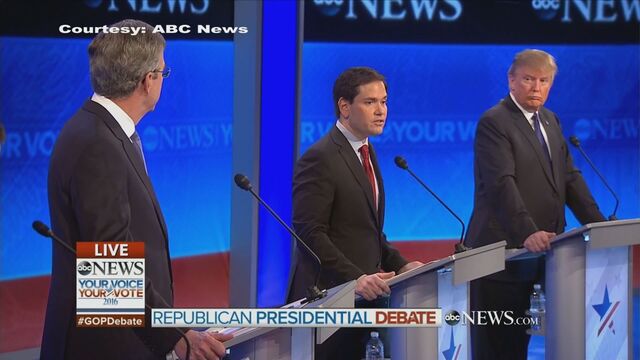 Chris Christie ended his uphill battle for the Republican presidential nomination after a sixth-place performance in New Hampshire, a dismal denouement for a candidate who was once begged to run for the White House.
"I ran for president to say that the government needs to once again work for the people, not the people work for the government," Christie said in a Facebook posting on Wednesday evening. "That message was heard by and stood for by a lot of people, but just not enough and that's ok. "
"I leave the race without an ounce of regret."
QuickTake How the U.S. Elects Its Presidents
Christie, who had pinned his hopes on a strong performance in New Hampshire, in 2012 was seen by some Republican donors and party leaders as their best hope of ousting President Barack Obama. Christie turned down those appeals then, saying it wasn't his time. His jump into the 2016 race came only after he was burdened by a scandal over deliberate traffic jams, record-low approval ratings in New Jersey and a multitude of candidates angling to be the favorite of more traditional party members.
The governor soldiered on, spending more than half his days out of state last year. He won the endorsement of New Hampshire's influential newspaper, the Union Leader, which called him "the one candidate who has the range and type of experience the nation desperately needs." Now his future is unclear as the term-limited 53-year-old returns to a state where voters have wearied of him.
Florida investor Nicholas Loeb, an early donor, said Christie's showing was about one man: Donald Trump. The 2016 race has so far been dominated by candidates who position themselves as outsiders, with Trump and Democrat Bernie Sanders, a self-described socialist, leading their respective parties.
"Trump is on a train that can't be stopped," Loeb said. "These were angry voters."
Divided, Conquered
Christie's departure, along with that of seventh-place finisher Carly Fiorina, leaves a Republican field splintered among insurgents Trump and Texas Senator Ted Cruz as Ohio Governor John Kasich, former Florida Governor Jeb Bush and Senator Marco Rubio try to consolidate support among more traditional party members.
After placing 10th in the Iowa caucuses, Christie had higher expectations for New Hampshire, where political customs stress one-on-one contact with voters at house parties and town-hall meetings. He spent more than 70 days of the election cycle there, prompting his teenage son to joke that it was his "new home state."
Even so, he never cracked the top tier of candidates supported by New Hampshire residents. He garnered 7.5 percent of the vote in Tuesday's election and won no delegates.
Christie had said his goal for New Hampshire was to beat the current and former governors running for president. He, along with Kasich and Bush had tried to convince voters that they -- and not senators -- had the experience to lead the country. Kasich finished in second place and Bush came in fourth.
During the primary debates, Christie's sharp criticism of Obama and Democrat Hillary Clinton won him praise. Christie, meanwhile, faced attacks from his Republican rivals over his record in New Jersey, where jobs growth trails the nation's, the state has received a record nine credit-rating downgrades during his tenure and the bridge scandal hurt his image.
In the final days of his campaign, Christie directed attacks at Rubio, the Florida senator who came in third place in Iowa. Christie -- whose campaign slogan was "Telling It Like It Is" -- referred to the younger Rubio as the "boy in the bubble," saying he had been sheltered from reporters' questions.
In the final pre-vote Republican debate Saturday, Christie's mockery of Rubio's robotic repetition of talking points was widely credited with hobbling his campaign. That didn't translate into a bump for Christie.
"Assassination might be gratifying, but it usually doesn't pay off in voter approval," said Peter Woolley, a professor of comparative politics at Fairleigh Dickinson University in Madison, New Jersey. "He assaulted Rubio, but I think he damaged himself at the same time."
Late Love
Trump and Kasich both got a boost from those who made up their minds in the last week. Twenty-three percent of those who did so backed Trump while 21 percent voted for Kasich, according to MSNBC exit polls. Just 10 percent of those voters backed Christie, behind even Rubio, Cruz and Bush, MSNBC reported.
"I wish Chris had done a lot better," said Home Depot Inc. founder Kenneth Langone, one of Christie's financial supporters. "He should have done a lot better and he deserved to do a lot better."
While Christie's attacks on Rubio hurt the senator's standing, they also may have reminded New Hampshire voters of his critics' accusations back home that the governor is a bully.
Christie has called union leaders "political thugs" and other critics a "joke," a "jerk," "numbnuts" and an "idiot." He was filmed calling a heckler "tough guy" on a Jersey Shore boardwalk, told a Hurricane Sandy victim to "sit down and shut up," and once urged reporters to "take the bat out" on a 76-year-old female senator for collecting both a public pension and a paycheck as a legislator while criticizing others for similar practices.
Christie's home-state approval dropped to lows as he focused more on his campaign and less on his $179,000-a-year day job. Thirty-one percent of New Jersey voters approved of him in a January poll by Fairleigh Dickinson University's PublicMind.
Christie, a former federal prosecutor, was the first Republican elected governor of Democratic-leaning New Jersey in more than a decade. He became a national Republican figure after his clashes with labor unions and his calls for smaller government. During primary debates, he would tout his ability to make spending cuts and veto tax increases in a state where Democrats control the legislature.
In 2011, he turned down pleas from some Republican leaders and corporate executives, including Langone, to run against Barack Obama, saying it wasn't his time.
His approval surged to more than 70 percent in early 2013 after he won praise for his response to Hurricane Sandy, which devastated New Jersey's coastline. When he ran for re-election in November 2013, he beat his Democratic challenger, state Senator Barbara Buono, by 22 percentage points.
Two months later, Christie's popularity began to slide after e-mails revealed that an aide and an ally arranged traffic jams in September 2013 at the George Washington Bridge in Fort Lee, where the Democratic mayor didn't endorse the governor for re-election.
Before it's here, it's on the Bloomberg Terminal.
LEARN MORE