The Road Ahead
Bernie Sanders's Big Night Might Be Last One for a While
While the Vermont senator is off to a good start, the delegate math would seem to favor Hillary Clinton in the near future.
by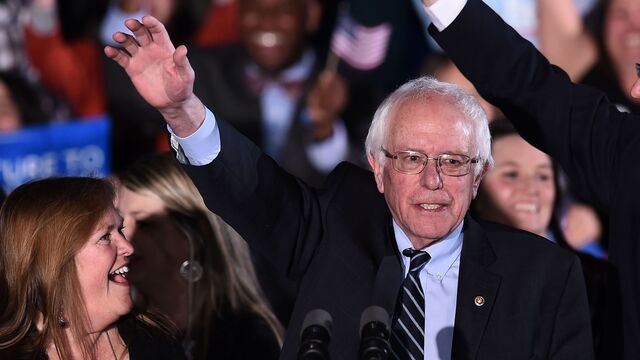 Bernie Sanders's long-shot presidential campaign has started on a high note, capping a near-tie in Iowa with a blowout victory over Hillary Clinton in New Hampshire.
But Tuesday night's victory could be the last good night for the Sanders campaign for several weeks.
Looking ahead to the Nevada caucuses, the South Carolina primary and the March 1 "Super Tuesday" contests, it's hard to see how the Vermont senator could deny Hillary Clinton the Democratic nomination, absent an unprecedented wave of populist support. 
The largest, delegate-rich races are in southern states where African-American voters have yet to warm up to Sanders, but have a long relationship with Hillary and Bill Clinton. And in some of the states where Sanders should do well—especially Massachusetts—he may find that Clinton is still almost as popular as she was in 2008.
"He is in a position to make this last for a while," said Geoffrey Skelley, a political analyst at the University of Virginia's Center for Politics, citing Sanders's small donor fundraising power. "Do I think he can win? Unlikely, but I do think that he's in a position to stick around and to make Clinton work for it longer than she wants to and perhaps push her to the left on a lot of issues more than she wants to."

South Carolina
Despite the results in New Hampshire, Clinton can rest assured that, for the moment, she holds a commanding lead with Hispanic and African-American voters. That advantage will be tested on Feb. 20 in Nevada with Hispanic voters and Feb. 27 in South Carolina with black voters. 
In Nevada, the Sanders campaign may hit Clinton over her ties to Wall Street, given the devastating effects the 2008 mortgage foreclosure crisis had in the state.
"I don't want to get into the specifics and the details of what we're going to talk about, but Nevada is a state that was hit as hard or harder than any state in America with the recession, and it was particularly hit in terms of the housing market," Sanders senior media strategist Tad Devine said in an interview Tuesday. "And Bernie feels very strongly about this issue, so I think that we'll talk about that."
Devine said that the campaign isn't planning to run any negative ads with Clinton's name or image. "I hope they don't move in that direction, but if they don't we're not going to, that's for sure," he said. 
Sanders also is betting that his immigration platform and his personal history as the son of an immigrant helps him with Latino voters.
"It's a very powerful door-opener," Devine said during an interview  on Bloomberg's With All Due Respect last week. "And that's how our biographical advertising begins, everything else, direct mail, other forms of voter contact begin." The Sanders campaign has been airing television ads in Nevada since late December, more than a week before Clinton.
In his victory speech in New Hampshire, Sanders reminded the audience that his father was a Polish immigrant who spoke little English and never made much money. 
Exit polls from 2008 showed that 15 percent of Nevada caucus-goers were Hispanic and 15 percent were African-American. In addition to winning the popular vote in 2008, Clinton won Hispanic voters 64 percent to Obama's 28 percent and has made a play for Hispanic voters in 2016. On the ground, Clinton opened her headquarters three months before Sanders and hired several veterans from her past campaigns, as well as President Barack Obama's. 
"I think she's the favorite, but I don't think she's a lock," said veteran Nevada political reporter Jon Ralston. "With the same day registration that still exists on Feb. 20, if Bernie Sanders can get a whole bunch of new people, young people to come and register on the day of the caucus, I think that the Clinton people could be a little bit worried about that."
Not-So-Super Tuesday
In addition to Nevada, the Sanders campaign believes they can do well on March 1 in the Massachusetts primary, where they are already airing TV ads in the Boston media market that also serves New Hampshire, the Colorado and Minnesota caucuses, and, for obvious reasons, the Vermont primary. 
Both the Sanders and Clinton campaigns have focused their attention on Colorado and Minnesota, where Obama beat Clinton in both 2008 caucuses by over 30 percentage points. While the Sanders campaign has four offices and about 20 paid staffers in Colorado and four offices and 12 staffers in Minnesota, the Clinton campaign's resource superiority is evident on the ground. 
"I think that he has a dedicated ground game, but Hillary's put a lot of investment in the state because of the disasters that occurred in 2008," said Rick Ridder, a Democratic strategist based out of Colorado. 
While polling has been sparse in many March 1 states, Ridder predicted that Sanders would do well in Colorado, particularly in the more liberal and blue collar pockets of the state, unless Clinton managed to motivate Hispanics, who make up 20 percent of the state's population. But in Massachusetts, despite Sanders natural fit in a liberal New England state, Clinton's long lasting popularity will help her. 
"The Clintons have deep-seated roots in Massachusetts politically," said Scott Ferson, a Democratic strategist based out of Boston. "I think Sanders is running a very nice campaign in Massachusetts, I think he has good, qualified people on the ground, and nice momentum, but I just think it's tough."
Clinton won the state's primary in 2008 56 percent to 41 percent, which Ferson attributed to her popularity in the state. "Hillary Clinton could easily be elected senator of Massachusetts," Ferson said. 
While Democratic primaries grant their delegates proportionally, Sanders is hurt by the fact that the states he may do well in only offer a total of 250 delegates. Texas, a state where Hispanics make up nearly 40 percent of the population, offers 222 pledged delegates. Devastating loses among black voters in southern March 1 states like Georgia (102 pledged delegates), Tennessee (67 delegates), Alabama (53 delegates), and even Clinton's temporary home state of Arkansas (32 delegates) will more than cancel out any benefits of a major Sanders win in Vermont (16 delegates). 
The Clinton campaign is banking on their advantage with minority voters after New Hampshire. In a memo released to preempt news of Sanders' win in New Hampshire, Clinton campaign manager Robby Mook noted that Clinton's support with non-white voters "was not created overnight," but over the last 40 years. "Many of the most delegate-rich states also have some of the largest minority and urban populations—states like Texas, Georgia, Alabama, Illinois, and Florida," Mook wrote. 
If Sanders has any chance of making it to March 2, he'll have to prove Mook wrong. The campaign believes that winning in New Hampshire is the first step, by showing voters nationwide that they have an alternative to Clinton. 
"If we are able to win here I think that the signal it will send to voters in Nevada and South Carolina and all the March states is that 'Listen, if I vote for Bernie Sanders I'm not throwing away my vote. I may be voting for the next president of the United States, I can vote for someone who could possibly win' and I think that helps us enormously," Devine said. 
Before it's here, it's on the Bloomberg Terminal.
LEARN MORE