Silicon Valley Techies Give More to Republicans Than You Think
by and
Intel, Oracle employees' giving shows preference for right

Data is based on value of workers' donations last year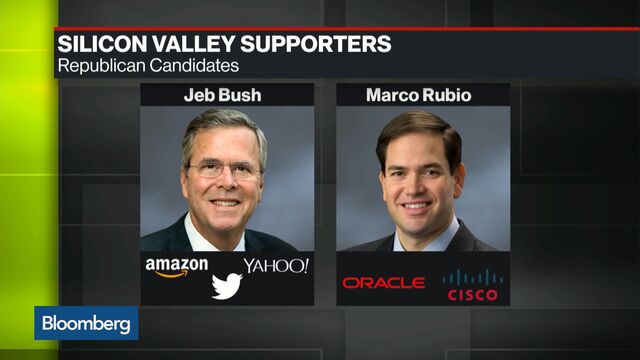 Engineers and other staffers at some of Silicon Valley's biggest technology companies are leaning more Republican than you might think.
As the presidential race got rolling last year, employees from Intel Corp., Yahoo! Inc., Oracle Corp. and Cisco Systems Inc. gave most dollars to Republican candidates and their party. The reverse was true for workers at Google, Facebook Inc. and Apple Inc., where the majority of contributions were channeled to Democrats.
Which candidates got the most tech-geek money? Among Republicans, Jeb Bush came out on top at Yahoo, Twitter Inc., and Amazon.com Inc., while Marco Rubio led the pack at Oracle, Cisco, Facebook, Microsoft Corp. and Google Inc. Former Secretary of State Hillary Clinton got a higher total of employee contributions than Vermont Senator Bernie Sanders at about three-quarters of the biggest tech companies.

California's Silicon Valley, with a population that skews young and liberal and has a high concentration of immigrants, has a reputation for leaning Democratic; there's also a Libertarian streak among the many entrepreneurs who'd rather go about efforts to change the world with minimal government meddling. Yet the data shows that in some cases, the longer a company has been around, the more likely its employees give to Republicans; newer businesses' workers are more likely to support Democrats.
"The Valley has become more politically engaged," said Melinda Jackson, political science professor at San Jose State University. "The perception certainly is that these companies lean towards the Democrats. I wouldn't say that's wrong, but what you are finding is reflective of the fact that there is a much more dynamic race on the Republican side."
Left, Right
The numbers show that Silicon Valley as a whole favors Democrats, with about $3.82 million in total contributions among employees to Democratic candidates and the party, compared with $2.28 million for the GOP and its candidates. And given the grab-bag of GOP candidates, donations to Republicans are more widely spread out; for example, contributions to Sanders's campaign alone topped all Republican candidates.
Twitter employees only donated to three candidates overall, but 97 percent of spending went to Democrats. At Microsoft, that number was more than 70 percent and at Facebook it was 68 percent. Apple employee political expenditures tipped the scales at almost 93 percent in favor of Democrats.
Among Democrats, Clinton was the top dollar-getter of individual contributions at all but three companies: Amazon, Intel and Yahoo. At Facebook, Clinton's take topped Sanders by more than 10 times, with total donations of $394,482. At Intel, though, Sanders garnered one and a half times as much as Clinton. Google and Microsoft employees gave the largest amount overall to Democrats and the DNC -- $1.25 million at Google and $840,310 at Microsoft.
Among Republican candidates, the largest recipient of contributions from workers at Hewlett-Packard was the company's former chief executive officer, Carly Fiorina (the business split last year but the numbers were combined for the analysis). While Apple employees made very few donations to Republicans, the largest part of the iPhone maker's GOP total went to libertarian Rand Paul.
The numbers are based on Federal Election Commission filings and data collected by Bloomberg on individual donations to candidates and the Republican and Democratic National Committees through the end of 2015. While anyone soliciting a donation is required to seek the name of employer, there's no legal requirement for donors to divulge that information, which could result in some contributions not being linked to specific companies.
Super-PACs
Aside from official campaign contributions, Silicon Valley wealth has been a target for super-PACs, which can accept unlimited donations as long as they don't coordinate directly with the candidates. The size of those contributions can quickly eclipse the amount of money that rank-and-file employees give to campaigns.
 
Republicans appear to be landing the biggest such donations. Oracle Corp. Chairman Larry Ellison gave $3 million to an outside group backing Marco Rubio, tech investor Peter Thiel contributed $2 million to a super-PAC supporting Carly Fiorina, while Meg Whitman of Hewlett-Packard gave $900,000 to the group backing Chris Christie.
Ellison's donation to Rubio's super-PAC marks a shift for him. He once touted his friendship with Hillary Clinton's husband, former President Bill Clinton, and in 2000 wondered aloud at a press conference why Bill Clinton couldn't run for a third term.
Other technology bigwigs and past donors are so far absent from the rolls, either sitting this one out or keeping their powder dry for later, when each party chooses its nominee. There were no listed donations for Yahoo CEO Marissa Mayer, a former Obama donor, or Salesforce.com Inc. chief Marc Benioff, also a big Obama and DNC backer in 2012. Facebook's Mark Zuckerberg, Google's Larry Page and Amazon's Jeff Bezos disclosed no donations in 2012's presidential election, and haven't made any in the current cycle, after of 2015.
Before it's here, it's on the Bloomberg Terminal.
LEARN MORE