Obama Will Seek to Double Budgets for Wall Street Regulators
by
White House will release fiscal 2017 budget proposal Tuesday

White House's Zients says money builds on Wall Street reform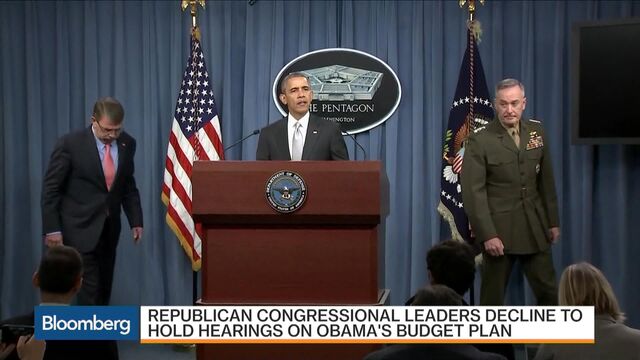 President Barack Obama will ask Congress to double funding for the U.S. Securities and Exchange Commission and the Commodity Futures Trading Commission over the next five years, bolstering two financial regulators that the White House sees as integral to curbing Wall Street excesses.
Obama will propose the increases in the fiscal 2017 budget blueprint that he will release on Tuesday, Jeff Zients, White House National Economic Council director, wrote in a blog post set to be released Monday afternoon. By 2021 the two agencies' budgets would be twice the 2015 level, starting with an 11 percent increase for the SEC to $1.8 billion in 2017 and a 32 percent increase for the CFTC to $330 million, Zients said.
"The president will continue working to make sure that the financial system works for everyone," Zients wrote. "As the financial services industry continues to rapidly evolve, some in Congress have used budget limitations to hamper the agencies charged with establishing and enforcing the rules of the road."
Republican congressional leaders already have said they'll reject most of Obama's budget plan, the last of his presidency. Obama will ask for substantial increases in funding for programs including community college, jobs for disadvantaged young people and cancer research.
Building on Dodd-Frank
Zients said additional money for the financial regulators would build on the 2010 Dodd-Frank law, the regulatory expansion enacted after the global financial crisis.
Obama will also again recommend funding the CFTC through user fees, to shift the costs for the agency to the firms it regulates. His budget will propose a fee on the biggest financial firms pegged to their liabilities, Zients said.
"We learned the hard way in 2008 just how damaging risk and leverage in the financial system can be, and we've done a lot to curb excessive risk on Wall Street since," Zients wrote. "This fee is another way to further those reforms, ensuring that taxpayers aren't on the hook for risky Wall Street gambles."
CFTC Chairman Timothy Massad has repeatedly complained that his agency lacks enough money to carry out its responsibilities for regulating most of the derivatives market. In May, he told lawmakers that the CFTC has insufficient resources to conduct even routine inspections of exchanges and other companies it policies. 
"We simply can't get into these entities on a regular basis," Massad said in testimony before a Senate appropriations panel. "We don't even get to many of the clearinghouses and exchanges once a year. That is a big problem."
SEC chairman Mary Jo White asked at a House Financial Services Committee hearing in November for $1.8 billion in funding for fiscal 2017. She's argued that the regulator has responsibilities that are far beyond its resources.
Before it's here, it's on the Bloomberg Terminal.
LEARN MORE