Home-Field Advantage Is Only Part of Sanders's Appeal in New Hampshire
The Vermont senator has made significant inroads with women voters in the Granite State.
by and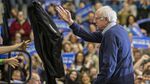 Just a week after turning 2008's loss in the Iowa caucuses into a 2016 win, Hillary Clinton could be headed for the opposite fate in New Hampshire, where polls show she now trails Bernie Sanders by double digits.
Her campaign has advanced a rationale even promoted by Bill Clinton himself: "Nobody from a state bordering New Hampshire has ever lost a Democratic primary to a non-incumbent president." 
Even as Clinton looks forward to upcoming contests to solidify her anticipated march to the Democratic nomination, her struggle to repeat her 2008 victory in Tuesday's New Hampshire primary is about more than just home-field advantage for the Vermont senator. 
Polling suggests that trust in Clinton, as well as her support among women and those earning less than $50,000 a year, has eroded since Granite State voters gave her that triumph in 2008. The New Hampshire electorate also has changed, with fewer blue-collar Democrats who served as a staple of Clinton's coalition in 2008 and her husband's in 1992 when he won the presidency.

"Hillary Clinton is not the Hillary Clinton of 2008. New Hampshire is not the New Hampshire of 2008," said Andrew Smith, director of the University of New Hampshire Survey Center.
Granite State voters helped Clinton revive her flagging campaign in 2008 when, as the leading Democratic candidate, she came in third in Iowa behind then-Senator Barack Obama and former North Carolina Senator John Edwards. Clinton beat Obama by 2.6 percentage points in New Hampshire that year, and while Obama ultimately won the nomination, her win allowed the contest to continue and she thanked voters for helping her find "her own voice."

After starting the 2016 Democratic race as the overwhelming favorite, the RealClearPolitics average of New Hampshire polls through Saturday had Sanders leading Clinton by more than 13 percentage points in the state. Last week, Clinton narrowly won the Iowa caucuses after once leading by more than 40 percentage points and despite overwhelming institutional advantages.
There is an advantage in New Hampshire for Sanders—not necessarily because voters know him better, but because Democratic voters in the state are similar to those in Vermont and it's been easy for him to campaign there, Smith said. Yet that alone doesn't account for the difference in pre-primary polls because Clinton's support in among New Hampshire Democrats isn't as broad as it was in 2008, he said.
Exit polls from the 2008 primary in New Hampshire showed that Clinton had 46 percent support among women compared with 34 percent for Obama, and she also had the advantage over Obama among those earning less than $50,000 a year, 47 percent to 32 percent. An NBC News/Wall Street Journal/Marist poll of likely Democratic primary voters released Thursday showed Sanders winning 50 percent of women and 61 percent of those earning $50,000 or less.
Smith said the gender gap is particularly noticeable by age, with women 35 and younger backing Sanders and women older than 65 more inclined to support Clinton. That's attributable in part to generational differences and Sanders's overall appeal to younger voters, Smith said.
Laura LaBranche, 24, a computer technician from Somersworth, said she relates better with Sanders as someone fighting for people who are not wealthy.
"I'm not sure if she's just running for the sake of being the first female president, I'm not sure how sincere she is with this," LaBranche said after a Sanders rally in Portsmouth. "Bernie seems more connectable to me."
Liz Frescoln said while she backed Clinton in 2008, she thinks Sanders is the more effective advocate for issues such as universal health care and lowering medical costs.
"I originally backed Hillary because she's a woman, but I think there's a lot more at stake here that I think Bernie's focusing on," Frescoln, 62, a psychotherapist from Canterbury, said after the same rally. "He seems to have a lot more energy."
Dianne Day, a 55-year-old unemployed woman from Rindge, voted for Clinton in 2008 and is backing Sanders now. While she liked Clinton and her issues eight years ago, Sanders is a better choice now, Day said.
"I don't trust her," Day said after a Sanders rally on Saturday in Rindge. "I liked that she was the first woman running, but I don't think that that's as important as getting the best person in the job now."
A CNN/WMUR New Hampshire primary poll released Sunday showed that while 7 percent of Democrats won't vote for Sanders under any circumstances, 21 percent are opposed to Clinton amid questions about her use of a private e-mail server while she was secretary of state and doubts about her electability and longevity on the political stage.
There are fewer blue-collar Democrats today compared with 2008 as factories closed and the state lost jobs during the recession, diminishing what had once been a core element of Clinton's coalition, Smith said. New Hampshire has shed almost 13 percent of its manufacturing jobs since the end of 2007, according to U.S. Bureau of Labor Statistics data.
Sanders is also appealing to moderates and blue-collar workers in New Hampshire, which voted for U.S. Senator John Kerry over former Vermont Governor Howard Dean in the 2004 presidential primary, said Dante Scala, an associate professor of political science at the University of New Hampshire.
"I think Sanders speaks more directly to their concerns than Clinton has been able to do," Scala said. "Those blue-collar voters are especially willing to listen to a populist 'us-versus-them' type of message, and that's resonating with them in a way that Clinton doesn't."
In a telephone interview, Dean said while the New England advantage for Sanders is real, the appeal of his message during a time Americans are struggling with stagnant wages can't be denied as well. It's also a mistake to underestimate his political skills, Dean said.
Ultimately, Clinton will win the nomination because voters will be able to picture her in the White House as president more easily than Sanders, Dean said. Unlike Sanders and Donald Trump, the real estate mogul and Republican front-runner, she also has concrete plans that can be realized, he said.
"People know something's wrong, and that's a perfect situation for somebody like Bernie to come along, or Donald Trump on the other side, and rail against all the things that are wrong," Dean said. "It's not going to get fixed by telling everybody how terrible it is."
Even so, just as New Hampshire voters weren't ready to hand the nomination to an untested first-term Senator Obama in 2008 after his victory in Iowa that year, the Granite State isn't ready to anoint Clinton either, said Tad Devine, a longtime Democratic strategist and senior adviser for Sanders.
"I think what voters are going to say this year in New Hampshire is, 'We have this power, we understand we have this power, and we think we're going to use it to make sure the nomination process continues because the person who needs testing is Hillary Clinton.'" Devine said.
Before it's here, it's on the Bloomberg Terminal.
LEARN MORE