Graite State Stand
Christie New Hampshire Town Hall Run Comes to a Close
At 76 appearances in the Granite State, the New Jersey governor answered roughly 800 questions from voters.
by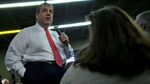 On Monday evening, Chris Christie will hold his final town hall meeting in New Hampshire, the state where he has pinned his presidential hopes despite flagging poll numbers and the unexpected rise of Donald Trump. 
Relying on forging a face-to-face connection with Granite State voters, Christie answered about 800 questions in the course of 76 town halls spaced out over about a year at American Legion halls, school cafeterias, bars and bowling alleys.  
"Town halls are his signature," said Bill Palatucci, a former law partner of Christie and Republican National Committee member who's gone on to be one of his closest advisers and confidantes.
"His personality really comes through," Palatucci said, as he waited for Christie to begin a pre-election meeting at a metal fabricating plant in Hudson. "Particularly when you've got an hour and a half or two hours to really delve into things. Also, they found out how knowledgeable he is on things from China, to Russia and to Syria. It really works to his strengths."
The sessions typically break down into three sections: a 10-minute opening routine, about an hour of questions, and a last pitch to seal the deal.
He's developed his stock lines, like the time a hotel manager in Manchester mistook his wife Mary Pat for a "young aide," forcing him to quickly point out that she was his spouse, lest campaign-trail rumors flare up.  
Christie routinely laid out the one rule of a New Hampshire town hall: raise your hand and wait to be called on (during the 137 he's held back in the Garden State there are four rules, but he says the last three aren't needed in well-behaved New Hampshire).
The questions typically revolved around how he'd fight terrorism, job creation, college affordability, and whether he'd repeal Obamacare and what its replacement would look like.
In recent days, as he has hammered a surging Marco Rubio for lacking executive experience and giving canned answers, Christie has also used the sessions to highlight decisions he's made as both governor and U.S. attorney before that. In fact, Christie enjoyed a polling bump following terror attacks in Paris and San Bernardino when he shifted his focus to his tenure as a federal prosecutor.
"I don't do drive-by town hall meetings over 45 minutes where you come in, I do a speech for 20, I take four questions for another 25 minutes, then I go, 'Thank you very much, everybody,' and I walk out," Christie told a crowd Monday in Hudson. "I may say something you don't like. Every time I say something specific I run the enormous risk of getting you angry and having you go vote for somebody else."
For Christie, who's never recaptured the perceived momentum that prompted leaders in his party to try unsuccessfully to prod him into running against President Barack Obama four years ago, the strategy is a page out of John McCain's comeback victory here in 2000. Lacking funds early in the race, McCain carried the state after a grueling run of town halls that won over voters in small batches.
At Monday's town hall, Christie picked up a few more supporters from his audience of about 200 people who broke into laughter when he got on bended knee to ask a woman backing Rubio to support him. She promised to do so.
Ashlee Lewer, 28, of Manchester, said she entered the event intending to back Rubio and hoping to halt Trump's momentum. No longer, she said of her decision to back Christie, adding, "This is a job interview."
Yet Christie still struggles to crack the top tier of candidates in a crowded Republican field.
A Monmouth University poll released Sunday showed Trump remains the odds-on Republican favorite with 30 percent support, followed by John Kasich at 14 percent, Marco Rubio and Jeb Bush tied at 13 percent and Ted Cruz with 12 percent. Christie placed fifth with 6 percent.
Still, Christie's campaign has released a list of campaign events for Feb. 10 and Feb. 11 in South Carolina, which will host the next primary after New Hampshire, on Feb. 20.
Bruce Haynes, founding partner at Purple Strategies, which conducts polls in New Hampshire, said Christie's personality is a welcome change and amusing to some voters but doesn't sit well with others. Adding to the difficulty, the scandal over politically motivated lane closings at the George Washington Bridge that ensnared Christie allies is still hovering.
And the biggest headwind may have been borne out by the top finishers in both the Republican and Democratic caucuses last week in Iowa.
"This is still the year of the outsider; it's a year when people are looking for fresh faces that come from outside the system or are clearly positioned outside the system. That's not Christie's brand," Haynes said. 
Before it's here, it's on the Bloomberg Terminal.
LEARN MORE