Clinton Says She's Unsure What Sanders Means by 'Wall Street'
by
White House hopeful won't pledge outsider Treasury secretary

`We've got to have a good banking system' beyond big banks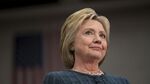 Democratic presidential contender Hillary Clinton said a Treasury secretary doesn't need to have a Wall Street pedigree to be successful, but stopped short of committing to appointing an outsider to the post should she be elected president.
It's unclear what the term means to her Democratic opponent, Senator Bernie Sanders, Clinton said in an interview Sunday on NBC's "Meet the Press" program.
"When you talk about Wall Street, are we talking about every bank or are we talking about a particular part of New York? That's never really clarified. What I believe is that there are good actors and bad actors in every part of our economy," Clinton said.
"You have to have a Treasury secretary who understands the economy" in the U.S. and the world, said Clinton. "I think there are a lot more places where one can and should look for such a Treasury secretary."
President Barack Obama's current Treasury Secretary, Jacob J. Lew, was a Citigroup Inc. executive between stints working for the government. The prior incumbent, Timothy Geithner, is a former president of the New York Federal Reserve Bank and joined the private equity firm Warburg Pincus after leaving the administration.
Wide Sanders Lead
Clinton trails Sanders, a self-described Democratic socialist from Vermont, in polls leading up to the Feb. 9 primary election in New Hampshire. The gap between the pair has wavered slightly but the former U.S. Secretary of State has consistently trailed by double digits. A CNN-WMUR tracking poll on Sunday put Sanders up by 23 points; on Feb. 5, a Suffolk University/Boston Globe survey showed the gap at 9 points.
Clinton narrowly defeated Sanders in Iowa's caucus on Feb. 1, and faces pressure from the left wing in her party to be tougher on big banks blamed by some for promoting economic inequality in the U.S. Her paid speeches to financial firms have also become a flashpoint for opponents.
On the show, Clinton said Sanders has been less aggressive than she in pursuing abuses in the financial industry, adding that her rival's critique of the banking system and its role in the economy is simplistic.
"We live in a complex global economy where we've got to have a good banking system that is able to service the American economy, and it needs to be more than just looking at the five banks that are the big banks," Clinton said.
Clinton Fundraising
Sanders said in a Feb. 4 debate that Clinton, a former senator from New York, was part of a political "establishment" that's overly dependent on the financial industry, citing its sizable contributions to her super-PAC fundraising operation. 
Clinton called that a smear, and challenged Sanders to name a single vote in which she was influenced by Wall Street ties.
In response, the Sanders campaign in recent days has circulated excerpts from a book by Elizabeth Warren, in which the Massachusetts senator said that Clinton had changed a vote on a bankruptcy bill in the early 2000s after taking in $140,000 in contributions from Wall Street firms.
In an interview on CNN's "State of the Union," Clinton said she shifted her vote in exchange for the removal of a provision that would have hurt woman and children.
"That's what happens sometimes," Clinton said. "I held my nose, and I voted for it." The measure in question was never enacted, she said.
Asked on ABC's "This Week" about whether she plans to release transcripts of speeches made to companies such as Goldman Sachs & Co., Clinton said, "Let everybody who's ever given a speech to any private group under any circumstances release them. We'll all release them at the same time."
Before it's here, it's on the Bloomberg Terminal.
LEARN MORE