Bernie's Mountain Ground Game
In New Hampshire, the Sanders army is boldly going where no canvasser has gone before—don't call the police.
by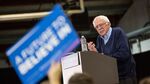 A few weeks ago, out of an abundance of caution, Brandon Maheu began calling local police departments around New Hampshire to alert them that their towns were about to be invaded by clipboard-wielding insurgents calling for revolution.
The idea of proactively calling the cops marked a shift within the Bernie 2016 state headquarters, where Maheu serves as New Hampshire primary director. At that point, phone calls from law enforcement (four different police departments had gotten in touch to report panicked calls from residents) had come to be tracked as an unintended metric of success for the Sanders campaign's ambitious ground game.
"We are knocking doors in places where people have never gotten their door knocked before—and the experience is so unexpected that people are calling the police because a stranger is showing up their door," state director Julia Barnes said in her office there, on the third floor of an office building in a Manchester shopping center.
Much of New Hampshire is considered difficult to canvass, given the sparse population in the northern half of the state and the mountainous terrain that mottles it throughout. A surfeit of Sanders volunteers is pushing into parts of the state past campaigns would have considered inefficient to walk—even recruiting so-called driving teams of up to four people to team up on rural roads and snowy driveways.
That intrepidity can be credited partly to the fact that Sanders's campaign has all but given up on reaching most voters by phone. In the middle of this week, Sanders staff stopped even accepting new volunteers to fill phone-bank shifts as part of its weekend get-out-the-vote program, while still recruiting canvassers to allow it to reach every targeted door in 249 of the state's 322 precincts.  (Thirty-one of those precincts are in the state's three largest cities.)
The decision to turn away from phone banks comes after aggressively running a program that shocked Sanders staffers with its inefficiency. Over the week of Jan. 25, Sanders volunteers completed 11,000 phone conversations out of 250,000 calls placed—and 15,000 face-to-face conversations out of 60,000 attempted doorstep visits.
Eight years ago, during Hillary Clinton's first New Hampshire campaign, phone banks yielded the same 25-percent completion rate that is now available only at the doors. "Every year I have worked on campaigns since," said Barnes, who in 2008 served as an organizer for Joe Biden's presidential candidacy, "it has decreased exponentially."
The problem is particularly acute for Sanders, whose young get-out-the-vote targets often lack landlines and have not provided the campaign other methods of reaching them. Within that group, Sanders is making a concerted effort to mobilize those who would register for the first time on Tuesday, in line with New Hampshire's same-day registration rules, meaning that there is not yet any trace of them on voter rolls.
"The more calls we made the lower it tended to get," Maheu said of the completion rate. "We were running out of people to call that we hadn't talked to once."
Before it's here, it's on the Bloomberg Terminal.
LEARN MORE