The One-on-One Clinton-Sanders Debate, By the Numbers
The Democrats pulled no punches in their final televised face-off before the New Hampshire primary.
by and
Thursday night's Democratic debate was the first of this race to feature just two podiums. The showdown between former Secretary of State Hillary Clinton and Vermont Senator Bernie Sanders heralds a new, and more evenly-matched, phase just days before the New Hampshire primary.
Whereas Sanders has increasingly engaged Clinton since the first debate in October -- a trend roughly paralleled by his rising poll and fundraising numbers -- Clinton had largely kept her focus on the Republicans. That changed on Thursday, when Clinton -- who narrowly won last week's Iowa caucuses and trails Sanders in New Hampshire polls by double digits -- directly addressed her rival a record 26 times.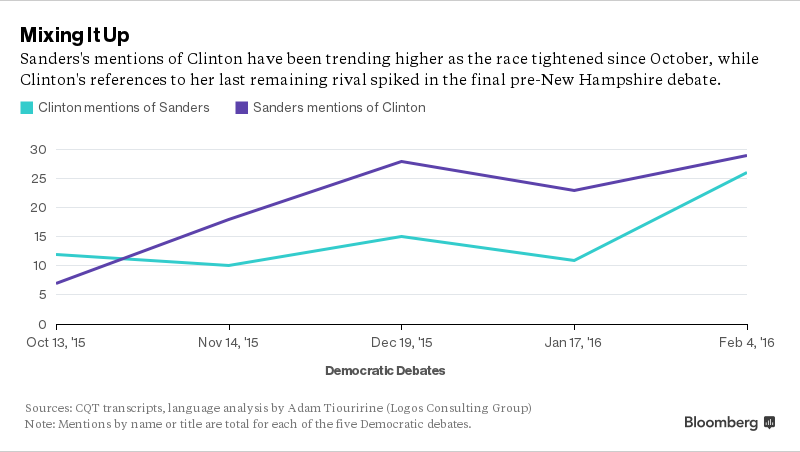 The New Hampshire primary further heightened the stakes for the candidates, prompting heated exchanges, such as when Clinton challenged her rival for voting against Senator Ted Kennedy's immigration bill or when Sanders reminded viewers that on Iraq, "one of us voted the right way and one of us didn't." Those were just two of 12 attacks by Clinton and nine attacks by Sanders, making it the first debate of the race in which Clinton fired more flak than she received.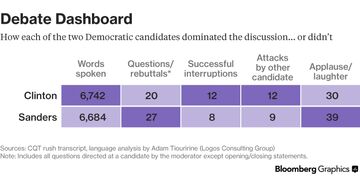 Of major concern to the Clinton campaign is how to close the enthusiasm gap. Debate audiences, which often include local party officials and activists, have echoed that divide with their applause and laughter, as recorded in debate transcripts. In all but one Democratic debate -- a foreign policy-centered event on Nov. 14, one day after the Paris attacks -- Sanders has outpaced Clinton in claps and chuckles. That includes Thursday, when her forceful performance won her at least 30 applause lines, just shy of Sanders' 33.
Where the candidates clashed most fiercely was on the question of who was the true progressive. Clinton said her experience is the only route to real change, an argument she foreshadowed in the first debate, when she said, "I'm a progressive. But I'm a progressive who likes to get things done."
This self-characterization as a pragmatic, electable Democrat shows in the way Clinton has closely aligned herself with President Barack Obama and against the GOP. Meanwhile, Sanders has positioned himself as the bane of Wall Street, which he attacked for having too much economic and political power, in order to win the support of a declining middle class.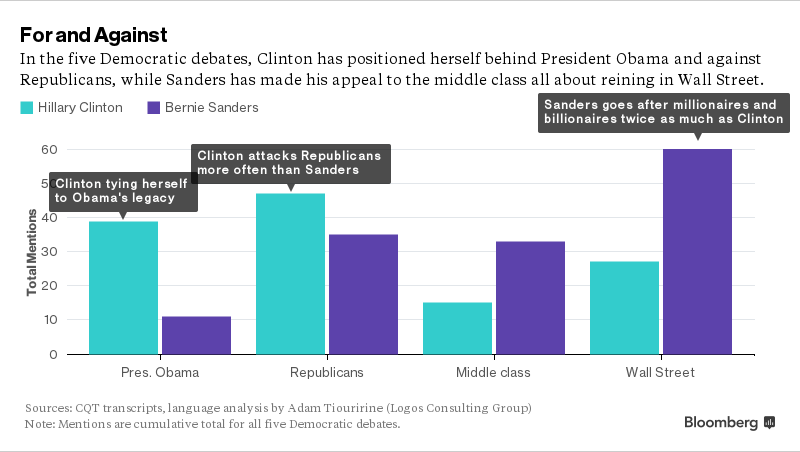 Part of Clinton's electability and experience pitch going into New Hampshire is her refrain that the challenges facing the next president will be many and multi-faceted. As such, she's used words like complex, complicated, difficult, and hard almost twice as often as Sanders in debates, and she's used the phrase "I know" to highlight her policy and political chops 33 times, compared to just nine times for Sanders. "All of these are very difficult issues," she said back in the third Democratic debate, regarding regime change in the Middle East. "I know that. I've been dealing with them for a long time."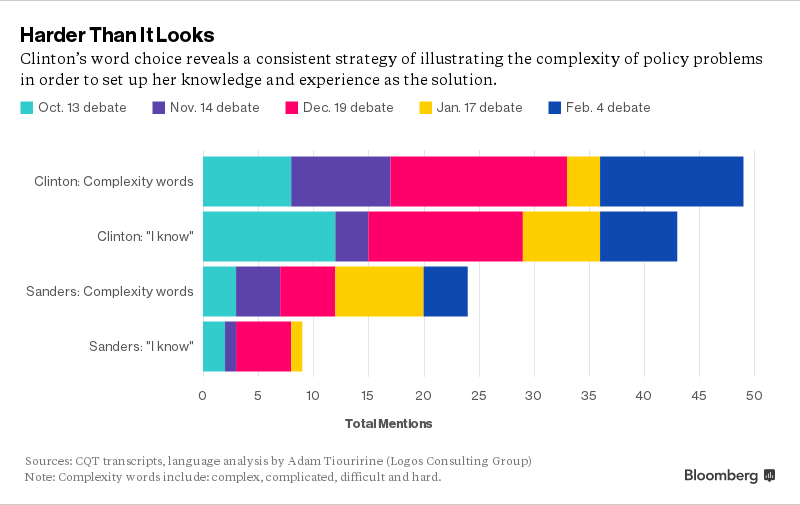 Among Clinton's commander-in-chief credentials is her travel to 112 countries as Obama's secretary of state. Across all five Democratic debates, she mentions specific countries almost twice as often as Sanders when touting her readiness for the Oval Office, including at least seven foreign nations mentioned on Thursday (with Syria the most frequent).
Meanwhile, Sanders focuses more on the home front, mentioning inequality keywords (poverty, millionaires) and finance keywords (banking, Wall Street) twice as often as Clinton. Not surprisingly, health care has been a particularly hot topic for both, with Sanders defending his "Medicare-for-all" single-payer plan and Clinton touting her support for an improved Affordable Care Act.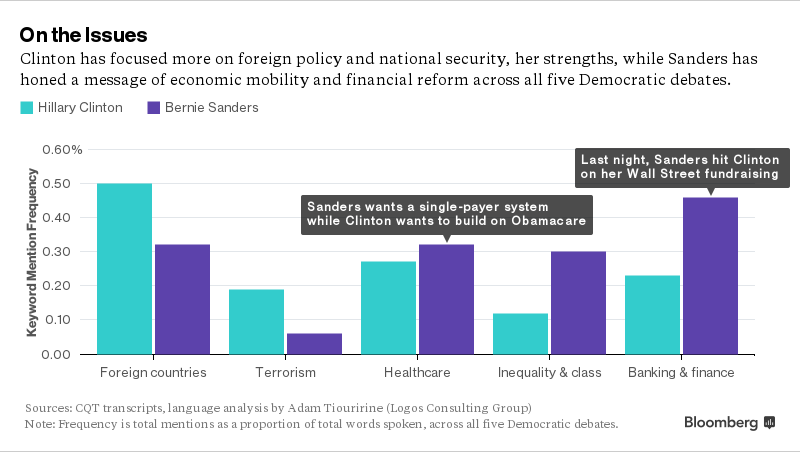 —Bloomberg contributor Adam Tiouririne of Logos Consulting Group advises senior business leaders on high-stakes communication and researches language, leadership, and the media.
Before it's here, it's on the Bloomberg Terminal.
LEARN MORE