Obama Says Falling Jobless Rate Shows His Policies Worked
by and
President celebrates lowest unemployment rate since early 2008

Obama says his fiscal 2017 budget would make further progress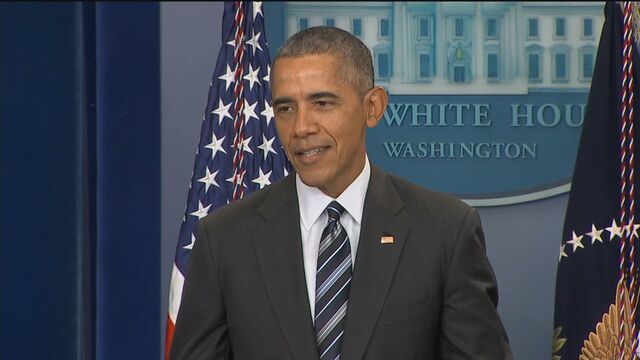 President Barack Obama said on Friday that the nation's 4.9 percent unemployment rate, the lowest since February 2008, shows that his economic policies have succeeded.
"The United States of America right now has the strongest, most durable economy in the world," Obama told reporters at the White House. "I know that's inconvenient for Republican stump speeches, as their doom-and-despair tour plays in New Hampshire."
Republican presidential candidates "talking down the American economy" aren't helping, Obama said.
The monthly jobs report, released earlier on Friday, showed that U.S. employers added 151,000 jobs in January, less than forecast, while hourly earnings for all workers rose about 0.5 percent on average from December, the biggest gain in a year. The jobless rate fell from 5 percent in December.
While more people are joining the labor force, too many Americans are still shut out of the economy due to after-effects of the recession that ended in mid-2009, Obama said.
"Some of this is still the hangover from what happened in 2007, 2008, and this is part of the reason why we have to keep our foot to the accelerator," he said.
Budget Dispute
Obama will release his fiscal 2017 budget on Feb. 9, and he said the spending plan would further advance the economy, if it is adopted by Congress. He has called for more government spending to boost wages and reduce unemployment among young people, women and minorities, who have historically faced weaker job prospects.
"Policies that I'll push this year are designed to give workers even more leverage to seek raises and promotions," Obama said.
Congressional Republicans have said they won't hold customary hearings on the budget this year, Obama's final one in the Oval Office.
The latest drop in the unemployment rate represents a 5.1 percentage-point decrease from the 10-percent peak reached in October 2009, months after the worst recession since the 1930s Great Depression official ended. The private sector has added 14 million jobs over 71 straight months, the longest streak on record.
Economic Anxiety
Still, polls suggest that despite rising employment, Americans remain anxious about the economy. An Economist/YouGov survey conducted at the end of January found that 47 percent disapproved of the president's handling of the economy. Just 41 percent approved. About 63 percent of respondents said the country was on the wrong track.
"Even though they know things are better, they're worried about where we're going," Obama said.
On the campaign trail, Democrats and Republicans vying to succeed Obama have highlighted income inequality and slow wage growth as residual effects of the recession that have yet to be fully addressed.
Americans "are working longer hours for low wages," Senator Bernie Sanders said Thursday during a Democratic primary debate hosted by MSNBC and the New Hampshire Union Leader newspaper. "Our job, together, is to end a rigged economy, create an economy that works for all."
Before it's here, it's on the Bloomberg Terminal.
LEARN MORE