How Trump's Failed NFL Bid Led to His Political Super Bowl
Bluster, seduction, and a hail of insults: an invariable game plan, no matter what the game.
by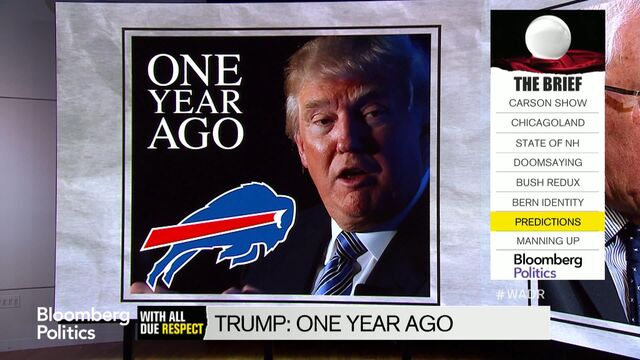 The Super Bowl is Sunday, featuring the upstart Carolina Panthers, led by impending NFL MVP Cam Newton, against the Denver Broncos and quarterback Peyton Manning, an all-time top-tier Hall of Famer playing (presumably) his final game while under the cloud of a PED scandal. As with all Super Bowls, there are countless storylines converging, and everyone's paying attention, because the NFL is the biggest sport in the country and this is its biggest game. One might dare called it yuge.
But it is worth noting, as we approach America's National Sports Weekend, that the NFL isn't just responsible for television's biggest ratings of the year, or an ungodly amount of consumption of bean dip, or, you know, relentless concussions. It's also responsible for Donald Trump.
Specifically: The NFL is responsible for Trump's appearance in this presidential race. Imagine how different this race, as we approach the New Hampshire primary, would have been if he had not entered. Sarah Palin might still be fishing somewhere. "Big beautiful wall" would not have entered the lexicon. No one would be bullying poor Jeb Bush. And that could have happened, would have happened, had the NFL just played ball with Trump.
Flashback to April 2014, when the Wilson family, which had owned the Buffalo Bills for 55 years, announced that it was looking to sell the team. This led to substantial worries in Buffalo, a proud town that adores its beleaguered, star-crossed Bills but had endured two decades of difficult economic circumstances. Buffalo's sports fans had worried that the city's decline as an industrial power would lead to a loss of its football team, long before the Wilsons admitted they were looking to sell.
The most likely suitor to buy the Bills was a celebrity: Jon Bon Jovi, well-known for his love of football (he owned an Arena League team), was leading a Toronto-based group that looked to move the team. This cut right to the heart of Bills' fans insecurities, because the NFL was already playing one or two Bills home games a season at Rogers Centre in Toronto. The Bills had always been rumored to be moving to Los Angeles, or San Antonio, or even Las Vegas, but Toronto was even worse: close enough to make them feel the pain more acutely. This made Bon Jovi Public Enemy No. 1 in Buffalo: New York magazine even ran a feature on the city's hatred for him, which included the immortal quote, "He won't be wanted dead or alive. He will be dead."
Enter Trump. Buffaloans were so desperate to keep their team that they were willing, even eager, to sign a deal with the Donald. Trump, within a matter of days, became every Buffaloans favored choice to buy the team, for one obvious reason: He promised to keep the Bills in Buffalo. "I'm going to give it a heavy shot," Trump told the Buffalo News. "I would love to do it, and if I can do it I'm keeping it in Buffalo." As usual with Trump, the politics was personal. "I live in New York, and it's easier for me to go to Buffalo than any other place," Trump said. "Where am I going to move it, some place on the other side of the country, where I have to travel for five hours?"
Like with his future presidential run, Trump's motives were questioned–many assumed it was another publicity stunt–but he pushed harder than many expected him to, having several conversations with both Bills management and executives at the NFL itself. In September 2014, Trump, Bon Jovi's group, and a couple other prospective owners submitted their bids. And it turned out that Trump's bid fell short.
It is worth noting that Trump, even if his bid had been the highest, likely wouldn't have been permitted to enter the club anyway. The NFL gaggle of billionaires, chronicled well in this Mark Leibovich piece this weekend, is far more buttoned up than those of other sports. As an NFL owner, unity is paramount; you are required to get in line behind the commissioner. There is no room for mavericks like Mark Cuban or Trump. Plus, the NFL is still sore at Trump for his USFL gambit three decades ago, when, as the owner of the upstart league's New Jersey Generals, he attempted to move the league's season to the fall, in what some saw was an attempt to force a merger.
The good news for Buffaloans was that Bon Jovi's wasn't big enough either. The team ended up going to Terry Pegula, a billionaire who also owned the NHL's Buffalo Sabres. Pegula paid $1.3 billion in cash, a figure Trump said was too rich for his blood, releasing a statement. "A large part of the reason for my bid was to ensure that the team remained in Buffalo. I would like to congratulate the Pegula family on what will be, I am sure, a wonderful purchase. I would also like to congratulate the fans...no doubt, that the team will now remain in your wonderful city."
Trump, as Trump tends to do, would change his tenor just a month later, using language that will ring true–and maybe as a test run for what was coming–to anyone who has watched Trump in politics for the last year.
So, here's where the rest of us come in. A year later, as Trump was in the midst of his takeover of the Republican party and the grounds of general political discourse, Sports Illustrated asked him about his near-miss with the Bills and whether he was still upset about missing out. "I'm glad, because if I bought the Buffalo Bills, I probably would not be doing what I'm doing now, which is much more important," Trump said. "I would have done a good job with the team, but I wouldn't be doing what I'm doing now." Trump actually pointed out that the disappointment of not getting the Bills not only freed him up to run for president, but even spurred him into doing so. It was his need for "something bigger."
That something bigger is now New Hampshire, and upending everything we all thought we knew about politics. Trump is now atop the polls, still, even after coming in second in Iowa. We have the Buffalo Bills, and the NFL, to thank.
Before it's here, it's on the Bloomberg Terminal.
LEARN MORE