Clinton Says Victory Is Still Possible in New Hampshire
After a near-miss in Iowa, she's looking for another revival from Granite State voters as Bernie Sanders holds lead in polls.
by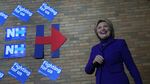 Hillary Clinton is looking at the past as a possible prologue to next Tuesday's New Hampshire primary.
Trailing Bernie Sanders in the Democratic contest by 20 percentage points or more in some polls of voters in the state, Clinton recalled that New Hampshire gave her a come-from-behind victory in the 2008 primary race and a dramatic boost to her husband, Bill Clinton, in his first run for the presidency in 1992.
"I am not going to stop fighting for New Hampshire," she said Friday at a Manchester rally to kick off the final weekend of campaigning before the primary. "This state has been so good to my husband and me and my family.''
Since arriving in New Hampshire after escaping with the narrowest of wins in Monday's Iowa caucus, Clinton has alternated between tamping down expectations and trying to keep her supporters buoyed. After spending months as the clear front-runner for the 2016 Democratic presidential nomination, Clinton has become an embattled candidate in a matter of days.
Tad Devine, a longtime Democratic strategist who's advising Sanders, said Clinton's campaign is engaging in "classic political spin." His counter spin was that because independents make up a large part of the Democratic primary vote, winning in New Hampshire demonstrates a candidates potential to broaden the voter base for Democrats.
"I think it's a fair test of whether or not that candidate can succeed in a general election," Devine said. "That's what we're here to demonstrate."
Sanders has been the beneficiary of voter anger over slow economic growth and an anti-establishment sentiment that has permeated the electorates of both the Democratic and Republican parties. Although he, like Clinton, has been in public life for more than three decades, Sanders has painted the former secretary of state, New York senator and first lady as the candidate of the establishment.
Clinton and her aides have dismissed polls showing a significant lead for Sanders, a U.S. senator from Vermont, as typical of New Hampshire's history of affinity for candidates from neighboring states. Talking Friday to a group of canvassers who were preparing to knock on doors on a snowy afternoon, she cited her own history.
"I know from my last experience here when I came in 16 points down or something like that, but who's counting?'' she told them, recalling the 2008 nomination race against then-Senator Barack Obama. "I wasn't running against a neighbor but an incredible charismatic candidate as we all remember.''
Clinton's campaign is also looking past New Hampshire. Her campaign already has sent former President Clinton to South Carolina, which holds the next high-profile primary on Feb. 27. This weekend, Bill Clinton will be campaigning in Nevada, which holds caucuses on Feb. 20. 
She made a pointed appeal to one of her main constituencies: women. Citing the state's record of voting for women, including Senator Jeanne Shaheen and Governor Maggie Hassan, who were among the women leaders who joined Clinton on stage, Clinton suggested that an upset might be possible, if Granite State voters focus on her experience and concrete plans.
"This has been a state that has really tried to judge people on their abilities, on their experience, on what they can contribute," she said. "And it's no mistake you've elected some great women."
She also delivered a message to Sanders supporters that there would be no hard feelings. In an expression of confidence that she will ultimately prevail, Clinton vowed to call Sanders as soon as she captures the nomination.
"We have a lot of work to do. I look forward to working with him as a partner in the Senate," she added.
Before it's here, it's on the Bloomberg Terminal.
LEARN MORE