California Stock Pickers Pick Kasich
by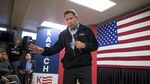 A big California money management company has a crush on John Kasich.
Independent groups backing the Ohio governor have raised some $2.4 million from four executives at Capital Group, the Los Angeles-based mutual-fund manager, according to records released on Jan. 31. That's more than any other employer in the country gave to support Kasich. And that doesn't count two other $100,000 donations that appear to be linked to other top Capital Group executives.
In all, these $2.6 million of donations represent about 10 cents of every dollar raised to support Kasich through his campaign committee and allied super-PACs, which are known as New Day for America and New Day Independent Media Committee.
Most of the money came from two executives: Gregory Wendt, a San Francisco portfolio manager and longtime political donor, who contributed $1.25 million; and Kevin Clifford in Los Angeles, who oversees the firm's fund sales operation and gave $1 million. A spokeswoman for the super-PACs, Connie Wehrkamp, said the two have been friends with Kasich since before he became governor in 2011. 
"Mr. Wendt and Mr. Clifford believe Gov. Kasich will do for our country what he's done for Ohio -- balance the budget, get people back to work and champion conservative solutions to lift everyone," Wehrkamp said in an e-mail.
Capital Group employees don't appear to have given nearly as much to groups supporting any other presidential candidate, nor have they been such big spenders in the past. A spokeswoman for the company, Hannah Coan, declined to comment, and said that none of the employees was willing to speak.  Rob Nichols, a spokesman for Kasich, referred questions to the donors.
In September, one of the super-PACs got $100,000 from a low-profile corporation called Kapland Inc. According to California corporation records, the agent for that company is the wife of Capital Group's president, Phil de Toledo. Another $100,000 contribution came from the Richard Hurt Trust, which shares a surname with a retired Capital Group chairman, William H. Hurt, and uses the same Los Angeles address as the company headquarters. The firm's website says he's still a portfolio manager.
Also giving were the chief legal officer, Michael Downer ($100,000), and Matthew O'Connor, a sales executive ($30,000). 
Founded in 1931 in Los Angeles, Capital Group manages the American Funds, which are the third-largest mutual fund brand behind Fidelity and Vanguard, according to a recent article in Investment News.
Some investment managers' ability to contribute to political races was curtailed in 2010, when the Securities & Exchange Commission issued so-called pay-to-play rules meant to prevent corruption in the pension industry. These rules restrict contributions to officials such as governors who have power over state pension funds. 
These rules don't apply to contributions to super-PACs, which are technically independent from campaigns and can accept contributions of unlimited size.
Wendt gave the maximum $2,700 to Kasich's campaign. Neither Clifford, Downer, O'Connor, de Toledo, or Hurt appeared on a list of Kasich campaign donors. Coan declined to comment on whether any of the employees are restricted from giving under pay-to-play rules.
A former congressman and Lehman Brothers investment banker, Kasich placed eighth in the Feb. 1 Iowa caucuses. He's aiming for a better outcome in New Hampshire, which votes on Feb. 9 and where the most recent poll put him fourth behind Donald Trump, Marco Rubio, and Ted Cruz. 
Before it's here, it's on the Bloomberg Terminal.
LEARN MORE