Rubio Goes After Cruz Voters in Hopes of Stopping Trump
by and
Florida senator's campaign says he's more electable than Cruz

Cruz campaign dismisses likelyhood of voter `drift' to Rubio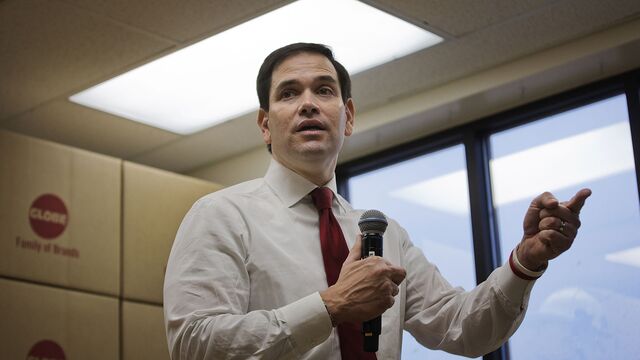 Marco Rubio isn't just counting on New Hampshire to crown him the establishment choice against Donald Trump and Ted Cruz. He's already trying to snap up Cruz's voters.
Armed with data showing Rubio was the second choice of 31 percent of Iowa Republicans who backed Cruz, the Florida senator's campaign is making a pitch that he can get elected and the more outspoken Cruz simply cannot.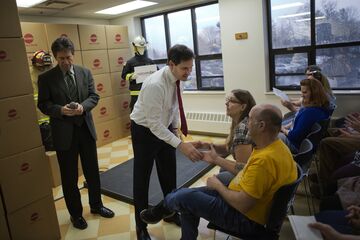 Take enough Cruz voters, and Rubio could emerge closer to making the presidential contest after New Hampshire a two-person race -- the front-runner Trump versus the anti-Trump in Rubio.
"We share a lot of supporters with Ted Cruz, more so than with (Jeb) Bush, (Chris) Christie and (Rand) Paul," Rubio campaign manager Terry Sullivan said in an interview. "I see voters rallying around Marco's message and his inspirational story more than anyone else."
Rubio hopes to do it by repeating his Iowa playbook, Sullivan said: targeting voters in more moderate suburban and urban areas. Three of the five Iowa counties where Rubio won the most caucus votes encompass Des Moines and its suburbs. Likewise, much of New Hampshire's vote is clustered around Manchester, two hours from Boston.
Both Cruz and Rubio are first-term senators of Cuban descent, with conservative voting records, but the similarities stop there. Rubio has generally avoided the sort of overt pitch on religious grounds that has been at the center of Cruz's effort and run a more traditional Republican campaign focused on boosting the economy and strengthening national defense.
In 2012, former Pennsylvania Senator Rick Santorum won the Iowa caucus by stressing social issues like abortion and same-sex marriage; former Massachusetts Governor Mitt Romney prevailed in New Hampshire with a more economic-oriented message.
Santorum endorsed Rubio on Wednesday, giving Rubio added credibility among the voters who back Cruz. About one in five Republican voters in New Hampshire identified themselves as evangelicals in 2012. In Iowa last week, entrance polls showed 64 percent of Republican caucus-goers were evangelical.
In Dover, New Hampshire, Rubio told a voter who asked about Romney's 2012 loss in the general election that Rubio could make a better case to working-class voters because of his own modest roots.
Later, he said Santorum's decision to drop out and endorse him was another coup to help reach working-class voters because Santorum also stressed those issues in 2012.
"We have to grow the party," Rubio said.
In Iowa, Cruz won nearly 28 percent of the vote, followed by Trump, the New York real-estate developer, with 24 percent and Rubio with 23 percent. None of the other eight main Republicans got into double digits.
According to Iowa entrance polls, Rubio attracted 21 percent of the vote from evangelicals, compared with 34 percent for Cruz. Rubio had twice the support of Cruz among those who said winning in November was the most important candidate quality, or 44 percent to 22 percent.
Rubio and his supporters said the results validated his argument that he's the most electable candidate in a general election, since Cruz's support was concentrated among self-described evangelical voters and Trump's proved far less reliable.
Among Cruz supporters in Iowa, Rubio had a plurality as the next choice at 31 percent, according to J. Ann Selzer, who conducts the Bloomberg Politics/Des Moines Register Iowa Poll. Among Trump supporters, Cruz narrowly edged Rubio for support as the second choice at 23 percent to 22 percent, Selzer said.
The Florida senator benefited from voters who decided late and thought he was the best general-election candidate, Selzer said.
It makes sense for Rubio to go after Cruz supporters because they are near the top of the polls and have a similar profile and appeal to voters, said Neil Levesque, director of the New Hampshire Institute of Politics at St. Anselm College.
"If a voter is drawn to one, it might easily be stripped and brought to the other," Levesque said.
One such voter is Michelle Visser, 46, a homeschooling mother who lives in Gilmanton Ironworks, New Hampshire, who brought her daughter to a Rubio town hall in nearby Laconia. Visser said she was torn between Cruz and Rubio, finding both senators articulate avatars of the conservative philosophy.
"Now that I see what happened in Iowa, I came off the fence," Visser said in an interview. "I hope the Trump supporters are going to wisen up and realize that he can't even begin to be elected, and they'll go to Rubio, too."
Cruz's campaign believes it's more likely that Rubio voters will defect to Cruz than the other way around, said former New Hampshire House Speaker Bill O'Brien, a statewide co-chairman of the Cruz campaign. He cited the perception that Rubio backed away from opposition to a path to citizenship for undocumented immigrants.
"I don't see how our voters are going to drift in his direction at all," O'Brien said. "They're concerned that Senator Rubio is a little bit like Donald Trump, and he'll say what it takes to get our votes."
O'Brien said Cruz supporters in New Hampshire are evangelicals, social conservatives and libertarian Tea Party activists.
Cruz's first campaign stop this week was at Crossing Life Church in Windham on Tuesday, and he'll visit Emmanuel Baptist Church in Hooksett on Thursday. Cruz's final scheduled event on Monday, the day before the primary, is a meet-and-greet with a pair of Tea Party groups in Manchester.
There's a danger in trying to appeal both as an establishment candidate and to Cruz supporters, said Tom Rath, the state's former attorney general who has advised multiple presidential campaigns and is backing Ohio Governor John Kasich this year.
Rubio had been presenting himself as more of a centrist candidate in New Hampshire, and he would have to modify his message to appeal to more conservative Republicans who may be aligned with Cruz, Rath said.
"I don't know how real that opportunity is here," Rath said. "You can't disturb your essential narrative by doing something that's inconsistent with what you've been telling people about yourself."
Rubio campaigned across New Hampshire's more populous southern half Wednesday, repeating his Iowa themes of rebuilding the military, taking strong action against the Islamic State terrorist group, strengthening border controls and protecting gun rights and religious liberty.
One thing he didn't talk about: his presidential rivals. At four campaign stops across New Hampshire, he barely mentioned their names.
Before it's here, it's on the Bloomberg Terminal.
LEARN MORE