Final Obamacare Enrollment Hits 12.7 Million, U.S. Says
by
HHS Secretary Burwell calls enrollment season `a success'

Burwell, Obama promoted health plans in tougher sign-up period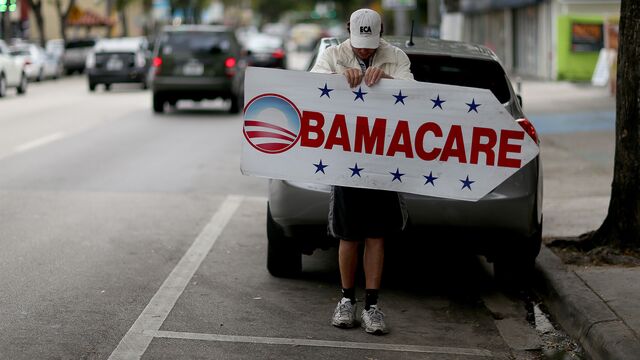 About 12.7 million people signed up for individual health insurance or renewed policies under the Affordable Care Act, as enrollment accelerated during the final deadline week for most people to buy 2016 Obamacare coverage.
The figures include data through Feb. 1, the Department of Health and Human Services said Thursday. Some states that run their own sign-up systems extended their deadlines beyond the end of January, meaning the numbers could still increase. Last year, the U.S. initially said 11.4 million people enrolled, later upping the tally to 11.7 million.
HHS Secretary Sylvia Mathews Burwell called the 2016 open enrollment season "a success" and noted that millions have gained coverage under the law.
"It is clear that marketplace coverage is a product that people do want and need," Burwell said on a conference call with reporters.
The sign-ups topped the midpoint of the government's estimate from October, when the U.S. predicted that 11 million to 14.1 million people would pick marketplace plans for 2016, the third year of Obamacare's insurance exchanges. An additional 433,000 people in New York and Minnesota signed up for state-based programs that provide less expensive health plans to some low-income people. Investors and politicians have been tracking the weekly figures closely as an indicator of how the Affordable Care Act is faring.
Coverage Gains
Government officials had been expecting smaller coverage gains this year on the marketplaces. Burwell has previously said it would be tougher to increase enrollment this year than last, because those who remain uninsured are harder to reach.
President Barack Obama, Burwell and other administration officials gave more than 250 radio and television interviews and traveled at least 48 times to visit local sign-up events.
Enrollment tends to decline over the year as some people who pick plans stop paying their premiums. Burwell has estimated that about 10 million people will be enrolled in Obamacare plans by the end of this year, up from about 9.1 million on Dec. 31, 2015.
Caroline Pearson, a senior vice president at Avalere Health, estimates that the U.S. will top that goal, with about 10.2 million people covered on Dec. 31, she said on the health-consulting firm's website.
Other data show that the Affordable Care Act has expanded coverage, beyond the exchanges. The act lets states broaden eligibility for the Medicaid program for poor people, and allows young adults to remain covered by their parents' plans to age 26. About 17.6 million previously uninsured people have gained coverage under the program, the U.S. estimated in September.
Before it's here, it's on the Bloomberg Terminal.
LEARN MORE