Try, Try Again
Trump Tries to Restore Winning Image in New Hampshire
After a second-place finish in Iowa, the Republican front-runner looks for a better result in the Granite State.
by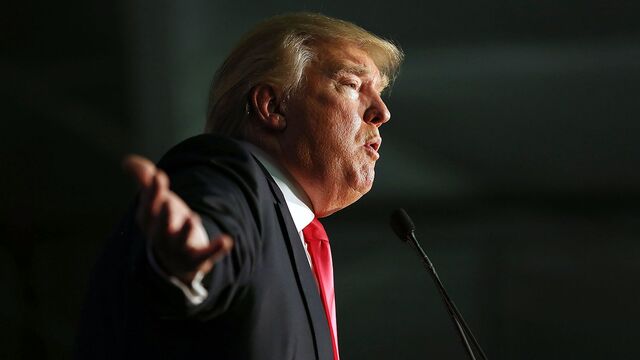 Donald Trump is in damage control mode.
The candidate who has often described himself as the biggest winner in the Republican field, arrived in New Hampshire on Tuesday a loser, explaining that second place—where he finished in Monday's Iowa caucuses—is ok, too.
After a momentary reprieve during Monday's concession speech, the New York businessman returned to tearing into Senator Ted Cruz, the man who beat him in the first presidential nominating contest.
Trump mocked Cruz's victory speech in Iowa as "overly flamboyant," and complained about an unfair media. Trump, the author of "The Art of the Deal," described his disappointing showing in Iowa—he barely beat U.S. Senator Marco Rubio, who finished in third place—as a good bargain for what he spent.
"I spent very little there—a fraction of Cruz and Rubio," Trump wrote in a post on Twitter. "Came in a strong second. Great honor."
While Trump's defeat in Iowa means he won't be able to "run the table" as he hoped, he remains the prohibitive favorite in New Hampshire. In six of the seven public opinion polls taken in the past week, the former reality TV show host had twice as much support as his closest rival.
And Cruz—the first Republican of Hispanic heritage to win a presidential nominating contest—won't be on nearly as favorable terrain in New Hampshire he was in Iowa.
Evangelicals accounted for 62 percent of the Republican electorate in Iowa on Monday, and Cruz won a third of that vote, according to entrance polls. That voting bloc was just 21 percent of the New Hampshire electorate in the 2012 Republican primary.
"This is eventually going to be a two-man race," said Ron Kaufman, a senior adviser to 2012 Republican nominee Mitt Romney's campaign. "One of those will be Trump or Cruz. It remains to be seen who will be the other."
New Hampshire's more independent, business-minded voters offer a chance to lift the candidacy of a trio of governors who fared poorly in Iowa: former Florida Governor Jeb Bush and Governors Chris Christie of New Jersey and John Kasich of Ohio.
If they miss that chance next week, there may not be another opportunity. After contests in South Carolina and Nevada this month, the race moves quickly to a half-dozen southern states where Cruz and Trump are the favorites.
"If I get smoked in New Hampshire, I'm going home,'' Kasich said during a town hall meeting in Claremont on Tuesday. "If I do well in New Hampshire, I'm going forward. So it's all up to you.''
So far, the jockeying within the party's so-called establishment has meant more trouble for Rubio than Trump.
"This isn't a student council election," Christie told reporters on Wednesday in Bedford, suggesting Rubio's campaign was too scripted. "Let's get the boy in the bubble out of the bubble." 
Bush took aim at Rubio and Cruz during a speech in Manchester on Monday, saying the two first-term senators have "never done anything of consequence in their lives."
Bush continued his attack on Tuesday, trying to dismiss the Iowa results by drawing a parallel to President Barack Obama's win in the state's Democratic caucuses eight years ago. Obama's "soaring eloquence" in that race overshadowed what, Bush said, was were lack of leadership skills. 
"They're gifted in how they speak, but what about their life experience?" Bush said in Rindge about Rubio, Trump and Cruz.
"Is there something you can look back on and say—whether it's their business career or their political career—that they actually did something that might be against their own ambition in order to achieve a public good?" Bush added.
Kasich, who didn't campaign much in Iowa, said New Hampshire voters are willing to ignore results from the first contest.
"I've never heard anybody up here say that the people of New Hampshire will make a decision based on what people in Iowa think,'' Kasich told reporters at his Claremont town hall.
Still, Cruz arrived in New Hampshire aiming to compete. Several polls show him in the mix for second place with more pro-business Republicans. The Texan reminded his crowd that in 1980, New Hampshire "gave a candidate that the mainstream media despised—Ronald Reagan—a come-from-behind victory.''
"This election is not going to be decided by the lobbyists and the Washington cartel,'' Cruz told about 200 people who met him at Crossing Life Church in Windham.
Cruz attacked Rubio for co-authoring a comprehensive immigration reform bill in the Senate, saying the Floridian opposed amnesty until he arrived in Washington. 
"It was Marco in the foxhole with Harry Reid and Chuck Schumer shooting at us,'' Cruz said, referring to the two top Democrats in the Senate.
Asked about Trump, Cruz wanted to "sing his praises."
"I think he's bold, I think he's brash," Cruz said. "And I'm glad he's energized so many people to get involved in the process.''
—With assistance from Terrence Dopp, John McCormick, Margaret Newkirk, and Mark Niquette.
Before it's here, it's on the Bloomberg Terminal.
LEARN MORE