Trump's Iowa Postmortem: Skipping Debate, Lax Ground Game Hurt
by
`I'm a rookie,' Trump says of second-place finish in caucuses

Billionaire complains to MSNBC about media coverage of Rubio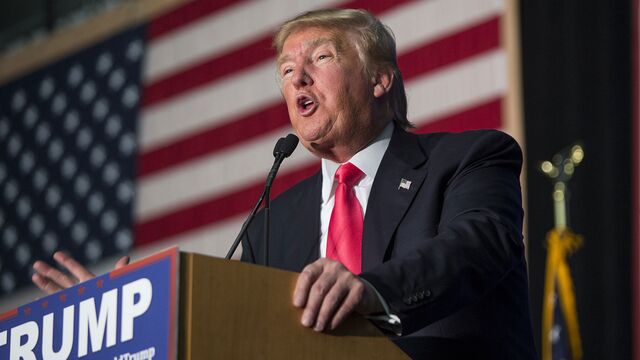 Donald Trump said he's proud of his second-place finish in the Republican presidential caucuses in Iowa but skipping the Fox News debate and his inexperience with mobilizing voters on the ground hurt his campaign.
"I'm doing this for the first time. I'm a rookie," the billionaire businessman said in an interview with MSNBC's "Morning Joe" program Wednesday.
Trump said he could have used a "better ground game" -- generally defined in politics as an organization to get out the vote -- but he said it was a term he wasn't even familiar with until he started his first political campaign. At the same time, he said that he received more votes in the Iowa caucus than almost anyone in history with the exception of Texas Senator Ted Cruz, who won Monday's contest.
Senator Marco Rubio came in third, and Trump said he was irked that the media was saying the Florida Republican's strong showing in the contest was "one of the great victories in the history of politics."
Trump also said that he may have lost some votes in Iowa by skipping the last Republican candidates' debate amid a spat with Fox News. Trump chose instead to appear at his own rally, where he said he raised $6 million for veterans' causes.
Skipping Debate
"I might have been hurt a little," Trump said, "by not being at the debate."
However, "I don't think I would have given up a first versus second and not given the vets $6 million."
The Trump campaign could have benefited from spending more time and money in Iowa but "people told me I couldn't win," he said. The state has a strong evangelical vote that has turned out for conservative candidates in past years.
One bone of contention: Trump said voters aren't giving him credit for self-funding his campaign and forgoing donations from special interests and so-called super-PACs.
Trump is the source of two-thirds of his campaign's fundraising, according to the nonpartisan Center for Responsive Politics. Individual contributions from others are the source of the other third.
"I don't think I get any credit for self-funding my campaign," he said. "Voters aren't going into the booth saying 'Trump is self-funding his campaign. That's a big factor and therefore I'm going to vote for him.' And yet it is a big factor."
Trump said he's not going to change his stance. "I'm the only one who's self-funding," he said. "Everyone else is taking in money from the lobbyists and special interests."
Before it's here, it's on the Bloomberg Terminal.
LEARN MORE