Kasich Says His Campaign Won't Drag on Like 'Band of Minstrels'
by , , and
Ohio governor won't stay if he struggles in New Hampshire

Kasich defends record, says party can't underestimate Clinton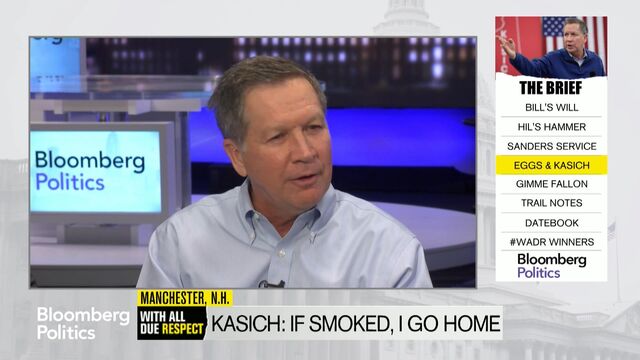 Ohio Governor John Kasich said he's ready to drop out of the Republican presidential race if he "gets smoked" in next week's New Hampshire primary.
"If we don't do well, we're not going to be dragging around like some band of minstrels who beg people to come to our show," Kasich said at a Bloomberg Politics breakfast in Manchester.
After placing eighth in the Iowa caucus on Monday with 1.9 percent, Kasich said he thinks the race now resets in New Hampshire, where voters aren't swayed by what happens in the Hawkeye state. Kasich said his fundraising has improved as his poll numbers have been rising in the state. He didn't define the threshold for success there that will determine his next step.
Kasich is emphasizing his experience as a two-term governor and having served 18 years in Congress, saying Republicans need to nominate someone with experience to get results while also helping the less fortunate. That message, he said, is connecting with New Hampshire voters.
In sometimes combative exchanges with reporters, Kasich said his record, which includes expanding Medicaid under President Barack Obama's health-care overhaul, is that of a conservative. Without singling out rivals for criticism, he said they have to do more than tap voter anger.
"If the conservative Republican Party doesn't care about people who live in the shadows, we will fail, and we will have missed our calling," Kasich said.
The governor also said Republicans can't take Democratic front-runner Hillary Clinton lightly.
"Contrary to what people think, Hillary will be a strong candidate, and if our party underestimates her they're making a terrible mistake," he said.
Before it's here, it's on the Bloomberg Terminal.
LEARN MORE