The Battle of Precinct 41 Shows Democratic Race on Knife's Edge
by
Sanders and Clinton forces surround O'Malley squad's survivors

`Thank you for participating in the greatest democracy'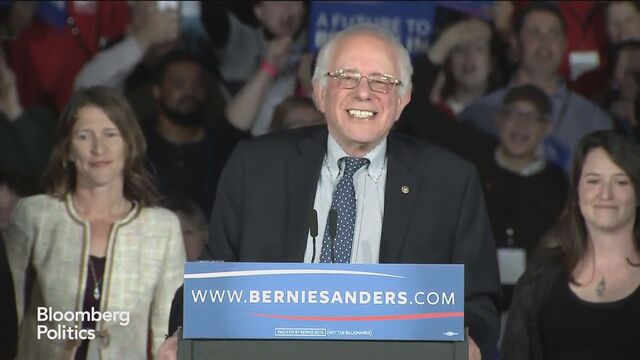 Inside an Iowa elementary-school gym, the battle for Polk County's 41st precinct devolved into a shouting match between Hillary Clinton and Bernie Sanders supporters, as the outcome hinged on their ability to sway 38 people.
"Bernie has been the candidate who consistently over decades has stood up for the poor and marginalized," said Tony Tyler, 34. "Hillary Clinton has consistently sold out."

That prompted a Clinton supporter to respond with a verbal onslaught whose volume and velocity defied transcription.
"Guys, guys, guys, there's no reason for this," said Phil James, a Sanders organizer, as he tried to restore order. "We are all members of the same party!"
Patience was wearing thin in the precinct, one of 1,681 throughout the state. A process that many thought would last an hour was stretching into three, and fingers were still thawing after higher-than-expected turnout forced organizers to send the location's 662 caucus-goers to wait outside in a near-freezing night for close to an hour as they finished registration.
The outcome at Perkins Elementary School was a nail-biter, a version in miniature of the statewide race that was the closest in Iowa Democratic caucus history. The stakes were the election of delegates to county conventions, some of whom will go on to vote for the next nominee at the national convention.
On display were the passion and commitment required of voters intent on making their voices heard in the first-in-the-nation competition between the former first lady and the U.S. senator from Vermont. It was a window into a complex form of participatory democracy that's routine for Iowans, but a quadrennial mystery for the rest of the country.
Come One ...
The night kicked off around 6 p.m. with hundreds of bundled-up caucus-goers streaming into the school in northwest Des Moines in Polk County, in which President Barack Obama handily defeated Clinton in 2008. Republicans headed toward the lunchroom and Democrats made their way to the gym. 

"Thanks for coming!" shouted Jay Helton, the precinct captain, every few minutes from his precarious perch atop a folding table. "Thank you for participating in the greatest democracy in the history of the earth!"
... Come All!
The lines began to snake around the gym. The air grew hot and humid. By 7 p.m., Helton remounted his table.
"Everyone who has registered, we're gonna have you go outside," he said, eliciting gasps and groans. "This is a great sign. This is not a bad thing."
Campaign volunteers apologized to participants for the inconvenience as they filed into the parking lot. It was 37 degrees and the lawn was muddy. The forecast threatened rain and snow within hours.
"I feel like I'm on the Titanic," a man said as he held up his phone to illuminate his path.
In the parking lot, the crowds coalesced into four groups: Sanders supporters on the right, Clinton's to the left and O'Malley's in the middle.
Five people stood apart -- the uncommitted. Lori Ebeling, a 45-year-old insurance supervisor, said she wasn't sure yet who would be the strongest candidate to face Republicans in November, but was leaning toward Sanders. April Peck, a 34-year-old retail worker, said she hadn't watched any debates and had blocked out virtually all news coverage of the race and didn't know what it would take to sway her to one side.
"HRC for you and me! Hillary our nominee!" Clinton supporters shouted in the darkness.
"Bernie! Bernie! Bernie!"
"Give her 10 minutes, she'll give you eight years!"
Debate Club
Almost an hour after being dispatched outside, the crowd was ushered back in. The count soon got under way, with volunteers tallying each individual as they walked back out the door. Helton assured them that they were free to go home unless they wanted to stay to transact minor party business or witness the denouement about to unfold.
Soon it became clear that the huddle in O'Malley's corner wasn't big enough to meet the 15 percent threshold needed to earn the former Maryland governor a delegate. The lobbying commenced in earnest.
Brenda Schumann, a 75-year-old retired teacher, wasn't buying the arguments for Clinton.
"Hillary's got a lot of baggage and she's too calculating," she said. "Bernie, I think, says what he means."
Kyle Dykstra, a 31-year-old Army veteran, said he planned to defect to Clinton's camp.
"Bernie's giving a platform to issues that need to be talked about, but I just don't see a viable strategy for them to be implemented," he said. "Like his plan to offer free college for everyone -- how are we going to pay for that?"
Within minutes, Helton announced the first round's tally: Sanders, 342; Clinton, 282; O'Malley, 38.
If Clinton's camp could persuade the O'Malley fans to come to their side, Clinton and Sanders would both earn seven delegates. If Sanders's fans could, the balance would tip in his favor. Observers crowded around, making last-minute pleas. Someone shouted to back off and give the O'Malley people space.
The room grew quiet, and one last vote was taken. Twenty-four stood with Sanders. Helton called out the final count: 368 for Sanders, earning him eight delegates, and 291 for Clinton, earning her six.
"Intense," said James, 38, one of the precinct captains for the Sanders campaign. "Here's a school that I can see from my living room, I'm here with all my neighbors, and the weight of the world is on our shoulders."
Before it's here, it's on the Bloomberg Terminal.
LEARN MORE