Republican Establishment Finds Measure of Comfort in Trump Defeat
Not only does Donald Trump face a strong challenger in Ted Cruz, but also a revitalized Marco Rubio, who raked in 23 percent of the vote.
by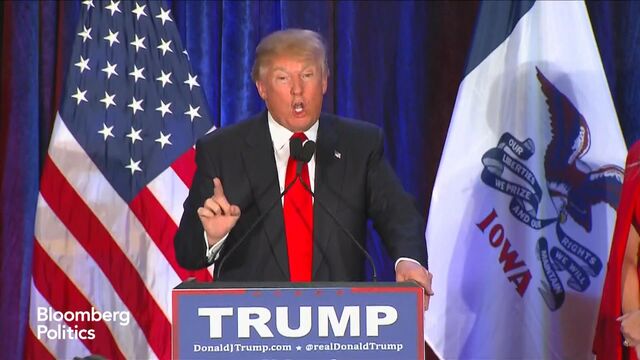 Republican Senator Ted Cruz has made a career out of tormenting his party's leaders. But they cheered his come-from-behind victory in Iowa on Monday all the same for one simple reason: he dealt a early blow to their common enemy, Donald Trump.
Trump, who has led most public opinion polls for the past six months, was on the verge of victories in Iowa and New Hampshire, something no non-incumbent Republican had ever done. That outcome could have given Trump's unlikely candidacy near unstoppable momentum in the race to the nomination.
Now, Trump—who has promised supporters so many victories that they "may get bored with winning"—heads into New Hampshire without securing the win that he himself said would allow him to "run the table." And not only does he face a strong challenger in Cruz, but also a revitalized U.S. Senator Marco Rubio, who raked in 23 percent of the vote.  
"This will change the polls in New Hampshire by Friday," said Ron Kaufman, a senior adviser to 2012 Republican nominee Mitt Romney and member of former President George H.W. Bush's administration.
The unfolding struggle within the Republican nomination contest—between the men and women who have controlled the levers of power for decades, and the voters craving change—is the latest episode of political unrest gripping democracies around the world. 
"There is something happening across the globe right now that is making voters uneasy, and we're not immune to that," said Mitch Stewart, one of the architects of President Barack Obama's two presidential victories.
"It's largely driven by the economy," Stewart said. "Whenever you go through an economic upheaval, you often find voters searching for answers, and sometimes they're searching for answers in places they normally wouldn't."
Cruz's victory will bring his campaign new attention and more money, but he is not seen as a major threat in New Hampshire, where establishment candidates usually have more appeal than in Iowa.
"Cruz's victory gives them more hope," Pete Wehner, a veteran of the past three Republican administrations, said about the party's establishment. "This blocks Trump from running the table. There's no concern about Cruz running the table."
On the Republican side, the traditional pro-business wing that usually aligns behind a more moderate, experienced candidates, has been fractured between Rubio, former Florida Governor Jeb Bush and Governors Chris Christie of New Jersey and John Kasich of Ohio.
Kasich, Christie and Bush all finished in the single digits in Iowa. Sensing trouble in the state, all three were out of Iowa before the caucuses opened, opting instead to start campaigning in New Hampshire, which holds its primary on Feb. 9.
That left Rubio as the one sign of hope for the party's establishment in Iowa. 
In speeches to crowds across Iowa ahead of the caucuses, Rubio tried to appeal to both conservative activists yearning for change, as well as the party's establishment. He often spoke of unnamed Republican elders who wanted the first-term senator to "wait his turn" before running.
The 44-year-old son of Cuban immigrants doesn't deviate from Republican orthodoxy on national security, taxes, immigration or abortion. Yet he still presents himself as an outsider, pointing to his childhood as the son of a bartender and hotel maid, and his Senate victory in 2010 in which he ousted the state's sitting Republican governor. 
"I will take the conservative movement to people living paycheck to paycheck, because I have lived paycheck to paycheck," Rubio told a crowd of about 500 on Sunday in Davenport, Iowa.
Rubio was the target of frequent attacks in Iowa, and now will be an even bigger target in New Hampshire, where Bush, Kasich and Christie all await him.
Kasich briefly aired a TV ad in the state this week criticizing Rubio for voting against the Violence Against Women Act in the Senate, which was backed by New Hampshire's Republican senator, Kelly Ayotte. 
Christie has accused Rubio of trying to "slime his way to the White House."
Bush took aim at all three top finishers in Iowa with during a campaign event in Manchester, New Hampshire on Monday. Bush said the top three finishers included "someone who its all about him" (a dig at Trump) and "two people that are backbenchers who have never done anything of consequence in their lives."
"They can give a great speech," Bush said about Rubio and Cruz. "But I think it's time for us to recognize that maybe what we need is someone who can lead. Someone who has a proven record."
—With assistance from James Nash.
Before it's here, it's on the Bloomberg Terminal.
LEARN MORE