Selling Points
The Choice for Iowa Republicans: Trump's Strength or Cruz's Purity
The two leading candidates in the Hawkeye State have framed the race in starkly different terms.
by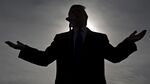 As Iowans finally prepare to caucus Monday evening, the state's Republican voters and the dozen candidates jockeying for their support agree on one big thing: Barack Obama's presidency has been disastrous for America and the next president's mission must be, in front-runner Donald Trump's trademarked phrase, to "make America great again." But the two leading candidates, Trump and Ted Cruz, are offering these disaffected voters two very different solutions for how they would achieve this.
As he's crisscrossed Iowa, Trump has touted his own personal strength and resolve as the only thing that can sweep away the entrenched political order in Washington. "When somebody doesn't treat you properly, you gotta be tough, you gotta be strong," he said at a rally on Friday. "That goes for the country."
By contrast, Cruz tells voters at every stop—with eerie, metronomic precision—that redemption can only be achieved through his own brand of conservative purity. At a packed Ames rally on Saturday, Cruz rattled off the government agencies he would abolish and the hard-right policies he would champion as president, imploring Republicans to nominate a "strong conservative," and not "a Bob Dole, or a John McCain, or Mitt Romney" if they wanted retake the White House.
The outcome in Iowa will come down to whether caucus-goers believe "strength" or "purity" is the better path to a Republican redemption.
For a candidate like Trump, whose television celebrity is built upon on an image of executive aggression and an ability to solve problems with a snappy "You're fired!," the appeal of casting himself as a political strong man is second nature. "Do you know what the American people want?" asks Trump's campaign manager, Corey Lewandowski. "They want strength, and they want to win, and they want to be protected from terrorists overseas that are coming into our country. The American people want a strong leader, they want to feel safe again."
That message has resonated deeply with Iowa Republicans. In the Jan. 30 Bloomberg Politics/Des Moines Register Iowa Poll, Trump led all candidates handily when respondents were asked who would "be the strongest leader" (32 percent); who would "be most feared by U.S. enemies" (50 percent); and who would "keep your family safest" (28 percent). The idea of a strong man in the White House—an "American Putin," as Washington Post columnist David Ignatius dubbed Trump—holds a powerful appeal, at least in Iowa. In addition to taking a 5-point lead in the Iowa poll (Cruz is second at 23 percent), Trump is also viewed by likely caucus-goers as the candidate most able to "bring about needed change."
On Jan. 28, Trump offered his latest display of strength by refusing to participate in the Fox News debate in Des Moines. Debate viewership fell measurably, and Trump was joined at his own rally nearby by Rick Santorum and Mike Huckabee, current competitors for the GOP nomination and former winners of the Iowa caucuses.
At the Gateway Hotel in Ames Saturday, Cruz was introduced by Glenn Beck, the tearful television personality who offered the overflow crowd a testimony to the Texas senator's incontrovertible conservative ideals. "Ted Cruz knows what he believes and is willing to put himself out there," Beck said. "I have lost many friends that go to Washington. I tell them the same thing: 'If you turn out to be a weasel, I am going to expose you.' Ted has not done that."
Indeed, Cruz's entire Washington career—from orchestrating the 2013 government shutdown to protest the Affordable Care Act to his open antipathy for his Republican Senate colleagues—has seemingly been designed to highlight his strident conservatism. He has a 100 percent lifetime rating from the American Conservative Union, and he is one of only two U.S. senators with a 100 percent score on the conservative Heritage Foundation's scorecard. In Ames, as he does at every stop, Cruz offered a bullet-pointed, policy-heavy list of what he plans to begin doing "on day one" of his presidency.
"We'll take on the EPA, and the CFPB, and the alphabet-soup on federal agencies that descend like locusts on farmers and ranchers and small businesses, killing jobs all across this country," he said. "We will pass fundamental tax reform, a simple flat tax, where every American can fill out our taxes on a postcard. And when we do that, we should abolish the IRS."
At a Bloomberg Politics breakfast on Saturday, his campaign manager, Jeff Roe, explained why Cruz labors so hard to identify himself with the right wing of the Republican Party.
Washington convention wisdom, Roe said, encourages Democrats to embrace liberalism but dissuades Republicans from pursuing conservative goals—a losing formula for the GOP. "They'll say, on one hand, 'Hillary Clinton has to work on her base, she has to turn out young Hispanics, and unmarried women, and African-Americans, and she has to do a better job doing that,'" Roe said. "And 'Republicans, you need to run to the middle and moderate.' [But] these have become base elections"—so running to the right is path to victory.
On Monday, Cruz will deliver his "purity" sermon in Jefferson, Iowa, and complete his year-long odyssey to visit all 99 of the state's counties. Trump will be in Waterloo and Cedar Rapids, Iowa. On Sunday, he and his surrogates were in Council Bluffs. Before Trump even took the stage, his Iowa state co-chair, Tana Goertz, was spreading a familiar message. "You get one chance tomorrow night to make a difference," Goertz told the crowd. "Don't waste your vote on a wimp."
Before it's here, it's on the Bloomberg Terminal.
LEARN MORE