Puerto Rico Faces Prospect of Financial Control Board
by and
Investors, hearing witnesses favor oversight for Puerto Rico

Republicans may agree to some restructuring of island's debt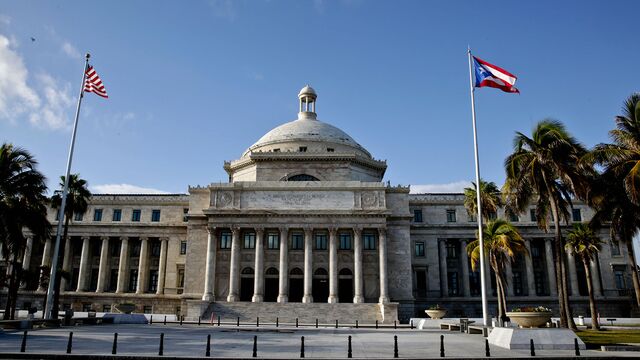 Puerto Rico has been anxious for Congress to address its $70 billion debt crisis, but the island's leaders may not be as happy with the potential outcome as the investors holding its securities.
Driving the process are Republicans, who control both chambers and say the island has proved it's not able to manage its finances and needs an external authority to ensure it cuts expenses and deficits. Democrats, essential to passing a bill in the Senate, insist on giving Puerto Rico access to an orderly, court-supervised process allowing it to cut its debt.
"What may pass may be a mixture of both, possibly a control board with some sort of restructuring access, some leeway in allowing them to restructure some of their debt," said Shaun Burgess, a portfolio manager at Cumberland Advisors Inc. in Sarasota, Florida. "The island needs some real management and structural help and not just the ability to cram down or restructure their debt."
Officials in Puerto Rico on Monday released details of its proposal to bondholders under which its debt burden would be reduced by 46 percent under a bond exchange. That would entail reducing its tax-supported debt from $49.2 billion to $26.5 billion, with annual debt payments capped at 15 percent of government revenue.
House Republicans are holding a hearing Tuesday to explore the case for setting up a Puerto Rico financial control authority. One witness scheduled to testify is Anthony A. Williams, a former mayor of Washington, D.C., who also served as an independent chief financial officer of the city when it was overseen by a financial control board established by Congress.
'Checks and Balances'
Williams said in an interview that Puerto Rico would benefit from long-term, transparent financial planning and that he favors a control board made of people who know and care about Puerto Rico, including people who've lived on the island.
"Obviously, checks and balances are good," said Williams, a senior adviser at Dentons U.S. LLP. "I think it would serve the commonwealth well."
Some Senate Democrats have suggested using an energy bill currently being debated on the Senate floor, S. 2012, as a vehicle for legislation to help Puerto Rico, but it's not clear there is enough consensus on what, exactly, should be done.
Senate Republicans led by Orrin Hatch, a Utah Republican who chairs the Finance Committee, proposed a bill, S. 2381, last year that would create a control authority but didn't include any restructuring. That proposal was criticized by the island's non-voting House delegate, Democrat Pedro Pierluisi, who called the oversight authority plan a "mega-board on steroids."
Still, investors favor Hatch's proposal, said Burgess, who helps manage $2.45 billion in assets, including $100 million of the island's insured debt.
"I like that the bill creates an outside authority that is in a position to help the island create and, most importantly, stick to a budget," he said. "One of the island's problems has been kind of management in itself."
Skeptical of Bankruptcy
Hatch is among the Republicans resisting Democrats' call to allow Puerto Rico to use Chapter 9 of the bankruptcy code. Granting the island access to Chapter 9 would let some of its corporations, such as the power utility or water agency, enter a court-overseen restructuring process. Hatch said Congress needs instead to find "a whole new procedure" for adjusting Puerto Rico's obligations.
Extending Chapter 9 to Puerto Rico is also opposed by Republicans on the Senate Judiciary Committee, which oversees changes to bankruptcy law.
 
"I don't want this to be an extension of Chapter 9 -- that's for municipalities and that's a bad precedent to set," Senator David Perdue from Georgia said in an interview. "We need to protect the creditors and protect Puerto Rico's borrowing capability long term, those are the two objectives that I have."
House Speaker Paul Ryan, a Wisconsin Republican, and Treasury Secretary Jacob J. Lew have been pressing lawmakers to find a solution by the end of the first quarter. Puerto Rico's Government Development Bank owes investors $422 million in May and the commonwealth and its agencies need to pay back $2 billion on July 1, on the heels of an anticipated $923 million negative cash balance in June.
Governor Alejandro Garcia Padilla delayed tax rebates and payments to suppliers to pay creditors and began closing about 100 schools to help balance the fiscal 2015 budget. The island defaulted on some payments in January and last year. No draft of a bill with any compromise has been released yet.
"We have a lot of discussion about what to do and as long as it doesn't involve the use of federal tax dollars, I think it is something we ought to try to figure out some way forward on," Senate Majority Leader Mitch McConnell of Kentucky told reporters. "Exactly what the way forward is at this point, I'm not sure. But we certainly agree that it's a big problem and we need to see what role, if any, we should play in it."
Before it's here, it's on the Bloomberg Terminal.
LEARN MORE