Iowa Senator Ernst Questions Trump's Conservative Credentials
by and
Ernst says Trump doesn't have same record other candidates do

Iowans cast first ballots in 2016 presidential race tonight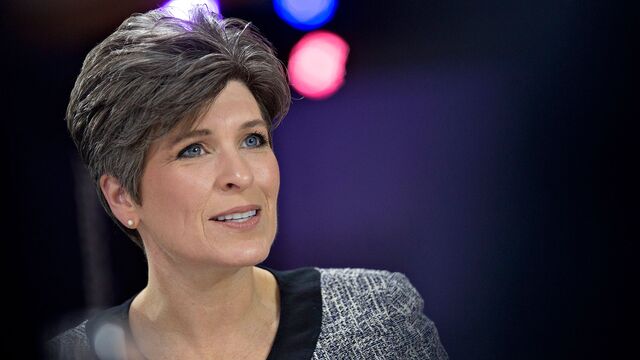 U.S. Senator Joni Ernst, one of the most popular politicians in the state of Iowa, says she can't vouch for Republican frontrunner Donald Trump's conservative credentials.
"The unfortunate thing is we don't have a record that we can judge him by," Ernst said at a Bloomberg Politics breakfast in Des Moines Monday when asked whether Trump is a conservative. "Judging from what he said just a few years ago, I would not have agreed that he was a conservative."
Iowa voters will head to caucuses Monday night, casting the first ballots in the 2016 presidential race. And Trump, a brash outsider in a campaign where bombast is a virtue, enters the night in first place in the polls, according to a Bloomberg Politics/Des Moines Register Poll released over the weekend.
The prospect of Trump winning has unnerved some Republican leaders. Ads opposing him on air in Iowa highlight the billionaire businessman's previous statements on abortion and guns, in which he sounds more like a Democrat. Yet Trump has ignited a base of Republican voters who rally behind his calls to stiffen U.S. immigration policy, defeat the Islamic State, block "bad deals" on trade and "make America great again."
At Monday's breakfast, Ernst said Trump has said conservative things during this campaign, spotlighting his comments on issues of abortion and taxes. And she said she'll back him if he's the Republican nominee for president.
Ernst, a Republican senator first elected in 2014, ran for office on her own underdog platform of forcing change in Washington. Her most memorable television ad in that Senate campaign highlighted her farming background. In it, she said she grew up castrating hogs on an Iowa farm and pledged to "make 'em squeal" in Washington.
Ernst hasn't endorsed any candidate for president, though she has appeared at campaign events for Rubio. And she may not make caucus night herself, instead she's planning to hop a flight to Washington ahead of a blizzard expected to roll into the Hawkeye State later tonight.
Trump led Texas Senator Ted Cruz in the final Bloomberg Politics/Des Moines Register Iowa Poll before ballots were cast. In that survey, Trump has the support of 28 percent of likely caucus-goers, followed by Cruz at 23 percent and Rubio at 15 percent.
Before it's here, it's on the Bloomberg Terminal.
LEARN MORE