Donald Trump Couldn't Shoot His Way Out of Some Iowans' Esteem
by and
He doesn't shy from saying whatever he wants and they like it

Appeal being tested in a state with record of picking losers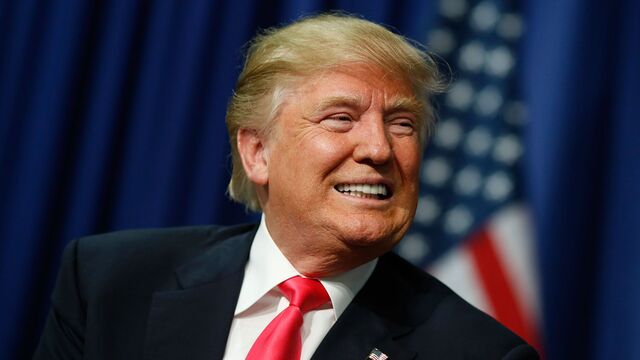 Maybe Donald Trump was right. Maybe he could shoot someone in the middle of Fifth Avenue and not lose any supporters, as he said recently in Sioux City, Iowa. It sure didn't faze Chris J. Cook.
"It's a joke, and you know people here in flyover country -- we get it," said Cook, 50, a former U.S. Marine who wore a cap inscribed with "Desert Storm Veteran" to a Trump event in Des Moines last week. "That's another thing that the country's really gotta get over. There is no constitutional right not to be offended, you know?"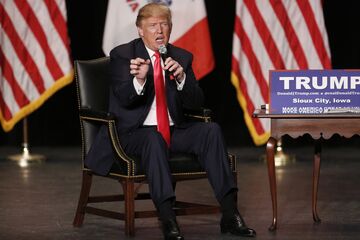 Trump's I'll-say-whatever-I-want style works in Iowa, where he led Republican polls ahead of Monday's caucuses, the first electoral event of the 2016 presidential election. Few saw that coming when the former reality-television show host descended an elevator in his namesake Manhattan tower on June 16, Neil Young's "Rockin' In The Free World" blasting, to announce he would run again for president; his first try, as a Reform Party candidate in 2000, ended as a punchline.
This time, he went from improbable to dominant in about two months, challenging the party's allegiances and decimating many of its long-held tenets.
'Politically Correct'
A Trump win in Iowa is by no means guaranteed. Texas Senator Ted Cruz has worked the state hard, appealing to religious conservatives who usually pick the winner and counting on a well-tuned get-out-the-vote effort to help.
But if there was a turning point for Trump's Iowa skeptics, it was the first Republican debate Aug. 6. Trump said Mexico was sending undesirable citizens to the U.S. "because our leaders are stupid" and feuded with Fox News anchor Megyn Kelly, who questioned his temperament, based on his derogatory remarks about women. (After boycotting a Jan. 28 debate because she would be posing questions, he posted a Tweet: "I refuse to call Megyn Kelly a bimbo, because that would not be politically correct. Instead I will only call her a lightweight reporter!")
There is more to Trump's success than inflammatory statements. He's a bona fide celebrity, a media maestro sharpened by decades of battling New York's tabloids and a billionaire deft at channeling kitchen-table populism. Trump proved a debate-night brawler -- some would say bully -- annihilating rival after rival with an ease that masked calculated effort. He appeals to the deeply American trait of lionizing success. Voters don't resent his penthouse. They want one, too.
Through it all, what bonded voters to Trump was his mouth. Every incendiary remark reaffirmed voters' attraction, according to dozens of likely caucus participants interviewed over the past six days.
In July, he suggested that Arizona Senator John McCain was weak for being captured in Vietnam and held for years. In October, he said he'd slap a 35 percent import tax on Ford Motor Co. if it built a plant in Mexico. In November, he suggested the U.S. "bomb the sh-t" out of oil fields that support Islamic State. In December, he declared all Muslims should be barred from the country.
Every time the pundits predicted that he'd gone too far, voters pushed him higher in the polls.
'Can't Be Bought'
Vicky Carpenter had planned to back New Jersey Governor Chris Christie -- until she heard Trump at the August debate.
"It's what made people perk up their ears," said Carpenter, who owns a used-car business in Iowa Falls with her husband.
The big-showman style and big-talk bluster persuaded Justice Fitzpatrick, too. "I thought he was promoting another TV show and wanted to get his face out there and get billions of dollars," the 35-year-old single mother from Dunlap said. "It became clear after the first debate that he wasn't kissing anyone's butt."
Another selling point is simply what he is: a man who doesn't depend on support from donors and special-interest groups.
"He can't be bought," said Dave Sammons, a retired John Deere Co. worker in Ottumwa.
His Iowa fans said he should be forgiven for gaffes or when he's gone far off candidate-appropriate script, mocking opponent Carly Fiorina's face or mimicking a disabled New York Times reporter. They didn't take seriously his joke that his supporters would forgive murder in the middle of Manhattan.
'Dumb Things'
"I thought, 'Well that's kinda dumb, but whatever.' He doesn't shy away from saying dumb things," said Brenda Bemis, a 65-year-old retired United Parcel Service administrative assistant who drove nearly 300 miles to see Trump in Des Moines. "We're used to that."
The New Yorker's appeal will be tested in a mostly white, largely rural state with a tendency to pick Republicans who never make it to Election Day. Conservative evangelicals won the last two caucuses -- Rick Santorum in 2012 and Mike Huckabee four years earlier.
In the final days leading up to Monday's caucuses, Trump overtook Cruz in a Bloomberg Politics/Des Moines Register Iowa poll. Trump held 28 percent of likely caucus-goers, followed by Cruz at 23 percent and 15 percent for Florida Senator Marco Rubio.
The trend lines for competitors including Ben Carson and Jeb Bush resemble cardiac arrest.
The Iowans' embrace appears rooted in frustration over how the U.S. government operates, or doesn't, and what they perceive as America's weakened standing.
"He doesn't have the typical presidential persona at all, but I like that," said Janna Mozdzer, 52, an elementary school librarian in Altoona. "I'm tired of our government being afraid of offending people."
Trump's trash-talk does give the occasional fan pause. "Maybe he needs to keep his mouth shut a little more," said Denise Eichenberger, a nurse who lives in Bancroft. "He gets a little too vulgar and he needs to get that under control."
Julian West, an Iowa City lawyer, said that as much as he likes Trump, "I expect a president to be diplomatic -- and I'm not sure he's diplomatic."
'Change The System'
The views of most Trumpites in Iowa reflect traditional Republican themes of smaller government, lower taxes and bolstered military spending. What's unfamiliar is a leading candidate with no political experience and, at best, shallow roots in the party. That's enticing too.
"Who better to understand the business of America and our free enterprise system than a businessman?" said Rick Schulenberg, 67, a retired Navy veteran and school psychologist from Des Moines. 
Trump has flouted the received wisdom of how Republicans win in Iowa. Religious voters rule the caucuses? Trump leads Cruz, a Southern Baptist who has made an appeal to religious voters central to his campaign. Voters demand personal contact? Trump ditched a debate and has done little of the ritualistic high-school-gym handshaking.
Republican Senator Charles Grassley introduced Trump at a rally Jan. 23 in Pella. The 82-year-old Grassley told the crowd the next president shouldn't be Democrat Hillary Clinton. He stopped short of saying it should be Trump. But even a blessing from Grassley, still popular after first being elected to public office in 1958, might not go far this year.
"If we keep electing politicians, we're gonna get politics," said Cook, the ex-Marine. "It's gonna take someone from outside the system to change it."
Before it's here, it's on the Bloomberg Terminal.
LEARN MORE