Decision Time
Trump and Sanders Hope to Ride Big Iowa Turnout to Victory
The bigger the turnout, the better the chances of victory for the two insurgent candidates.
by and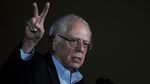 For insurgent presidential candidates Bernie Sanders and Donald Trump, winning the Iowa caucuses may well boil down to one thing: turnout.
Both the Vermont senator and the billionaire real estate developer are banking on their ability to motivate disaffected voters to participate venture out to school cafeterias, public libraries and community centers, and defy the well-oiled political machines of their two closest rivals: for Sanders, former secretary of state Hillary Clinton; for Trump, U.S. Senator Ted Cruz.
Because Trump and Sanders have attracted so many first-time caucus-goers, higher turnout would favor their campaigns, as it favored then-U.S. Senator Barack Obama's in 2008. While it remains to be seen whether Democrats will approach that year's record-setting 239,000 caucus-goers, Sanders himself has linked his chances there on high turnout. 
"We will struggle tonight if the voter turnout is low. That's a fact," Sanders told volunteers and supporters Monday in Des Moines.
On the Republican side of the equation, Trump hopes to draw far more than the record 121,503 voters who participated in the party's 2012 caucuses. With a close race and a big field, that could well happen. 
"The overwhelming sentiment among Republican Party leaders is that tonight will be a record turnout for a Republican Iowa caucus," MSNBC host Joe Scarborough tweeted Monday afternoon. 
Perhaps worrisome for Clinton and Cruz, weather forecasts have pushed back a promised winter storm that could have curtailed caucus participation. Now, snow is not expected to begin falling until 9 p.m. across much of the state, two hours after the caucuses start.
The candidates crisscrossed the state Monday in a last-ditch effort to push for every supporter possible.
While most candidates were focusing on media appearances and encouraging hard-working staff and volunteers, Trump closed with a rally featuring his wife Melania, daughter Ivanka, and Sarah Palin, who remains popular with Iowa's most conservative Republicans years after serving as the GOP's vice presidential nominee in 2008.
At the rally in Cedar Rapids, a cautiously optimistic Trump was taking no chances, even when it came to the possibility of hecklers carrying fruit. 
"If you see somebody getting ready to throw a tomato, knock the crap out of them, would you? Seriously," the Republican front-runner told the crowd. "I promise you I will pay for the legal fees. I promise. I promise. They won't be so much because the courts agree with us, too."
For this climactic day, Trump took a few stabs at explaining just how much he wants to prevail in Monday night's caucuses. 
"I could say, 'I'd love to do well.' That's called the safe way," Trump told the crowd. "I want to win Iowa. It's going to send such a great message: We're not going to take it anymore. We're going to make our country great again."
Meeting with reporters aboard his campaign bus, Sanders made it clear that he has his eye on winning delegates in Iowa.
If Clinton "ends up with two delegates more of many, many hundred delegates, you tell me why that's the end of the world?" Sanders asked, according to the Associated Press. "This is a national campaign. We are in this to win at the convention. We're taking this all of the way."
Clinton stuck to low-key events on Monday, visiting campaign offices working to encourage as many supporters as possible to show up at their local caucuses. 
"I had to stop by and tell you how much I appreciate your hard work," Clinton told those gathered in a south Des Moines office. "I thought I'd bring you some unhealthy snacks!"
Both Trump and Clinton come into Iowa's first-in-the-nation caucuses leading narrowly in a Bloomberg Politics/Des Moines Register Iowa Poll released over the weekend.
Both also face rivals—Senator Ted Cruz of Texas for Trump and Senator Bernie Sanders of Vermont for Clinton—who analysts say could see a late surge of voter enthusiasm that may push them past their better-known opponents.
Even Trump, the king of confidence, admitted to being "a little bit nervous" in an interview on ABC's Good Morning America. At a rally later in the morning, he urged his supporters to caucus no matter what. "If the doctor says you cannot leave, I don't care, get out of bed," he said. "You gotta do it."
Clinton conceded on NBC's Today that it has turned into a "tight race," though one that she can win if "the people who are committed to caucusing for me" show up. Volunteers for her campaign have been working hard on that count, knocking on 186,000 doors in the last three days, Clinton said in West Des Moines.
Before noon Central time, Iowa Republican Chairman Jeff Kaufmann said he was surprised by the level of interest from party members, and how that might lead to a higher turnout this evening.
"Phone calls at the Republican Party of Iowa headquarters are absolutely unprecedented. I mean we're looking at 100 an hour," Kaufmann told the Washington Post. "Now obviously not all of that is tied to Donald Trump. There's also a lot of these calls that are going to a variety of candidates but I think that's a sign of the enthusiasm."
Earlier, Andy McGuire, who leads the Iowa Democratic Party, predicted, "It could be a late night, seeing how competitive it is."
Still, just how well the two front-runners would actually perform remained a question.  Trump is "just kind of the unknown, because he's a business leader, but he hasn't spoken out politically much except for the last 6 or 7 months," Iowa Sen. Chuck Grassley told reporters Monday.
The quaint, quirky and often-criticized tradition of the Iowa caucuses will play out in school gymnasiums, fire stations, community centers, and other meeting places and voters will render the first actual verdict of the 2016 presidential campaign.
A Trump win—once viewed as unthinkable for a man who has run the most unconventional presidential campaign in modern history—could propel him toward a Republican nomination that's far from guaranteed, but also harder to stop. The billionaire real estate mogul holds a big lead in New Hampshire, where the first primary will be held eight days after Iowa.

"I believe that I will win states that the Republicans never put down as a possibility," Trump said at a Sunday rally in Sioux City. "We're gonna run the table, folks."
For Clinton, a victory Monday would be vindication for her crushing third-place finish in 2008, the caucuses that set then-U.S. Senator Barack Obama on a path to the White House.
In her closing argument Sunday afternoon at a high school in Council Bluffs, Iowa, Clinton asked Democrats to consider her lengthy public service resume when making their decisions. "I want to be the president for the struggling, the striving and the successful," she said. "Stick with me, stick with a plan, stick with experience."
The caucuses start at 7 p.m. Iowa time, although results aren't expected to start trickling in from the roughly 1,700 precincts until several hours later. Beyond shaping the future for many of the candidates, including some who could drop out late Monday or Tuesday, the outcome will offer a snapshot on the national electoral mood and on traditional power centers, including Washington and Wall Street.
An additional factor looming over the state is a potential blizzard that could dampen turnout, especially in southwest Iowa where the storm is scheduled to arrive first.
—With assistance from Margaret Talev in Iowa.
Before it's here, it's on the Bloomberg Terminal.
LEARN MORE