Crunch Time
Robby Mook Returns to Field Organizing for Final Iowa Push
Hillary Clinton's campaign manager spends the final hours before the Iowa caucuses knocking on doors to get out the vote.
by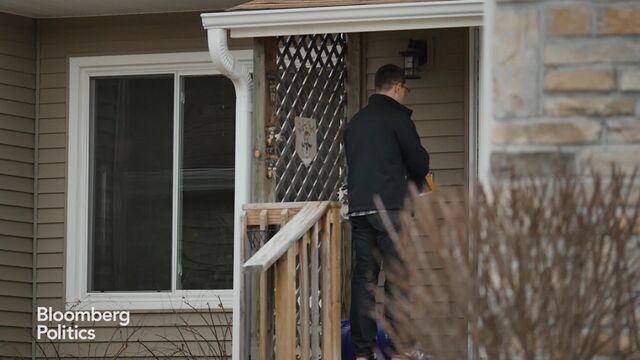 With hours to go until his boss faces voters for the first time in eight years, Robby Mook was doing the same, knocking on doors in a small corner of a Des Moines suburb.
Hillary Clinton's campaign manager could've spent Saturday afternoon holed up in headquarters, shuttling around the state with the candidate, or schmoozing politicos in the lobby of the Marriott. Instead, he was making his way through a solidly middle class Urbandale neighborhood, checking in with committed supporters.
"Hey! My name's Robby. I'm here with Hillary Clinton's campaign," he says once it's clear that the person answering the door is the person on the list of confirmed supporters that he picked up from a nearby field office, just as any volunteer would. "I was just coming by to remind you about the caucus on Monday."
Though two Bloomberg Politics journalists spent about 45 minutes watching Mook visit 15 houses on a gray but warm-for-January afternoon, it wasn't just a photo-op. He would've been doing this without reporters watching him and planned to do it again on Sunday and Monday, schedule permitting. In all, people at eight houses answered their doors, five of whom said they would be caucusing for Clinton. At one door, a man supporting former Florida Governor Jeb Bush said that his wife—who was out of the house when Mook visited—was the Clinton supporter. At another, a man identified as a Clinton supporter seemed to be engaged in a tense moment with his son. A woman said she and her husband were Clinton supporters but that she had a doctor's appointment and may not be able to make it.
Mook has built his career on field work—the collection and analysis of meticulous data. He proved himself as her 2008 state director in Nevada, Ohio, and Indiana. And when it was time to build her 2016 team, the lessons of being out-organized by Barack Obama in Iowa and beyond made Mook, a 36-year-old Vermont native, Clinton's choice for the job.
Clinton had a slim three-point lead over Vermont Senator Bernie Sanders, 45 percent to 42 percent, in the final Bloomberg Politics/Des Moines Register poll of likely Iowa Democratic caucus-goers, conducted Jan. 26-29. With the race so tight, both campaigns are determined to get their low-hanging fruit—committed supporters—to caucus sites. The Sanders campaign said its volunteers knocked on close to 77,000 doors on Friday and Saturday, while the Clinton campaign knocked on more than 125,000 doors over the weekend. 
"Part of this is just simply having a human interaction where we remind them," Mook says while walking along a winding residential street that changed names three times in the span of a few dozen houses. "But a really important part of this is actively making a plan with them. So if I get someone in person, I want to make sure that they've made sure they've thought about where they're gonna leave from to go to the caucus, how they're getting there and if they're bringing anyone with them. We know that if they have a plan in place, they're more likely to show up."
Mook helps them fill out a glossy sheet of paper printed with red and blue ink, and answers voters' questions. For him, it's the culmination of nine months of work. Voting records, visits, and phone calls have helped the campaign identify supporters. "So much work went into making this list over the summer and fall," he says.
Before it's clear who's potentially a supporter, "those are tougher doors to knock." Now, "they're happy to see you," he says. "In fact, if anything, they're a little bit frustrated because we've talked to them so many times."
"Another one?" one woman asks after Mook appears at her doorstep, but she still listens as he double-checks to make sure she has a plan to get to her caucus site.
"As a campaign manager, that is a really good problem to have. I want to hear that they've heard from us a bunch," Mook says.
Wearing a sporty black jacket, a flannel shirt, dark jeans, and red, white, and blue New Balance sneakers, he looks like an earnest volunteer, not a top Clinton aide. No one recognizes him—he laughed at the notion that anyone would—including three Bush canvassers whom he thanks for doing their part for democracy.
"We've got a couple hundred people out here from across the country," boasts Bush volunteer Frank Mermoud, who was an appointee in the George W. Bush-era State Department. He'd come from D.C., while the two young men walking in the opposite direction had traveled from Houston and Chicago.
Mermoud, who collects political buttons, asks Mook if he has any from Clinton to share. "I don't, no, we're cheap," he says. "We have them on our website, you can buy them," Mook's assistant, Kate Offerdahl, suggests.
Mermoud and Mook share a few pleasantries—including how their respective campaigns are doing ("We're feeling good," Mook said). Then, Mermoud turned briefly philosophical. "We're all committed for our respective candidates and the system, the process. It's better we have this process in our country than other countries that don't have the opportunity," he says as they part ways.
Before it's here, it's on the Bloomberg Terminal.
LEARN MORE