House Calls
A Tall Stranger From New York Visits Des Moines to Boost Clinton
New York City Mayor Bill de Blasio hit the ground in the Hawkeye State this weekend on behalf of the Democratic front-runner.
by and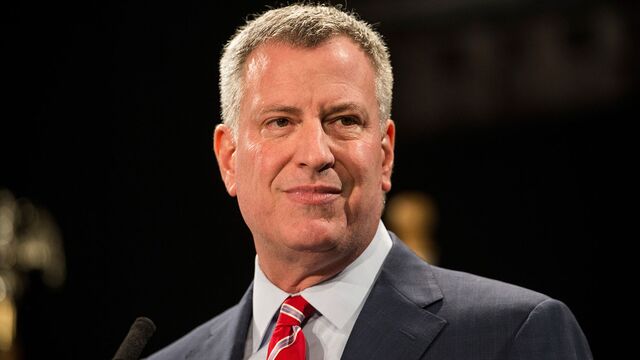 Jan Bannister thought Hillary Clinton had dispatched a sports star to her hometown of Des Moines, Iowa, to thank her for her support. Actually, it was Mayor Bill de Blasio of New York City.
"When I saw him from a distance, I thought he was a professional basketball player," she said.
Bannister had just started phone-banking at the home of a fellow Clinton supporter when the 6-foot-5-inch politician popped in for a visit Saturday with his wife, Chirlane McCray. It was part of a weekend spent mingling with volunteers, telephoning strangers and hitting the sidewalks, the kind of work de Blasio, 54, did when he entered grassroots politics more than 30 years ago.
"It was a real nice surprise," said Bannister, a 69-year-old retired nurse who didn't recognize the mayor at first and later posted her photo with the couple to Facebook.
De Blasio's arrival—part of an invasion of activists in advance of Monday's first-in-the-nation caucuses—was met by Iowans with a mix of excitement, fascination and indifference. Clinton, whose 2000 U.S. Senate campaign the mayor managed, is in need of all the help she can get. She's gone from untouchable front-runner to polling neck-and-neck with insurgent firebrand Bernie Sanders for the Democratic presidential nomination.
De Blasio acted not as a routine campaign surrogate—fly in, deliver a couple speeches, fly out—but by performing the lowly tasks of organizing. He and McCray, clipboards in hand, sat in living rooms trying to persuade people that Clinton is the most practical and effective antidote to the threat of a Republican takeover of the White House in November.
"Her understanding of the world around us is unparalleled," he told reporters Saturday during a hastily organized press conference on the driveway of a Clinton volunteer. "No one will walk in the door more prepared to be president."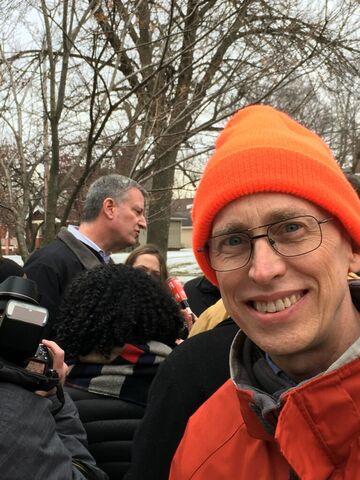 As he spoke, Anne Boal stepped off her porch next door to snap a photo of the politician with her husband, Bill, standing in the foreground in a bright-orange winter hat, grinning.
"Most Iowans don't know much about de Blasio, or care that much. However I did notice just hearing him talk that he's incredibly articulate, so he might be effective in that way," said Bill Boal, 61 and an economics professor at nearby Drake University.
De Blasio took office in 2014 after having put front and center a pledge to close the widening income gap between rich and poor—a platform that in many ways looked more like that of Sanders than of Clinton up until the last few months. He's since sought to take that message national, prodding Democrats to move further to the left.
The mayor's visit comes with risk, highlighting a strained relationship with Clinton, with whom he had no appearances scheduled. He endorsed her Oct. 30 only after several months of official neutrality, during which he pressed her to declare her stands on taxing the rich and trade protections for U.S. workers. All the while, he maintained a cordial relationship with Sanders.
There are, of course, Iowans for whom de Blasio's presence could hardly matter less.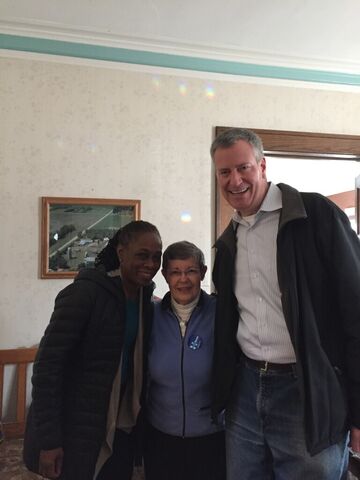 Andy Duffelmeyer, a Des Moines attorney whose support for Sanders is displayed on his front lawn, said he's been committed to the Vermont senator since last summer. Amid widespread frustration with Washington gridlock and the outsized influence of money in politics, Duffelmeyer said he disagreed with de Blasio's argument that Clinton is more electable.
"It's the opposite: I think that if Democrats don't tap into this disaffectedness that's out there in the political world, we're gonna have a tougher road to hoe in November," he said Sunday from his front steps. "It's hard to imagine anyone that's more status quo or establishment than Hillary is."
De Blasio is due to return to New York on Tuesday, assuming a snow storm forecast to hit parts of Iowa doesn't get in the way. He's visited about 100 homes and will be canvassing again Monday outside Des Moines, said Marti Adams, his spokeswoman.
A block from Duffelmeyer's house, Barrister, the retired nurse, sat on the couch of her friend and fellow Clinton devotee, Dianne Miles. The pair recalled the hours they spent knocking on doors for Democrats in prior years, and offered de Blasio some advice.
"Be Iowa nice," Miles said.
"Wear your jeans," Barrister said. "It's appropriate attire for the message."
Before it's here, it's on the Bloomberg Terminal.
LEARN MORE